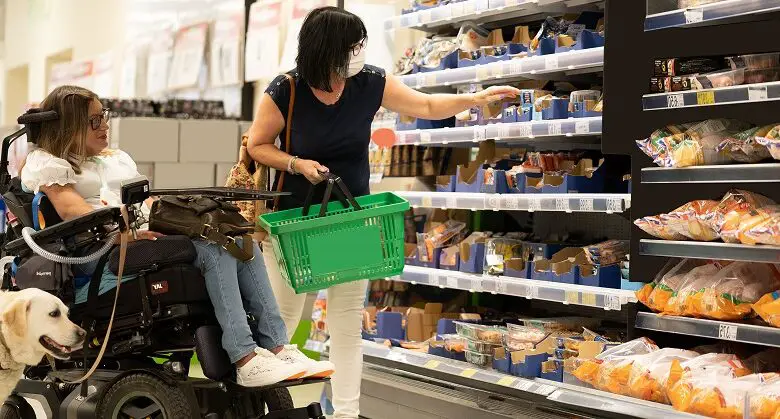 News
Why investing in social care could boost the economy by helping disabled people be independent
Investment in social care could generate between £6 billion to £20 billion for the economy by helping disabled people into work, disability charity Leonard Cheshire reveals. To champion the life-changing and empowering impacts of social care, it is launching a new campaign, Care for Equality. Find out more and how you can get involved.
If the government reforms social care it could boost the economy by £6 billion to £20 billion, including £1-4 billion in income tax.
Our new findings, based on economic modelling (see more on this below), show social care has the potential to pay for itself, with previous studies by The Health Foundation indicating an additional £2-12.2 billion is needed annually to bridge the social care funding gap.
More widely available social care would allow many disabled people to increase their income through entering work, progress existing careers or increase their working hours.
More importantly, it would empower disabled people to live their lives as they choose.
Hannah (pictured above), 37 from Cheshire told the charity: "One of the biggest differences social care has made to me is independence. I can now socialise with friends and I have a job.
I have achieved goals that I wouldn't have dreamed of a few years ago. I work two days each week at police headquarters. My care worker stays with me, so if I need anything they are there and ready to enable me."
Not everyone the charity spoke to currently benefits from such care, as Simon (pictured below), 42 from Cambridgeshire revealed: "The lack of support I have received has not helped with my employment prospects.
I would like to get some work experience or do some voluntary work to improve my skills and experience and therefore my overall employability prospects. But there is no support.
There is Access to Work, but it has not managed to get me into actual employment because it only gives help to those already in paid work, not for those trying to improve their employability".
The government's focus to date has been making social care work for people aged 65 plus. This is despite a third of all people who draw on social care being aged 18-64.
Our new campaign, Care for Equality, aims to highlight the empowering potential of social care for working-age disabled adults.
We're calling on the government to urgently invest in care and work with disabled people to ensure social care reforms offer them choices and personalised options, so it fully meets their needs. We're also asking the government to reform how care staff are paid and to fund training.
Disabled people told us that when they could get care tailored to their needs, they were able to "thrive" and not just "survive".
Our research also uncovered claims that current assessment processes lack an in-depth understanding of disabled people's lives. Individuals raised concerns to us about eligibility criteria for social care, with one person claiming she was told that she was "not disabled enough to have the social care support I wanted".
The pandemic was found to have disrupted many individuals' care, with reductions in the number of hours received and long waits for specialist equipment.
The charity's CEO, Ruth Owen OBE said: "Economic arguments shouldn't be the reason to reform social care, but as our research shows, they should no longer be a barrier.
We want the government to have serious conversations with disabled people about social care, so it can meet their needs and support their life aspirations.
Social care isn't just about getting up and washed, though this kind of support is vital. It's also about people being able to see friends and family, being able to travel, have hobbies, have a job, or seek higher education.
The current government isn't the first to kick the proverbial social care can down the road, but it needs to be the last. No more excuses, no more stalling – investing in care benefits everyone."
Leonard Cheshire Director of Policy Gemma Hope said: "Disabled people have a right to social care, so we look forward to hearing how the government will make it work better for everyone who needs it.
So many of us will need the extra support social care can provide in our lifetime. It's in everyone's interests for social care reform to be delivered as a priority. The Autumn's Comprehensive Spending Review is an opportunity for some serious investment.
This is about more than money though. Disabled people must be involved in how social care is reformed to ensure any new system offers choice and the chance for person-centered care. We hope that our new data is a wake-up call for the government."
Leonard Cheshire's Care For Equality campaign
Through our new campaign, Care For Equality, we're calling on policymakers in each country of the UK to create social care system which fully meets the needs of disabled people.
The change we want to see:
Ensure the social care system fully meets the needs of disabled people
Engage and co-produce reforms with disabled people
Invest in social care
Build in greater choice and personalisation
Increase funding for better workforce pay, training and career development
We're also asking the public to voice their support for urgent social care reform, to ensure equality for all. For more information about the #CareForEquality campaign and how to get involved please visit leonardcheshire.org/care-for-equality and join us on Twitter @leonardcheshire.
Our research and data
There are 3 main ways in which disabled people are economically disadvantaged:
Disabled people who are in work earn about 12% less, on average, than non-disabled counterparts
Disabled people who are currently looking for work are about twice as likely to be unemployed
Many more disabled people are economically "inactive" (ie unemployed and not looking for a job) – they are about three times more likely to be inactive compared to the wider population
There are many reasons for these differences but unmet caring and support, which could be provided through improved social care, could help to reduce each of these three impacts.
Our analysis does not assume social care reform solves these three problems completely, but that reform helps to:
Reduce the wage gap to the levels seen amongst the rest of the population
Reduce unemployment of disabled people to the levels seen amongst the rest of the population
Allow some of the inactive population of disabled people to seek work.
We have calculated that such improvements could boost the economy by £6 billion to £20 billion per year.
The top end of this range reflects the benefit of reducing the level of inactive disabled people (i.e., those not participating in the workforce) from about 43% to about 30%.
30% is still about twice as high as the level of inactivity amongst the wider population (i.e., it still assumes many disabled people cannot join the workforce for reasons beyond their support requirements).
Frontier Economics' modelling shows that reforming social care has the potential to pay for itself.
Previous research we have carried out shows there is not enough awareness of the scheme amongst employers: www.leonardcheshire.org/about-us/our-news/press-releases/disabled-workers-are-being-failed-employers.
By Leonard Cheshire
More on Disability Horizons…