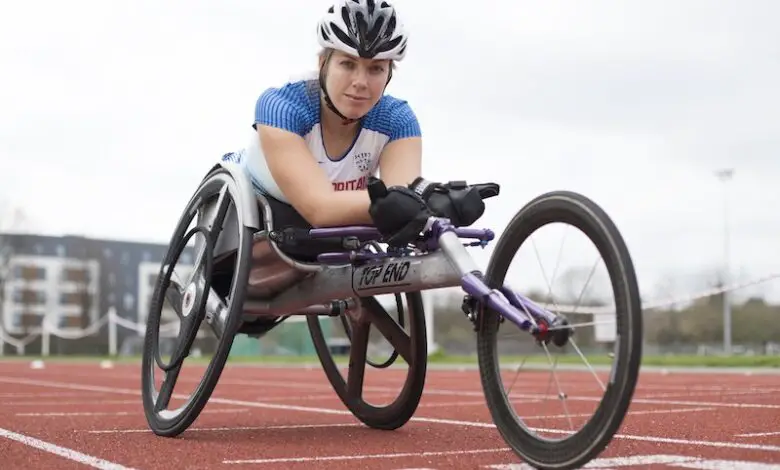 Wellbeing & Fitness
From London 2012 to Tokyo 2020 Paralympics: Paralympic wheelchair racer Hannah Cockroft MBE in the spotlight
Disability Horizons is doing a series of interviews with Paralympians who are set to compete in the Tokyo 2020 Paralympic Games. In these interviews we will be talking about career success, highlighting individuals achievements and what they are most looking forward to at the games.
Hannah Cockroft MBE is a twelve-time World Champion, five-time Paralympic Champion and three-time  European Champion in the T34 wheelchair racing. She now has her eyes set on more titles at this summers Tokyo 2020 Paralympic Games.
Our writer, Emma Purcell, interviewed Hannah Cockroft about her disability, her career in athletics, her achievements in London 2012 and Rio 2016, her preparations for Tokyo 2020, plus her future plans working in broadcast journalism.
Hannah Cockroft MBE (also known as Hurricane Hannah) is a 29-year-old Paralympic wheelchair racer from Halifax, West Yorkshire.
She suffered two cardiac arrests after birth, which left her with permanent damage in numerous areas of her brain, resulting in weak hips, deformed feet and legs and mobility problems and affecting the fine motor skills in her hands.
She first got into wheelchair racing at the age of 15 and competed in her first Paralympics at London 2012, where she won golds in the 100m and 200m.
The winning streak just continued from there, with her winning 12 World Championships, three European Championships and got triple gold at Rio 2016, winning in the 100m, 400m and 800m.
Hannah is now set to defend her titles in the 100m and 800m in her third consecutive Paralympic Games in Tokyo this summer.
Hannah also made history by being nominated for the 2013 Sports Personality of the Year award; the first Paralympian ever to be nominated outside of a Paralympic year.
Furthermore, she was named British Athletics Paralympic Athlete of the Year in 2014 and British Sportswoman of the Year by the Sports Journalist Association in 2017, being the first para-athlete to ever win the award in its 57-year history.
Hannah was made an MBE in 2013 and a Deputy Lieutenant of West Yorkshire in 2016, being the youngest person to hold the title by over 30 years.
Away from her sport, Hannah has also made a few TV appearances including winning the Sport Relief special of Strictly Come Dancing in 2014, The Great British Bake Off, The Crystal Maze and most recently presenting on Channel 4's coverage of the Disability Football FA Cup Finals.
Read on to find out more about Hannah Cockroft in her own words.
Hannah Cockroft living with her disability
What was it like growing up with your disability?
I don't remember growing up with a disability ever being a bad thing, I just did what everyone else did but a bit slower! My parents were great at always getting me involved and I only really felt different when it came to things like fashion. With my splints and boots, I had limited clothing options.
Other than that, I had a great childhood, I was never bullied, I had loads of friends and I did well at school. I feel like my childhood wouldn't really have been much different if I didn't have a disability.
How does your disability affect you on a daily basis?
My disability just means I do things a lot slower than other people and I get tired pretty easily. I have quite a lot of pain in my legs, hips and back most days, but I try to keep busy, so I don't notice it as much.
I use a wheelchair to get around outdoors, just so I can keep up with people and I don't have to worry about falling over or being in more discomfort than I have to be, but I walk around inside my house as I have plenty of things to grab hold of to help me and I can sit down a lot.
If you could ask assistive technology manufacturers for a dream product, what would that product be?
Right at this moment it would be a drinks holder for my wheelchair. I've just tried to carry a cup of coffee from the café to the car and it's gone everywhere!
Otherwise, I'd love a machine that chooses my clothes in the morning and dresses me. I'm up so early, that when I look at myself later in the day I often find a mismatched training outfit!
Hannah Cockroft becoming a wheelchair racer
How did you first get into wheelchair racing?
I first saw wheelchair racing at the School Games when I was 15 years old. I was at the competition as a seated thrower doing the discus and off the back of winning a silver medal in the event, I was invited to a UK Athletics talent day where I got my first opportunity to sit in a racing wheelchair.
From that day forward, I was hooked. I borrowed a race chair, trained every day after school and just loved it!
What do you love most about wheelchair racing and which type of race do you prefer to compete in and why?
I love the freedom and independence of wheelchair racing. I spent my childhood needing to ask for help a lot and relying on people around me. When I am out on the track, I am in control of everything and I love that feeling.
My favourite distance to compete is the 400m. It's a very challenging event that you have to get right to win and I really enjoy the burn to get to the finish!
Who, or what, has been the biggest inspiration for you?
Inside the sport it has to be Chantal Petitclerc. She's a Canadian wheelchair racer and the most decorated female Paralympian ever, winning 21 medals. She is amazing.
I was really lucky in my training because my London coach was head coach for the whole GB Paralympic team and Chantal came in to be my coach at the Games. To have her advice, knowledge and experience at my first ever Games was invaluable.
She played a big part in my success. Chantal helped me focus on what I needed to concentrate on and gave me advice on coping with the crowds and attention, which was new to me.
In terms of general life outside of my sport, my parents are my biggest inspiration. They both work full-time, yet still found time to bring me up and my two brothers up, as well as to take me to training every day, cycle with me and drive me to Loughborough for physio every week.
I struggle to fit it in and it's my job. So for them to fit it in after a full day's work is amazing. And I probably only now really appreciate how hard it's been for them.
What is your training schedule like?
I train six days a week, with a rest day on Sunday. It's generally two hours training on the track every Monday. Two hours in the gym Tuesday morning focused on upper body weights as it's very much a shoulder sport, then an hour and a half on the track in the afternoon.
Wednesday is recovery day, so it's one hour pushing and jogging to keep everything moving. Then back on the track for two hours on Thursday and two hours in the gym on Friday. Then it's physio, before going out on the road for two hours on a Saturday.
Hannah Cockroft competing at London 2012
How did it feel to win gold in the 100m and 200m races in front of a home crowd at London 2012
London 2012 was an incredible experience and I think it would have been just as amazing if I hadn't have won, but getting my golds was just the cherry on the cake.
I don't really remember my winning moment, it was such a blur as it all happened so quickly, but the reactions and moments that came after were unforgettable. If I could relive any moment in my life, it would be one of those days, again and again.
Do you think the London Paralympics in 2012 left a lasting legacy? If so, what was it?
I think the London Paralympics in 2012 has left a huge legacy for the sport and for the everyday lives of disabled people. It was amazing to see how many people paid attention to us and how many young and old people realised they could also get involved with the sport.
I used to train at Leeds City Athletics Club. I went back after the London Games and took my gold medals to a special event. The growing popularity of the sports after London was obvious.
When I trained there, I was one of three. Going back after London, there were 15 people training. I'm not sure people realised that it was possible to have a 9 to 5 job and do wheelchair racing.
Also, being on the team, we've had lots of youngsters come along in the last few years. They're 14 and didn't know they had sprinting talent until they saw the London Games. So more gave it a go and found they could do it – it's been amazing.
The sporting opportunities have definitely expanded in the time since London. You don't get turned away at running clubs any more. And you don't need lots of specialist equipment or knowledge, just enthusiasm and drive.
Hannah Cockroft competing at Rio 2016
How was training / planning for Rio 2016?
Before that we had the World Championships in October in Doha, which was my main focus that year. But training was going well. I changed my distances – London was 100 and 200 metres, but in Rio I did the 100 and 800 metres, based on what was open to my class.
It was a new challenge and it made me work incredibly hard. But I enjoyed it and it gave me a chance to show people I'm not a one trick pony.
It got me up every morning and I felt it wouldn't have been an easy win. It was exciting, but also scary at the same time. And my toughest competition was with my GB teammates who were incredible.
How did it feel to win triple gold in Rio?
It was a great feeling, especially as the 800m was my last event and also the hardest to win as I hadn't had that much experience in racing it. The pressure and expectation was definitely higher than it was when I raced at London 2012, so I was massively relieved to be able to hold onto my titles and even add to them.
Do you have any other memorable moments during your time in Rio?
I think my 800m is just the most memorable moment. My parents were in the crowd, along with one of my best friends and her family and one of my best friends on the team's family, and they were all sat together in front of the podium.
So, during the race, on the last 100m, my Dad started the whole crowd chanting 'Hannah, Hannah, Hannah' as I came down to the finish line. Then on the podium, they were all right in front of me, and it was just the most amazing feeling. A time I will always remember.
You've won many other World and European titles since London 2012. Which achievement are you most proud of and why?
It's hard to pick just one, but I think I'm probably most proud of my most recent 100m World Championship win in Dubai in 2019. It was the first championship race that I have ever gone into not as the World Record holder so there was a lot of pressure riding on getting the gold and I managed to take my World record back and dip under 17 seconds for the first time too, which was massive for me.
Hannah Cockroft preparing for Tokyo 2020
How have you been preparing for Tokyo 2020 and do you still have concerns relating to the pandemic? 
My preparations this year have been a lot different to how they have been running up to my last two Paralympic Games. I've tried to keep my training as normal as possible during the pandemic, which has been much easier since tracks and gyms reopened.
But during lockdown I trained more on the road and rollers. I'm still training in my garage gym now just to stay safe.
I do still have worries about Covid heading into the games, I'm trying to stay as safe as possible and isolate as much as I can in the lead up, but ultimately, my teammates and other peoples movements are completely out of my control, so I just have to trust that they will try to keep me safe too.
Do you know when you'll be travelling to Tokyo and what Covid-19 measures will be in place?
I travel out to Tokyo on 12th August. We have to do PCR tests at two weeks out, 96 hours and 48 hours, and then lateral flow tests every other day. Once we arrive, we will be tested every day and we will obviously have to socially distance and wear masks at all times outside of our bedrooms.
I've been double vaccinated, but that won't give me any different rules to anyone else who hasn't been vaccinated.
What are you looking forward to the most at the Tokyo 2020 Paralympic Games, as well as aiming to secure the gold medals?
I'm just looking forward to getting out there now. Even off the field of play, the whole Paralympic experience is exciting and special. I can't wait to get into the Paralympic village, as it's an amazing place to be and I can't wait to get into that stadium. Nothing beats racing in an Olympic stadium!
Hannah Cockroft going into journalism
What inspired you to study journalism?
I decided not to study sports (I had a place reserved) as I didn't want to risk hating the sport I love, with so much of my life already focused on it. So, having enjoyed working with the media so much over the past couple of years around the Olympics, I decided to study it further and gain more media skills.
Did you manage to complete your journalism degree, how did your studies go and where did you study?
I studied at Coventry University, but unfortunately, I dropped out after my second year. Balancing my athletics and my studying just proved a little too much for me, especially as I was living three hours away from home.
So, I had limited support around everything going on. I absolutely loved the course though, and I intended on going back after the Rio Games, but life took over and I just got too busy!
Are you still considering a career in journalism?
Yes, definitely! I'd love to work in television when I'm finished with my racing career, and I'm lucky to keep getting little chances of experience, which I really enjoy and appreciate.
You were recently part of the presenting team at the Disability FA Cup Finals on Channel 4. What was that experience like, and did you learn more about disability football?
It was a fantastic experience! Going live definitely has a lot of pressure in the TV world but it's nothing I'm not used to. I enjoyed watching all the games and learnt so much about how the games differed depending on disability. I'd love to go back next year, even just as a spectator, it was a great weekend.
Hannah Cockroft's honour and awards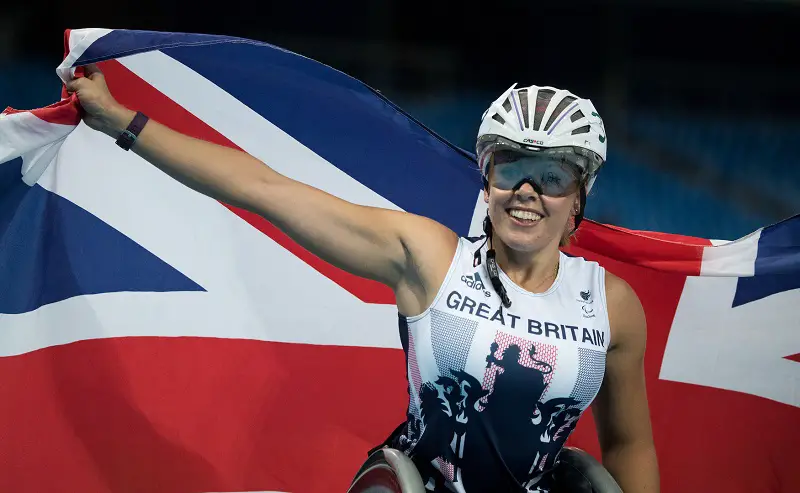 How did it feel to be awarded an MBE for services to athletics?
It's all been very surreal, particularly after the success and attention at the London Games. I still can't quite believe that at 22 years I've achieved all of these awards and titles.
But it was a fantastic day receiving the MBE at the Palace with my family. Particularly considering some of the amazing people who were also awarded alongside me, including some real heroes, like Lance Bombardier Ben Parkinson, who lost both of his legs in combat. He risked his life, whereas all I've done is push myself along in a straight line. I did feel like I shouldn't have been there. But it was a real honour.
The London Games were a big dream. But to also gain the MBE and all of the other accolades has been awesome. Life has been crazy.
How did you feel when you heard you were to be named British Athletics Paralympic Athlete of the Year in 2014?
Again, over the moon – I didn't know I'd won it until I was awarded the trophy. It was a massive honour, particularly because it's a public vote.
I sometimes struggle to know where to go from here. But I'm always keen to try new things. There are always records to break and races to win.
I love it, although I'm not sure my mum is so happy as it's something else to dust!
What would be your number one bit of advice to other budding Paralympians out there?
I'd have to say to anybody that you have to grab every opportunity you get offered. Even though some things didn't seem particularly interesting or relevant at the time, I just took up every opportunity and that's what led me to where I am now.
You never know where things will lead, and I do believe everything is offered for a reason. So take it and enjoy it.
If you have something you love, take every chance and make it your life.
Follow Hannah Cockroft on Twitter and Instagram.
Be sure to tune in to watch Hannah Cockroft at the Tokyo 2020 Paralympic Games from 24th August to 5th September 2021 on Channel 4.
Interview by Emma Purcell 
More on Disability Horizons…