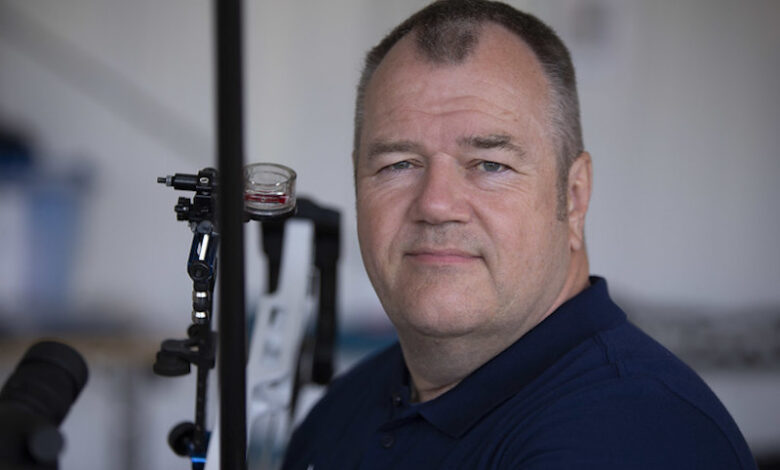 Disability Horizons is doing a series of interviews with Paralympians who are set to compete in the Tokyo 2020 Paralympic Games. In these interviews we will be talking about career success, highlighting individuals achievements and what they are most looking forward to at the games.
John Stubbs MBE is an experienced Paralympic archer who has won numerous medals at World, European and Paralympic championships. This summer, he is set to compete at his fourth Paralympic Games in Tokyo.
Our writer, Emma Purcell, interviewed John Stubbs about his disability, his career in archery and his preparations for Tokyo 2020.
John Stubbs is a 56-year-old Paralympic archer who was originally from Altrincham, North West England and now lives in North Wales.
In 1989, he was involved in a motorbike accident, in which a car sideswiped him into a farmer's field. While injured on the ground, John tried to get to his motorbike to turn the engine off but then another car hit him as the driver couldn't see him.
Fortunately, an ambulance found him as they were driving back to the station. John had his right leg amputated and needed surgery on his left leg.
For many years, John struggled to accept his disability and even tried taking his own life. Eventually, after getting professional help, he found new determination and tried out a variety of sports before discovering a love of archery.
Since 2003, he has competed in several World, European and Paralympic competitions.
His medal tally includes golds at the 2005 and 2013 IPC World Archery Championships, a gold at the Beijing 2008 Paralympics, an individual and team bronze in the 2014 European Para-Archery Championships and a team silver at the Rio 2016 Paralympics.
John has now got his eyes set on another gold at the rescheduled Tokyo 2020 Paralympic Games. He will be heading to the Japanese capital alongside archery teammates Jess Stretton, Nathan Macqueen and Paralympic debutant Hazel Chaisty.
Update 23/08/2021: John Stubbs has been announced as one of Team GB's flag-bearers alongside four time Paralympic swimmer Ellie Simmonds OBE at the Tokyo 2020 Paralympic Games opening ceremony on Tuesday 24th August.
Read on to find out more about John Stubbs in his own words.
John Stubbs living with his disability
What was it like becoming a wheelchair user following your accident?
When I first had my accident, obviously I never really came to terms with it and to this day, I've still never come to terms with it. I basically just get on now and realise that my life in a wheelchair is to enable me to be mobile. But I've gone into a sport where barely the wheelchair has no impact on me doing the sport.
How does your disability affect you on a daily basis?
I try and not let it affect me on a daily basis. Sometimes there was obviously certain incidences that you just can't help. When I had my accident back in 1989, the disabled disability discrimination act never even been thought of in those days.
So, I just cracked on and did things as I would do normally as an able-bodied person. I try and not let it affect me, but you can't help the fact that it does.
There has been challenges but that's more been in socialising and going out with family and friends. For instance, you have to phone up beforehand if you want to go see a concert and stuff like that, you've got to get a wheelchair assigned place in a venue. So, effectively you've got to be in the mix first off and that's more upsetting than anything.
But I'm not saying that I've missed out on anything. To be honest, having a disability does have its benefits as well. You can benefit by taking your carer, partner or friend with you to concerts. So, it's not all bad. I don't want to just dwell on the bad things when obviously there are good things as well.
John Stubbs getting into archery
How did you get introduced into archery and go on to play at elite level?
I really fell into it fortuitously. I used to play cricket as an able-bodied person. After my accident, there was a local disabled sports club near to me that was actually having an open day where they invited me to go and try out disabled cricket,
I was skeptical. I was like, "you can't play wheelchair cricket", but I went along and the English coaches that were there clearly could see that I'd played cricket at quite a decent level before.
I got a phone call on the Monday to ask if I would want to take up the position of representing England at disabled cricket. I took up the opportunity, I played cricket and I got invited onto the board to represent disabled cricketers, but with that I was actually talking about cricket more than I was playing it.
Therefore, I needed to find another sport. So, I went back to my old sports club where there was an archery club assigned to it. I didn't really think about doing it or had an interest in it. But while I was there, I looked at the archers through the window, and just as I wheeled away, the coach saw me and came up to me and said, "do you fancy a go?" – I've never looked back since.
What do you love most about archery?
The beauty of archery is that it enables me as a wheelchair user to compete against my able-bodied counterparts on a level playing field, in which we shoot with the same bows and arrows and other equipment as they do.
To beat them, as disabled people, it gives us that buzz again. I'm basically going into a sport that is already adapted for me to take part in.
What has been the highlight of your career so far?
You would expect my highlight of my career to be when I won gold in Beijing in 2008. But the thing that started that on its path would be when I won the World Championship back in 2005, because my bow wasn't even thought about going into a Paralympics.
So, winning the World Championships in Massa Carrara in Italy and shooting against an Italian in the final – I'd like to say that was probably my biggest achievement and it took me on to great things.
John Stubbs preparing for Tokyo 2020
How have you been preparing for Tokyo 2020 and do you still have concerns relating to the pandemic?
We've been fortunate that the Japanese and the Japanese public I've actually got behind the games. I know there's been a lot of rumours saying that they're not behind it, but we've got to thank the Japanese people for enabling us to actually go to the games and for the games to be on a year later.
My preparation, like everybody's preparation, took a hit in 2019 and 2020, because of the pandemic. Fortunately for me, because I was on the GB team, we were able to go back to full-time training back in July 2020. I've not been out of training since July, to the point where you wouldn't even recognise that there was actually a pandemic going on.
Yet it's curtailed what I can do as a competitive archer and going to competitions. But as the sport has moved us forward, we've been actually doing virtual competitions amongst each other.
I'm now 56 and as you get older a year to a younger person, wouldn't really affect them, but for me at 56, I then start fearing how that year is going to impact on me. Is a year to me, like five years for a younger person? No, I wouldn't think so, because I've proven I'm still competitive.
Do you know when you'll be travelling to Tokyo and what Covid-19 measures will be in place?
I think we're actually leaving on the 12th of August. For us, we're having so many lateral flow tests and PCR tests. We can actually, hand on heart know that, if we board that aircraft, we're as fit and healthy as we could be going into the village.
So, we've got no reservations. The Japanese organising committee at the games are doing absolutely everything in their power to make sure that it's a Covid free games.
What are you looking forward to the most at the Tokyo 2020 Paralympic Games, as well as aiming to secure the gold medal?
Because it's in Japan and if the games had been played in 2020, the thing that I was actually looking forward to was seeing how much the sport has moved forward in technology and to see how that impacts on the games, due to the fact the Japanese are known to be more technically advanced with robots and stuff like that.
Do you think Tokyo will be your last Paralympic Games or will you aim for Paris 2024?
Because the pandemic put the games back a year, then we've got a World Championships next year, which is in February. I've already been pre-selected to go to the World Championships.
Then two years after that we've got another Paralympics. I'm going to try and get onto the team and secure places for GB and go forward to go to Paris.
John Stubbs' training regime, rituals and attributes
What does your daily exercise/training regime involve?
Well, we're residential arches. So, we arrive at the Lilleshall National Sports Centre on a Sunday and we start training on a Monday morning.
Effectively we've done all the work leading up to it, but we're still expected to shoot on average about 150 arrows a day, which doesn't seem that many, and it isn't.
But we've got to consider that we've got to time when we do the shooting with all the strength and conditioning sessions and the amount of meetings that we have to attend, with a majority of them Zoom meetings. So, Covid has upset things, but the technology has enabled us to move forward.
Do you have a ritual that you do before competing?
I don't know how to say it, but I don't generally have any rituals, but then thinking about it, I do. The thing is, I've got photographs taken of me doing this. We basically as archers, we've got to have straight arrows, obviously.
So, what I always tend to do, and I offer my services to my teammates, I spin my own arrows and then whittle the ones out that might have a slight wobble on them. We have enough arrows to basically pick and choose which arrows we're going to shoot in competitions. For me, my ritual would be spinning arrows before I start to shoot.
In your opinion, what attributes does a successful archer need to have?
You've got to be very much self-driven. The sport in time has actually moved towards being very supportive, but to get where you are to be supportive, you've got to be pushing yourself forward.
You can't be sitting back and waiting for Archery GB to come and knock on your door. You've got to be out there being seen to be competitive. So you've got to be self-driven, motivated and get on and do it at any cost.
We live in Britain and unfortunately, as the weather's shown in the past, you've got to be out there in all weathers. You've just got to grin and bear it when the weather turns to the worst.
What advice would you give to other disabled people wanting to get into archery?
Archery is a sport where you don't have to be the fastest, the fittest or even the best looking. It's all about being committed to the sport. You've just got to get out there and give it a go.
It's all about you with the bow and having a good mental attitude. At whatever costs, even if you shoot a bad arrow, put that behind you, forget about it and move forward. Doing this will enable you to become a better you.
To find out more about John Stubbs and others on the Team GB squad, follow Archery GB on Twitter and Instagram.
Be sure to tune in to watch John Stubbs at the Tokyo 2020 Paralympic Games from 24th August to 5th September 2021 on Channel 4.
Interview by Emma Purcell 
More on Disability Horizons…