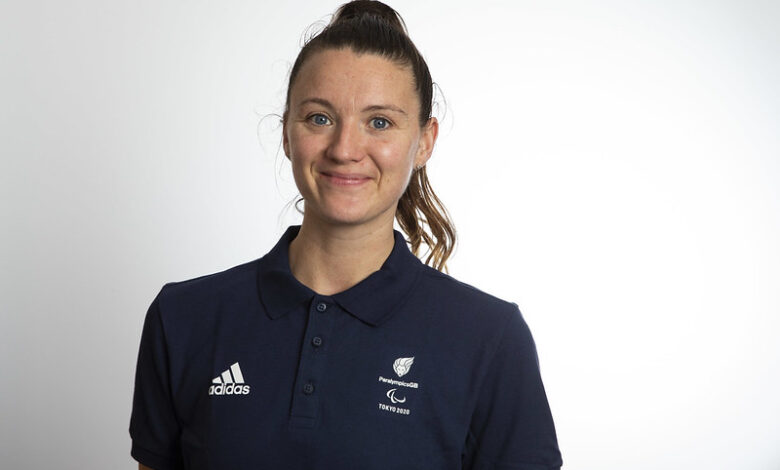 Wellbeing & Fitness
Tokyo 2020 Paralympics: Para-taekwondo athlete Amy Truesdale in the spotlight
Disability Horizons is doing a series of interviews with Paralympians who are set to compete in the Tokyo 2020 Paralympic Games. In these interviews we will be talking about career success, highlighting individuals achievements and what they are most looking forward to at the games.
Amy Truesdale is a World and European medallist and world number one in Para-taekwondo. She is set to make her Paralympic debut this year as the sport joins the Paralympic programme for the first time at Tokyo 2020.
Our writer, Emma Purcell, got the chance to speak to Amy Truesdale about her disability, her career in taekwondo and her preparations for Tokyo 2020.
Chester-born Amy Truesdale has already enjoyed significant success in Para-taekwondo, with multiple World and European medals to her name including golds in the 2016 European Para-Taekwondo Championships and the 2017 World Para-Taekwondo Championships.
The 32-year-old was born without her left hand and forearm and was initially encouraged to take up the martial art by her father for self-defense alongside her sister, Chloe.
Amy secured a slot at the Tokyo 2020 Paralympic Games in 2019 courtesy of her European bronze medal that year and subsequent status as the world ranked number one.
She will be joined by taekwondo reigning world champion Matt Bush and Beth Munro – who only began training full-time in the sport in 2019.
Amy is also a keen advocate for disability sport and has made it her mission to raise awareness.
Read on to find out more about Amy Truesdale in her own words.
Amy Truesdale living with her disability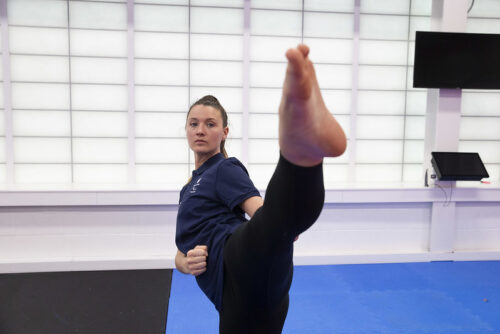 What was it like growing up with your disability and do you, or have you in the past, used a prosthetic hand or hook?
Growing up with my disability I was treated exactly the same as everybody else. I just had to find certain ways to adapt to do certain things.
When I was a child, I used to use a prosthetic. However, I have never used one since and I feel they are more of a hindrance to me personally. I was born with one arm so it's like adding something that I've never had.
Do you face challenges with your disability? 
The biggest challenge I faced with my disability is experiencing prejudice from others. I feel society comport judgements and limitations on you before they even know you or your abilities.
Amy Truesdale becoming an athlete in taekwondo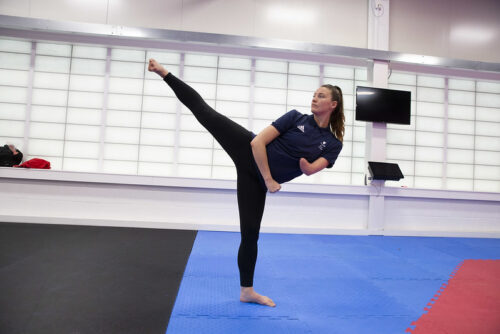 For anyone who may not know, can you tell us what taekwondo is?
Taekwondo is a form of Korean martial arts, in which each fighter attempts to knockout their opponent or score points by landing blows on their opponent's bodies.
Olympic and Paralympic taekwondo have the same rounds, which are three two-minute rounds, and the aim is to score as many points as you can.
Olympic taekwondo you can kick to the head whereas this is a prohibited kick in Para-taekwondo so there are no head shots allowed and punches to the body are not scored, but Para-athletes can score additional points for more difficult kicks.
How did you first get into taekwondo and get up to elite level?
I started taekwondo at the age of eight as my parents encouraged me to start. I did a different style of taekwondo (semi contact) for 22 years, which was against able-bodied athletes.
Once I had reached the highest level and became world champion, I then transferred over to full contact Olympic style taekwondo and again, competed against able-bodied athletes.
Eventually, Para-taekwondo was introduced, and I started that as a new avenue and opportunity.
Due to my consistent medal success, funding was received for a world-class program and that's how I became an elite athlete.
What has been the highlight of your athletics career so far and why?
My highlight is becoming World champion in 2017 in London and being the first person to qualify for the Paralympic Games. I am delighted that I will be making history by representing Paralympics GB at the games.
Amy Truesdale preparing for Tokyo 2020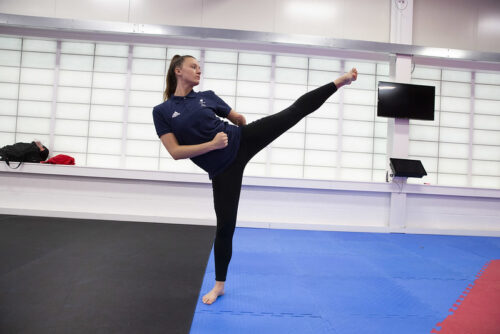 How have you been preparing for Tokyo 2020 and do you still have concerns relating to the pandemic?
I have been fortunate enough to train at my regular facility throughout a majority of the pandemic.
Training has been full steam ahead and I am confident the relevant people have insured all safety measures and procedures are put in place.
What are you looking forward to the most at the Tokyo 2020 Paralympic Games?
I am looking forward to making history and receiving the medal I have worked so hard for over the past few years. I feel like it's going to be extra special because it'll be the first time we're featured as a sport and I'm really privileged to be a part of it.
Amy Truesdale raising awareness for disability sport in taekwondo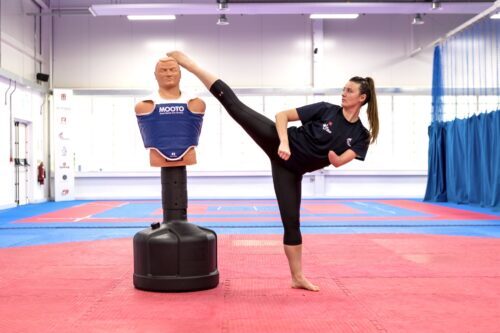 Are you hoping that competing at Tokyo 2020 will inspire other disabled people to take up taekwondo? 
My aim is to inspire other individuals. By me showcasing my ability to the world I really hope it will inspire all those with disabilities that they can achieve anything they want to in life.
What advice would you give to other disable people considering taking up taekwondo? 
Don't be afraid to ask questions, don't put pressure on yourself and just enjoy it!
Follow Amy Truesdale on Twitter and Instagram.
Be sure to tune in to watch Amy Truesdale at the Tokyo 2020 Paralympic Games from 24th August to 5th September 2021 on Channel 4.
Interview by Emma Purcell 
More on Disability Horizons…