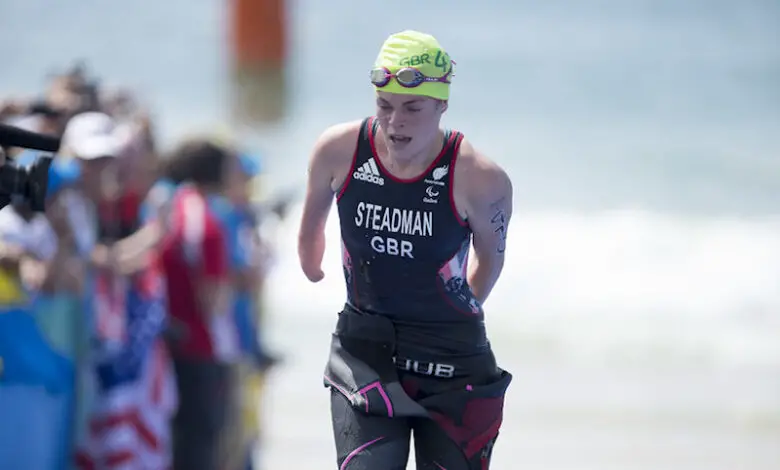 Disability Horizons is doing a series of interviews with Paralympians who are set to compete in the Tokyo 2020 Paralympic Games. In these interviews we will be talking about career success, highlighting individuals achievements and what they are most looking forward to at the games.
Lauren Steadman is an elite Para-triathlete who is already a triple World Champion, Paralympic silver medallist at the Rio 2016 Women's PT4 and seven-time European Champion. She is now set to compete in her fourth Paralympic Games in Tokyo this summer.
Our writer, Emma Purcell, got the opportunity to interview Lauren Steadman about her disability, her career in athletics, her preparation for Tokyo, plus her appearances on Strictly Come Dancing and Celebrity SAS Who Dares Wins.
Lauren Steadman is a 28-year-old Para-triathlete originally from Peterborough. She was born without her right forearm and occasionally uses a prosthetic.
Lauren's passion for swimming started at just four years old. She began competing in her local swimming team from age 11, representing Team GB.
Two years later, Lauren took part in her first international competition in Denmark, as well as the 2008 Beijing Paralympic Games.
Intent on pushing the boundaries of possibility even further, and encouraged by her uncle, she switched sports, from swimming to the triathlon, after the London Paralympic Games in 2012.
She has been hugely successful since her transition from swimming into triathlon in 2011. Lauren has been crowned World Champion on three occasions (2014, 2015, 2018) and is a seven-time European Champion (2013, 2014, 2015, 2016, 2017).
Alongside her demanding athletics career, Lauren has pursued academics and achieved a first-class Psychology degree in 2014, followed by a Master's in Business and Management.
As well as her sporting commitments and studies, Lauren has made a couple of appearances on television, competing on the shows Strictly Come Dancing in 2018 and Celebrity SAS Who Dares Wins in 2020.
Lauren was paired with professional dancer AJ Pritchard and they made all the way to the semi-final of Strictly.
In Celebrity SAS Who Dares Wins, Lauren was crowned joint champion of the gruelling military course alongside music artist DJ Locksmith from the electric pop duo Rudimental.
Read on to find out more about Lauren Steadman in her own words.
Lauren Steadman living with her disability
 

View this post on Instagram

 
What was it like growing up with your disability?
Having a disability growing up, I think makes you a very determined and I guess it creates a sense of wanting to show people that actually having a disability doesn't stop you from doing anything.
I think that's where sport came into my life. As a youngster, I just wanted to be part of every sports team and every sports day. I loved being around friends, families, and playing sports.
I thoroughly loved being a child with one arm. I did another interview previously where I just said to the guy I'd love to have two hands for one day to see what it's like to do things like having a steak and cutting it with two hands or press up with two hands. But otherwise, I wouldn't want to have two hands. I love having one hand.
Do you use a prosthetic arm for everyday tasks and/or your sport?
Yes, so my parents fitted me with a prosthetic arm when I was six months old. My Mum said that she encouraged me to wear it as a youngster to basically have equal balance across both arms so that my shoulders would stay equal and my development would be pretty equal across both muscle sides in my body.
I became really good at using an arm and I literally wore my arm 24 hours a day unless I went swimming or I was sleeping. It was only when I was 14 did I stop using a prosthetic and started doing day-to-day things without an arm.
But I still wear a prosthetic when I'm on the bike. I don't need to wear one. It's just quite nice to have the extra sense of control and safety when you're flying around at 40 kilometers an hour, just to be able to control the bike. So, yes, I don't mind wearing one and I also don't mind not wearing one, so pretty open to both.
Lauren Steadman becoming a para triathlete
 

View this post on Instagram

 
You started out as a swimmer but was encouraged to switch to triathlon by your uncle. What was it like to switch and do you feel it was the right decision?
I really loved my career as a swimmer and I still do love swimming. I'm very lucky that as I'm a triathlete, we still have a lot of swimming training within my weekly schedule, but I decided to make the transition after London Paralympic Games because I felt though I had reached the limit of my swimming capabilities and I was very good at other sports, not just swim, bike, run but lots of other sports.
So, it meant that my whole career I've done a lot of cross-training between doing things like extra run training, swim training, any sports.
My uncle encouraged me to give triathlon a go and I did. At first it was really painful doing three sports in one. I was like, "I don't know if I want to do this".
But then I loved triathlon because you get to do so many different things in your days and weeks because you can swim inside a pool or out in lakes and seas, you can ride on a static bike or you can go anywhere you want on your bike. It's kind of like freedom. The same with running, you can do cross country track running or treadmill running.
Now I love the variability that you can get in one week of training. It's also kind of a family sport because my Mum will come with me on her bike whilst I'm running, and my Dad will cycle with me. So, it's like everyone gets involved, which I really love.
Out of the three triathlon sports, which is your favourite and why?
I think at the moment I love the cycling the most. I have a love, hate relationship with running because I find it very painful. I'm not a naturally gifted runner and I still enjoy swimming because it's my peaceful calm place to go and swim and feel stress-free. But there's something about riding a bike. I just really love it.
What has been the highlight of your athletics career so far and why?
Many would think that I would say the silver medal in Rio and it definitely was a highlight, but I actually think there's two that stick in my mind – 2008 where I qualified for my first Paralympics. It was such a special moment for me. I was 15 years old and I can remember my parent's support, I can remember the race and I didn't think I was going to be able to qualify and I did.
Then winning my first world title in paratriathlon in 2014 in Edmonton. My grandparents aren't here anymore. But they were there along with my aunt and uncle, my Mum and Dad and my sister. It was just a really special moment and I've won the world title since, but none of them have been as special as this one.
Lauren Steadman preparing for Tokyo 2020
How have you been preparing for Tokyo 2020 and do you still have concerns relating to the pandemic?
I actually feel very lucky right now. I've had no injuries. I've been living out in Lanzarote for the last six months and I've managed to do all my training. It's been lovely, warm weather. There are restrictions out here, but it's a smaller island, so there's been less restrictions. It's been really lovely just to lead a normal lifestyle.
Was it difficult last year with the games not happening? Yes, but I think in life you need to look for the positives and actually it was one more year to get stronger, better and fitter, and right now, fingers crossed, touch wood, I have not got any injuries, had a solid six months and I'm in the best shape I've ever been.
So, hopefully going into the games, I'm just going to give it my best and fingers crossed I can bring home a medal.
Do you know when you'll be travelling to Tokyo and what Covid-19 measures will be in place?
We leave Friday the 13th August. There are lots of restrictions in place it's mainly around Covid testing, making sure that we do all the requirements necessary for Japan to let us in.
Then once we're there, it's kind of similar to how it of other sports events have been dealing with it I guess – staying in your room, staying away from people so that you limit your chance of being exposed to the virus and just being really, really cautious on everything you do.
It's only for the next four weeks until the race. We need to be super, super careful, because it would be devastating for any athlete to be near someone that gets pinged as being positive and then they couldn't do that race.
What are you looking forward to the most at the Tokyo 2020 Paralympic Games, as well as aiming to secure the gold medal?
Definitely the Paralympic atmosphere itself. It's going to be slightly different to normal because obviously we are not in the normal procedures that we get to do. But sort just being around other Paralympians, the whole world coming together in one place, going to view other sports that are happening and seeing other people be successful – and it is I guess the biggest Paralympic event to date yet.
So, just embracing the fact that we've got a Paralympic Games happening this year and I've been especially lucky to be selected to represent at my fourth games.
Lauren Steadman competing on Strictly Come Dancing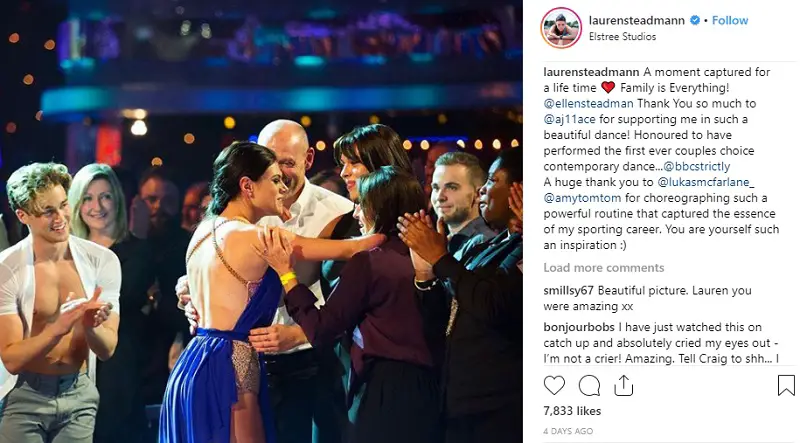 Why did you decide to sign up for Strictly?
I was given the opportunity to go on Strictly and it was definitely out of my comfort zone. I did a little bit dancing before, but nothing to that scale and I've never danced in front of 14 million people live on television, I can tell you that.
But it was a chance to push my comfort zone, physical barriers, learn a new skill and show people that actually you can learn new skills, you can do it and you can believe in yourself.
I guess what I wanted to do was show that I have one arm and I was able to learn a new skill. I wanted people at home who perhaps put themselves in a corner and they didn't believe in themselves to actually think, "if Lauren can go on there with a disability and show that actually she can dance, maybe it's not the generic way of dancing and it's slightly different, then why don't I go and try a new sport or a new hobby?"
There's so much to do out there and I don't think people experiment enough with just new hobbies or new things to do. Actually, I just wanted to give people a sense of that they can basically, installing them like a little Duracell battery that they can go and be who they want to be and do what they want to do.
What was it like being partnered with AJ Pritchard and do you still keep in touch?
Yes, I messaged AJ recently after him and his girlfriend ran a half marathon, which was fantastic – well done to those two – and they were raising money for charity as well, which I do enjoy when people raise money for charity.
But being partnered with AJ was an interesting dynamic because we're both very competitive people. We constantly challenged each other. So, where he might say, "well, I'm not sure we can do that", I'll be like, "yes, we can" and then there'd be some points where I would be like, oh, I don't know if we can do that. And he was like, "nope, we are definitely doing this". So, we were really good for each other in that.
We pushed each other, we thought outside the box and we had so many beautiful messages from members of the public that actually it was sort of great. That's what kept us going, listening to these messages or reading letters.
I wasn't the best dancer on there. We weren't the best pairings getting loads of high scores, but we loved each and every week and we gave it our best.
What was your favourite dance to perform on Strictly and why?
I would say that my favorite dances were in the ballroom and in particular, my Viennese waltz and my American smooth were my favorite.
We had to think a lot about the other dances, whereas the ballroom dances, especially those two, just felt natural to me. It was easy to remember the steps and focus more on the smaller things – so definitely those two.
How did it feel to make it to the semi-final of Strictly?
Unexpected is probably the best word for that. I didn't expect to, I had no expectations going in. I could have gone out on the third week, the fifth, the sixth, any of them, but to know that I made it to the semi-finals with no dance experience and I was really chuffed and over the moon.
I think that the final itself was just phenomenal to watch anyway. So, I really, really enjoyed it and if I could do it again, I would.
Lauren Steadman appearing on Celebrity SAS Who Dares Wins
Why did you choose to take part in Celebrity SAS Who Dares Wins?
Again, it was something very different to the world of sport and something very different to the world of Strictly in its own right. SAS is a brutal course to be part of and I wanted to do it probably for personal reasons just to see if I had any physical limits or mental limits in a different avenue.
I know what it's like to push myself in sport and then to push myself on the biggest TV show there was. So, I wanted to try something that was physically demanding, but mentally challenging as well. I was super chuffed that I did it because it opened up a whole other world of pain – is probably what I would describe it as – physically and then being really tired and really hungry.
But it was an awesome experience. I made awesome friends and if I could do that one again, I would as well.
What was the most difficult part of the SAS military course?
Probably the sleep deprivation. There were lots of physical things involved and lots of quite scary challenges. But I think personally I found only getting three to four hours sleep a night really challenging because as an athlete, you rest and recover really well, and you can always push yourself the next day. So, functioning on like a half battery was just really, really difficult.
How did it feel to be crowned joint winner on SAS Who Dares Wins?
Fantastic. I was there with DJ Locksmith. He was crowned champion as well with me and because you've been through so much together emotionally and physically, to have someone standing there by your side, it was amazing.
When they told us that's the end, we both looked at each other and we were like, we don't believe them because we were waiting for them to play like another trick and then when they did say, I think we both started crying because we were so tired, so hungry.
What advice would you give to the next generation of Paralympic athletes?
I would say to the next generation of Paralympians that it might be easy and sometimes it won't be pretty, and you'll feel like you want to stop, but keep going, have determination, have resilience, but above all, be happy and enjoy what you do.
You should love it day in, day out. It's a journey and it's not always about end result. So, remember to enjoy the journey because that's life at the end of the day, it's every day. If you enjoy what you do, you're going to love the big moments.
Follow Lauren Steadman on Twitter and Instagram.
Be sure to tune in to watch Lauren Steadman at the Tokyo 2020 Paralympic Games from 24th August to 5th September 2021 on Channel 4.
Interview by Emma Purcell 
More on Disability Horizons…