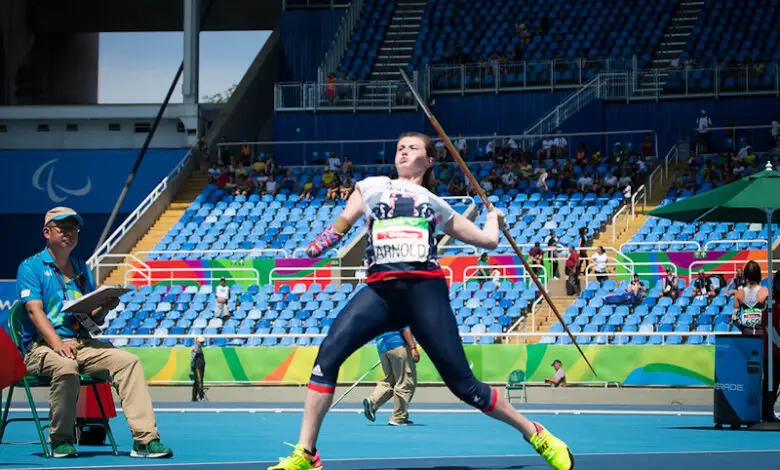 Wellbeing & Fitness
Tokyo 2020 Paralympics: Paralympic javelin champion Hollie Arnold MBE in the spotlight
Disability Horizons is doing a series of interviews with Paralympians who are set to compete in the Tokyo 2020 Paralympic Games. In these interviews we will be talking about career success, highlighting individuals achievements and what they are most looking forward to at the games.
Hollie Arnold MBE is the current F46 Paralympic javelin gold medallist and four times consecutive World champion, Commonwealth champion and European champion. She is now set to defend her Paralympic title at her fourth games in Tokyo this summer.
Our writer, Emma Purcell, got the pleasure of speaking to Hollie Arnold about her disability, her career in athletics, her preparations for Tokyo 2020 and her appearance on the TV reality show I'm a Celebrity last year.
Hollie Arnold MBE is a 27-year-old Para-athlete originally from Grimsby but currently living in Loughborough, Leicestershire. She also spent seven years living near Cardiff in Wales and represents Wales at national competitions.
She was born without her right forearm and hand. She admits she has had some struggles in her life but has always given 100% to everything she does and accepts her disability.
She was introduced to javelin while at a sports trial event near Grimsby. She threw her first javelin there and instantly fell in love with the sport.
At the age of 14, she was the youngest athletics athlete to qualify and compete at the Beijing 2008 Paralympic Games and went on to finish an impressive 11th in a mixed category.
Hollie saw significant improvement by the time the next Games came around, winning bronze at the 2011 IPC Athletics World Championships before a fifth-place finish at London 2012.
She went on to be a dominant force in the F46 javelin, winning back-to-back world titles in Lyon and Doha in 2013 and 2015 respectively. At Rio 2016 Hollie became Paralympic champion, breaking the world record, and added a third world gold to her name a year later in London.
2018 proved another successful year for Hollie as she claimed European gold and also threw a world record on her way to Commonwealth Games gold, her first major medal for Wales.
She claimed world gold in Dubai in 2019 – her fourth consecutive title – with a new European and championship record.
Hollie was appointed an MBE in the 2017 New Year Honours List.
Hollie will now be going to Tokyo to defend her Paralympic title this summer.
Hollie's boyfriend, Josh Morgan, is also a Paralympic star and is now a national table tennis coach for Welsh table tennis.
In 2020 Hollie became the first Paralympian to appear on ITV's I'm a Celebrity… Get Me Out of Here!. She showed that her disability doesn't define her, and she can achieve anything. Plus, we discovered her hidden talent of singing.
Read on to find out more about Hollie Arnold in her own words.
Hollie Arnold living with her disability
View this post on Instagram
What was it like growing up and have you faced any challenges with your disability?
My Mum and Dad found out that I had a missing right forearm at the 20-week scan. I guess that was a little bit of a shock for them because they thought they were getting a two-arm baby.
But growing up for me was easy and hard because I had such amazing family and friends around me. They let me do things by myself. I was always a very determined young girl, very stubborn and wanted to try and learn everything myself.
I think I did my shoelaces for the first time at the age of five by myself and I used to dress myself and tell Mum what I wanted to wear. As a young child, I didn't really have that much of an issue growing up.
But when I started my teenage years, I realised that I looked different from other people. I went to a normal school, so I was the only disabled girl there and somebody who looked different from everybody else.
When boys and emotions and hormones set in, I was like, "why am I different? Why have I got one arm? Why is it me? Why not anybody else?" I think I went through that self-confidence phase where I felt ugly and like I didn't fit in.
The only thing for me was sport. Luckily that helped me through a path of seeing and compete with disabled people and knowing that there's other people out there worse off than me. It was just amazing and eye-opening to see that.
So yes, I got bullied like anybody else. Even if you're not disabled, everyone unfortunately gets bullied – this is a society we live in now. I guess really the bullies made me stronger, they made me want to show them even more that I was somebody special.
Have you ever used a prosthetic arm?
Yes, when I was younger, I had my baby little prosthetic arm that they wanted me to use just so I was able to develop this side and I used to crawl around with it, walk and push myself up.
As I got older, I had a prosthetic arm, in which I would use the muscles in this arm to open and close the arm. So, I used to have fun with that at school and pretend to pinch my teacher's fingers and get the arm stuck, which was not good.
Then at 10 years old. I started hating my arm. I didn't like it. It always used to get sweaty and it was quite sore around my arm. I felt like I didn't want to hide my arm anymore. I am who I am, I can't change that, and I could do everything without my arm. So, I decided to give up my prosthetic arm as I didn't need it.
The only prosthetic I use now is my throwing arm, which is basically acts as a counterbalance. It's weighted and smaller than my normal arm. For javelin throwing, it's really helps with balance and accuracy for me. So that's the only time I ever use a prosthetic arm is when doing my sport.
Hollie Arnold becoming a javelin thrower
View this post on Instagram
What inspired you to become a javelin thrower?
It sounds silly, but I don't really have an amazing story. My story was that when I was younger, I was very sporty. My brother and I used to do everything from cricket, football, basketball and swimming.
We went to a sports centre that had everything on, you could do everything. It was called Star Track, which was at Cleethorpes track near Grimsby, where we used to live.
My brother and I went there, and we just tried different sports. I saw him pick up the javelin and throw it. I really wanted to beat my brother because I was always quite competitive.
So, I picked this javelin up, having no idea what it is or even what it's really called, and I just picked it up and threw it and everyone was like, "oh wow, have you ever done this before?" and I was like, "I have no idea what it is. I like it though."
It was just such a whirlwind. I joined the club and started training. I didn't just do javelin. I also did shot put, discus, running and long jump. But javelin always was the one for me. I always felt like my most competitive side really came out with the javelin.
I trained and did a couple of competitions mostly with able-bodied athletes. Then once or twice I did a disability competition and then luckily qualified for Beijing Paralympics in 2008 at the age of 13.
What do you love most about javelin?
I think what I love the most about javelin is when I'm there throwing the javelin, it's like an outlet. It just feels natural and normal and I feel happy when I'm throwing.
I'm quite a competitive and aggressive person. It's a fluid motion, like dancing with its rhythm. There are so many things that I love about javelin that it's really hard to describe just one thing, but I love all of that.
It's also how it makes me feel. I'm still the same person, but all my worries and stresses go away, and I just focus purely on throwing. It gives me that strength and that confidence to be able to be the person I am.
How did it feel to be the youngest member of Team GB at Beijing 2008?
I was the youngest person for athletics. It was scary and it was a big world. I was in Beijing for a month and I hadn't seen my parents at all in that time. It was scary, but at the same time I was fine.
I was loving life. I was enjoying soaking everything in. I loved the food hall, which was massive and filled with so many people. I've never experienced this number of disabilities at that age. It was just the exposure and the excitement of not really having pressure on me.
I was just there to compete and enjoy that experience. It was amazing to go out there and compete in front of 90,000 people in the Bird's Nest stadium. I could never comprehend how that felt. There was lots of emotions going on at that time, but I really loved it.
What has been the highlight of your career so far?
I think for me it was going out to Rio and becoming Paralympic champion for the first time ever and breaking the world record for the first time ever. It wasn't only just once I think it was three times that I threw over the world record in the whole set of six throws
Also, to have my family there in Rio – my brother, my boyfriend, his Mum – was just one of them things where I trained since just before Beijing and then I went to London and it didn't go right. I was just too young, and I knew it wasn't my time then.
But Rio, I felt like it was my time. But the scary thing was I was actually injured on my throwing shoulder. I hadn't competed or thrown for about three or four months prior to going in. So, we did a lot of rehab stuff. I had no idea what that day was going to turn out like.
Luckily, I went out there and did the best that I could. Standing on the podium made me realise all the emotions and sacrifices that my family, friends and I made was all worth it. That moment will always take me to my grave.
How did it feel to be awarded an MBE in the 2017 New Year Honours List?
That was amazing. Again, just to be recognised for what I've achieved in life for sport and representing the country. I just think it was just amazing. It was such a lovely day and my Mum, Dad and my boyfriend were there to celebrate with me. It was incredible. It was just incredible experience.
I never realised that I would probably get this opportunity in my life when I was at 14 years old. I had no idea that's what I could have achieved. It was such an honour.
Hollie Arnold preparing for Tokyo 2020
View this post on Instagram
How have you been preparing for Tokyo 2020 and do you still have concerns relating to the pandemic?
Last year was really tough for everybody. I guess for athletes, it was just that double extra hit of the Paralympics and the Olympics not going ahead. I think for us as athletes, it's not just a four-year cycle. We train for years and years and years. It's a non-stop cycle for us.
For me, I mentally and physically had to take a step back from athletics last year. I needed a break. I lost myself, I lost my structure, I lost what I was going to do and hopefully go out there and retain that title.
But having that break did me the world of good. I mentally came back stronger and trainings been going well. We have dips in the road like anybody else, that's normal, but you just have to trust in the process.
I do have concerns. It's scary. We're doing so much testing. My testing schedule at the moment is every couple of days, in which I'll have couple of PCRs before I go and have lateral flow tests every couple of days.
I'm just worried that being on that plane, you could be sat next to anybody. We don't know who actually is going to be sat next to me.
Currently, I'm in a bubble. I don't go to restaurants anymore. I don't really see my friends and family anymore. I've really limited myself, which I don't like because I'm such a family person, but they understand.
It is scary because you could catch Covid and potentially that could be it and you're out of the games. It's horrible to say, but that is the realisation.
We're doing everything we can. The team are really helping and supporting us with that. I guess you just have to really stay positive and try not to let the negative thoughts come in your head, but yes, there is concerns.
I'm sure there's concern for everybody. Especially after seeing the Olympics and a couple of people who have come down with Covid.
I'm excited, but nervous about what's going to go on, but what we can do is just wait and see.
Do you know when you'll be travelling to Tokyo?
I'm leaving the 17th of August. I've got one more competition locally, which is the Throws Fest, which is at Loughborough, where I'm living, so that'd be great.
My coach has organised that and I've got my training partner's there with me, so hopefully it will be that fun, exciting, last competition  with good positive vibes before we fly to Tokyo.
What are you looking forward to the most at the Tokyo 2020 Paralympic Games, as well as aiming to secure the gold medal?
It's difficult because again, I've experienced so many in the past, but with these games we're not really allowed out. We're not really allowed to do things, so it's going to be really hard.
It's going to be really hard to try and enjoy the games. The village is fantastic and it's so big. There are so many things you can do, but this time round, we can't do that.
This time, I think it's just about surrounding yourself with the good people on your team. I have quite a lot of good friends on the team. Also, it's about keeping yourself busy watching lots of films and reading books and just trying to zone out a little bit really.
I think it's been a busy and stressful couple of weeks, so I just need to go out and enjoy it. I think the one thing that we always forget in life is whatever job you do and even though we love it at times, it's difficult. There's a lot of pressure. There's a lot of stress and sometimes we get lost in that.
I need to go out there and enjoy myself. This is what I do day in, day out. My blood, sweat, and tears goes into this competition, plus the family support, the friends support, the sacrifices we've all made. I still need to go out there and go out and enjoy the competition. I think that's what I'll really try and do.
Hollie Arnold appearing on I'm a Celebrity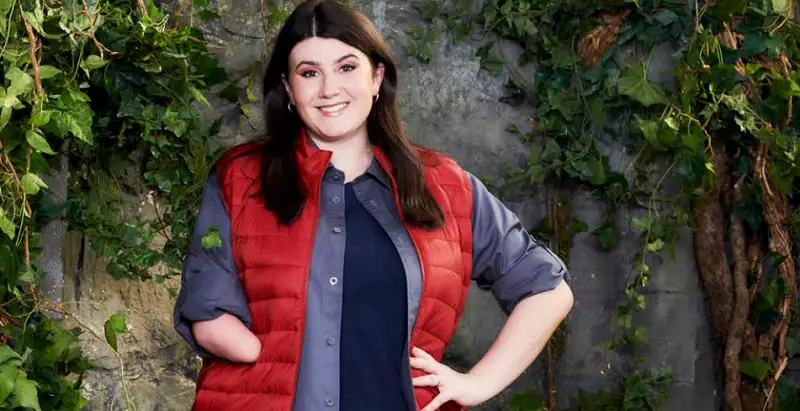 Why did you choose to go on I'm a Celebrity and how did it feel to be the first Paralympic contestant?
It was incredible to be the first Paralympian and first visibly disabled person. It's amazing, but it's kind of sad in a way that I'm only the first and it's been 20 years of the show.
I felt a lot of pressure, I guess. I never really knew I'd have this opportunity to do something like this. My life is sport, and we don't always get these incredible opportunities.
So, with the Paralympics being postponed, for me, I think it was the best thing I ever did. I spoke to my coach and the people around me and obviously it was missing a little bit of training, but we weren't really in that training phase because it was really difficult all last year for training wise.
I just remember my coach saying, "do it, do it… you'll have the best experience" and "I need you to do something to get yourself there and get yourself back to normal Hollie" and it really was.
It was just an incredible experience to meet the amazing people you'd see on TV. I don't class myself as a celebrity, but to see these people like Vernon Kay and Beverly Callard. I was just like, "Oh my God, this is crazy".
Then within the first few days, we just all connected. I don't trust people very easily, but I think that I just ended up saying everything and telling them all my stories and vice versa. That was so lovely to listen to their life and what they were like when they were younger and how they got into their jobs.
Then obviously there was the nitty gritty bits of the stuff we were doing, which was just awful. But I wanted to prove to myself that I am strong, and I am resilient, and I do have confidence to go out there and show people that my disability doesn't hold me back.
I just wanted people to see that I didn't make a big deal about my disability. I'm very lucky and privileged that I'm probably one of the least disabled people out there, but I have had struggles in life, that's without saying, but I just try and get on with it.
I think that's what most people with a disability do. They overcome so much in their life and I want to live and enjoy my life, how I should, because I'm never, ever going to grow an arm back.
So, the thing is to just go out there and be you. You are who you are. I think that really showed on I'm a Celebrity.
Unfortunately it's so edited that you probably didn't always get to see the really good bits, the memories that I have in there and the conversations that we had.
What was your experience like in the castle and were you slightly disappointed you weren't going to the Australian jungle?
Yes, obviously, when we were having these conversations, we were hopefully going to Australia and then a couple of months afterwards, we just couldn't make it.
So yes, I was disappointed, but then again, I lived in Wales for seven years. I lived near Cardiff and my boyfriend is from Swansea. I just felt like this was really exciting and it's somewhere new.
It was the 20th anniversary of I'm a Celeb and there were so many new things. To be a part of that – it certainly wasn't a normal I'm a Celeb, it was the Covid one – it was amazing to be in north Wales and it's so beautiful. I can't wait to go back and actually enjoy north Wales and go and see places instead of just the horrible dingy dunny.
How did it feel to be voted off first on I'm a Celebrity and do you still keep in touch with the other celebrities?
A hundred percent I was absolutely gutted as I couldn't control any of my emotions when I came out, but I think it was just because I was the least known there. I don't have a massive social media following compared to some of the others as they've been on TV for years and years.
I knew that it would probably be me going out first, so I always had that in my head, but I just wanted to enjoy every single moment of being in there.
Hopefully people know who I am and what I do and my sport and hopefully watch the Paralympics this year and see what we're about.
And yes, we speak all the time. We have a WhatsApp group, which I made. It was a deal with everybody that whoever went out first would set up the group, so that was me, but that was exciting.
We speak very regularly. I've just recently done some filming with a couple of the guys that will come out hopefully in a couple of months, so that'd be really exciting on TV – can't say what it is but that'll be a fun and a bit of a laugh.
It was just so lovely to be able to see them again because I haven't seen them since the castle. Again, with everything with me, with training and Covid wise, I've been very limited of where I go and who I see.
But hopefully after Tokyo and when Covid restrictions will ease further, we'll meet up and have a big celebration because I think we all need it.
What advice would you give to other disabled people considering to become a javelin thrower?
I would a hundred percent say that don't just try one thing, try everything. If you like athletics then try all the different sports, because that's what I did. I fell in love with javelin. I knew javelin was going to be my sport, but you don't always know.
If you want to do Javelin, you should know it is hard, but it's amazing. I'm hoping that there's going to be so many younger, talented females and males coming through.
I've had lovely messages from when I was on I'm a Celebrity saying that their daughter or their son wants to get involved in the Paralympics and watching you and seeing that your disability doesn't hold you back. For me, that's why I kind of wanted to do it.
Just go and have fun. Not everybody has to compete at the elite level that I do. It was something that I've always wanted to do. But being involved in sport, you make so many incredible friends. I think that's really important for people with disabilities and even just in general. You'll find the best ever friends through sport and I've found some incredible people.
I just think find your sport, find what makes you feel happy and if you enjoy it, carry on doing it.
Follow Hollie Arnold on Twitter and Instagram.
Be sure to tune in to watch Hollie Arnold at the Tokyo 2020 Paralympic Games from 24th August to 5th September 2021 on Channel 4.
Interview by Emma Purcell 
More on Disability Horizons…