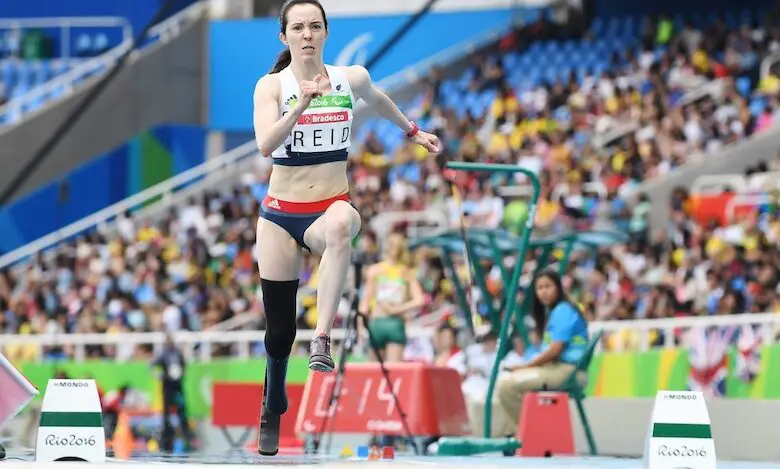 Disability Horizons is doing a series of interviews with Paralympians who are set to compete in the Tokyo 2020 Paralympic Games. In these interviews we will be talking about career success, highlighting individuals achievements and what they are most looking forward to at the games.
Stef Reid is a World, European and Paralympic medallist in the T44/64 long jump. She is now in Tokyo about to embark on her fourth Paralympic Games.
Our writer, Emma Purcell, got the opportunity to speak to Stef Reid from a preparation camp in Japan ahead of the Paralympic Games. She tells us how she got into Para-athletics, her proudest moments and how she has been preparing for Tokyo 2020.
Stef Reid was born in October 1984 in New Zealand to a Scottish father and English mother and grew up in Toronto, Canada.
She was always a sporty person but at aged 15, Stef was involved in a boating accident, which resulted in her right foot being amputated. She took a step back from sport to focus on her studies and later got a scholarship to study biochemistry.
While at university, she was introduced to Para-athletics and soon after represented Canada in the 200m sprint at the Beijing 2008 Paralympic Games, where she won silver.
By London 2012, Stef had switched allegiance to Great Britain and her sport to the long jump, where she also won a silver medal.
In 2014, she won gold at the IPC Athletics European Championships, in Swansea, Wales.
She added another Paralympic silver medal to her collection at Rio 2016 where she finished second in the T44 long jump once again.
Stef struck global gold at the London 2017 World Championships but was unable to defend her title in 2019 due to injury.
Now she is set to compete in the T64 long jump at the rescheduled Tokyo 2020 Paralympic Games this summer.
Stef is married to Canadian wheelchair racer and world record holder Brent Lakatos – who is also competing in Tokyo for Canada – and they've both been living in Loughborough, UK since 2010.
Stef also made a TV appearance on Celebrity MasterChef in 2018, making it to the semi-finals.
Read more about Stef Reid in her own words.
Stef Reid becoming a Paralympic athlete
 

View this post on Instagram

 
What inspired you to get into Para-athletics?
Oh man, that's a long answer. I will shorten it for you though. I actually grew up wanting to be an international rugby superstar. That was my original dream. I was always very sporty.
Then when I was 15, I was in an accident and that's when I became an amputee, which made rugby slightly less practical.
This was a time before Para-sport existed and I didn't really know much about running blades. So, I just kind of accepted sport probably isn't going to be for me anymore.
I'd always loved school and I just started using the time that I used to use playing sport investing in my schoolwork. I then went quite the academic route and got a full scholarship to study biochemistry.
Then when I was at university, I got my hands on my first running blade and just said to the athletics team at university, "I don't know how to use this. I've not really done this before. Can you help me?"
They were fantastic and just said, "we don't know what we're doing either, but come along and we'll figure it out together. So, we did and it just kind of grew from there.
Why did you choose to switch from sprinting to long jump?
A very simple reason – I was a lot better as a jumper. Well, I still love sprinting. So initially I was doing both of them because if you're going to jump far, you have to run fast.
But I think as things progressed, I did actually find training for the sprint quite tough on my back and it was giving me injuries.
But I also loved the long jump because you get six attempts and you get the crowd involved, whereas in the 100m, you just get out there and you get a gun and then you're done. I think I just naturally gravitated towards the long jump.
What has been the highlight of your career so far and why?
So many, I think probably one of the moments I was most proud of was in the London 2017 World Championships. It was definitely a new experience for me because I was competing as an athlete and I had also been part of the organising committee and so thought from a different side.
Then after my events, I was switched to the broadcast team and then helping broadcast it. So, to be involved in this competition in three different ways was quite a special experience that I really loved.
Stef Reid preparing for Tokyo 2020
 

View this post on Instagram

 
How have you been preparing for Tokyo 2020, your arrival into Japan and did you have concerns relating to the pandemic?
Most of the preparations to be honest have been the same. My only concern regarding the pandemic was that there was a lot in the media about the fact the public were a bit nervous about what's coming and you never want to go into a country where you feel like they don't necessarily want to have you there.
But the experience that we've had has been as far away from that as possible.  They've been so welcoming, so hospitable, they are without doubt the most cheerful, efficient problem-solving volunteers I've ever come across and are so dedicated.and it has just been awesome being here.
I'm still slightly jet lagged, which is so frustrating. I go to bed at a normal time, but I'm up every night, still from 2am to 4am just reading. I know it takes time and it hasn't been that long, so that should settle soon hopefully.
What are you looking forward to the most at the Tokyo 2020 Paralympic Games, as well as aiming to secure medals?
I'm looking forward to competing. I'm so pumped for the athlete village and the dining hall – I hear the food is amazing – so that's quite exciting.
And just the whole experience, especially in the context that none of us weren't entirely sure it was going to happen, and it just feels like a real privilege to be here.
What advice would you give to the next generation of wheelchair racers?
Gosh, I think it's the same advice that I was given when I asked one of my idols – Chantal Petitclerc – in 2008.
The advice was basically there are so many different paths to success – be you and there's not a particular way you have to do it. Do what works for you and be brave enough to make the hard choices.
Follow Stef Reid on Twitter and Instagram.
Be sure to tune in to watch Stef Reid at the Tokyo 2020 Paralympic Games on Saturday 28th August 2021 from 1:30am UK time on Channel 4.
Interview by Emma Purcell 
More on Disability Horizons…