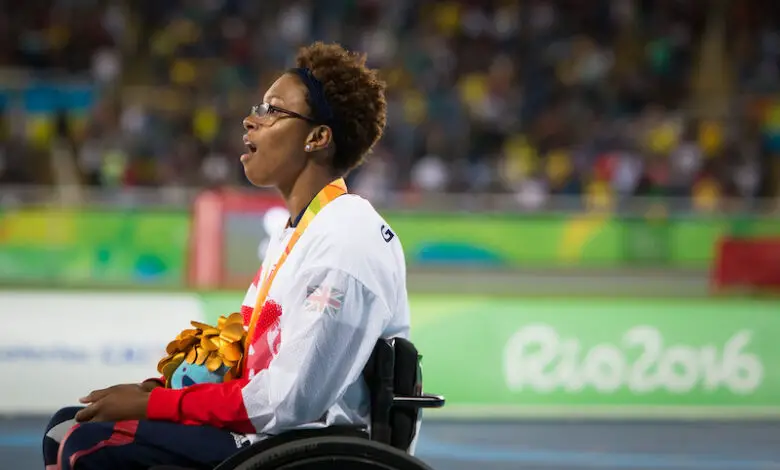 Disability Horizons is doing a series of interviews with Paralympians who are set to compete in the Tokyo 2020 Paralympic Games. In these interviews we will be talking about career success, highlighting individuals achievements and what they are most looking forward to at the games.
Kare Adenegan is a World, European and Paralympic medallist in the T34 wheelchair racing. She is set to compete in her second consecutive Paralympic Games this summer in Tokyo.
Our writer, Emma Purcell, spoke to Kare Adenegan from Japan about her disability, her career in Para-athletics and her preparations for Tokyo 2020.
Kare Adenegan is a 20-year-old wheelchair racer from Coventry and was born with cerebral palsy.
She showed her star potential at the age of 14 when she claimed double bronze at the IPC Athletics World Championships in 2015.
A year later Kare was part of the ParalympicsGB team at Rio 2016 where she won bronze in the T34 400m and 800m and silver in the T34 100m.
In 2017 she competed at the London Stadium for the World Championships where she won 100m silver and bronze in the 400m and 800m.
With Kare firmly established as a force to be reckoned with on the international scene, she claimed her first major international gold medal in 2018 when she won 100m gold at the European Championships in Berlin – pipping fellow Brit Hannah Cockroft to top-spot on the podium.
That year she was also named as the BBC Young Sports Personality of the year.
At the 2019 World Para Athletics Championships, Kare claimed two silver medals, on both occasions behind Hannah Cockroft in the T34 100m and 800m events.
Now at the rescheduled Tokyo 2020 Paralympic Games, Kare will be competing against Hannah Cockroft again in the 100m and 800m, in the hope of securing her first Paralympic gold medal.
Read on to find out more about Kare Adenegan in her own words.
Kare Adenegan living with cerebral palsy
 

View this post on Instagram

 
What type of cerebral palsy do you have and how does it affect you on a daily basis?
I have cerebral palsy diplegia. So, my legs are actually quite stiff. I don't walk long distances at all. I walk around my home but besides that I use a wheelchair.
Obviously, access is a big one as a wheelchair user and being able to access certain places, such as places with a lot of stairs, doesn't really help. So, most challenges tend to be linked to wheelchair access.
But even access into sport was quite difficult growing up. For example, during school, teachers weren't always equipped as to how to get me involved in sport because of my cerebral palsy.
Kare Adenegan becoming a wheelchair racer
 

View this post on Instagram

 
How did you first get into wheelchair racing and eventually get to elite level?
I watched the London 2012 Paralympic Games, and I was just so inspired by what I saw, like a lot of people, and because of the fact that I was excluded from sport for a long time at school, it really just blew my mind to see other people with disabilities do elite sport.
It gave me the confidence that I could do it as well. I found out that there was an athletics club, literally five minutes away from where I lived, where they did wheelchair racing, which is really strange because there's not a lot of groups that do it.
I was really blessed in that sense to actually have a group that close to home and that's how it started. I met loads of people with disabilities and it just opened this whole new world of Para-sport to me.
What has been the highlight of your career so far and why?
I think so far going into the Rio 2016 Paralympic Games is a huge thing and to get three medals there at the age of 15, which blew my mind.
I keep thinking like, "wow, I'm actually at a second Paralympic Games already". So that is also becoming a highlight of my career so far as well.
How did it feel to be named as the BBC Young Sports Personality of the year in 2018?
That was really great too. Like I was so surprised that I won to be honest because there were so many amazing athletes that were up for the award and it was great.
Obviously, being a Para-athlete as well and winning it that year was a great achievement for me.
Just to know the names of people like Ellie Simmonds and Tom Daley and others who have won it and to have my name alongside them as well was really special.
Kare Adenegan preparing for Tokyo 2020
 

View this post on Instagram

 
How have you been preparing for Tokyo 2020, your arrival to Japan and did you have concerns relating to the pandemic?
The pandemic affected a lot of us through training, especially at the beginning of the pandemic in 2020. So, to have motivation to carry on training and gyms and tracks being closed was quite difficult.
But thankfully the past year preparations have been a lot better. For example, we have the elite sport exemption, which was great. So that allowed me to start training from January and generally to just be in good shape for the Paralympics.
My time in Japan has been really good so far. It was obviously quite a long flight – around 11 hours – and it took a couple of days to get past the jet lag, but I'm feeling a lot better now, which is good.
What are you looking forward to the most at the Tokyo 2020 Paralympic Games, as well as aiming to secure medals?
I think just being in the village, it's a great experience just to see other people that do different sports because we don't see each other besides the Paralympic Games as I'm usually just with athletics. So, it's great just to see my friends as well in other sports and I'm looking forward to cheering them on.
Kare Adenegan training regime, rituals and attributes
 

View this post on Instagram

 
What does your daily exercise/training regime involve?
I train pretty much every day, but different things – on the track about four times a week, on the rollers two times a week sometimes, gym two times a week and then I also swim once a week.
So, I like to obviously move my body in different ways and especially with cerebral palsy, when I swim, it allows me to use my legs as well. So that's quite an important part of my training.
Do you have a ritual that you do before racing?
I don't do a lot. I mean, I listen to music. I always say a little prayer on the start line because if you're doing an 800m, that's quite necessary to be honest. – it can be quite intense – and then I just get going.
In your opinion, what attributes does a successful wheelchair racer need to have?
I think it depends. I mean, physically you need to be quite strong. You really have to push it quite hard. But also, patience as well, because I think for wheelchair racing, wheelchair racers tend to have quite long careers. They definitely don't happen straight away.
I think it's a sport where experience is really important. Just learning the technique and learning what works for you and getting the right chair for you. So, patience is really important.
What advice would you give to the next generation of wheelchair racers?
Just enjoy it. I know I've already said patience, but again, I think when you're starting sport quite young, you might want to be on top straight away and you want to go to the Paralympics and you want to do all these things, but just enjoy that step-by-step process when you start sport.
Follow Kare Adenegan on Twitter and Instagram.
Be sure to tune in to watch Kare Adenegan at the Tokyo 2020 Paralympic Games  on Sunday 29th August 2021 from 2:25am BST on Channel 4.
Interview by Emma Purcell 
More on Disability Horizons…