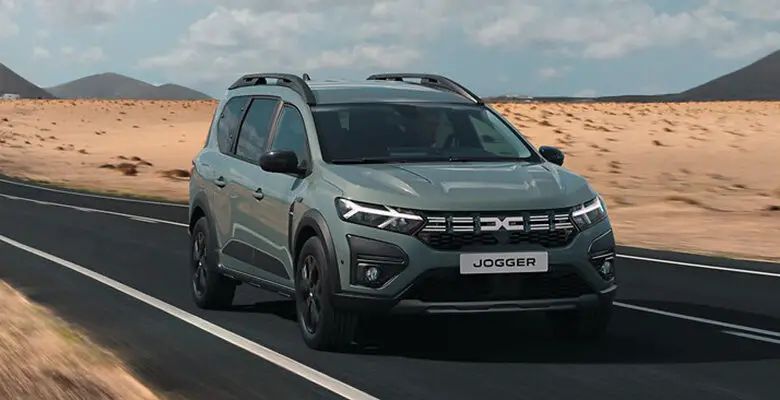 Travel & Holidays
Check out these two new unique family-sized wheelchair accessible vehicles
Sirus Automotive has launched two new family-sized wheelchair accessible vehicles (WAVs), one that has a rear wheelchair space and another with an upfront wheelchair space. Both have additional seating for family, friends and carers.
Sirus shares details on its new innovative WAV designs, as well as the accessibility, safety and technology features available for a comfortable, spacious and modern journey for wheelchair users.
Dacia Rear Passenger wheelchair accessible vehicle – space for six people
Our new Dacia Rear Passenger family-sized WAV (pictured above) is based on the award-winning Dacia Jogger family car. Compact, stylish and economical, the highly acclaimed car has won multiple awards this year, including Auto Express Family Car of the Year, Motor Awards Value Car of the Year and the overall winner of AA Ireland.
Having applied our engineering expertise to create a unique solution, the Darcia is the first of its kind and is currently the only conversion in the UK based on a car as opposed to being derived from a commercial vehicle.
Seating up to six people, this wheelchair accessible vehicle provides an enjoyable and comfortable ride for all the family.
Darcia Rear Passenger WAV seating options
The Sirus Dacia Rear Passenger car is designed for the wheelchair user to travel comfortably in the back.
One of the advantages of the Sirus design is that it has space for up to six people as standard – driver, front passenger, one wheelchair passenger and three rear passengers).
You can also easily fold away one, two or three of the rear seats, giving you the space you need, either for a larger wheelchair or equipment.
Entry height and WAV ramp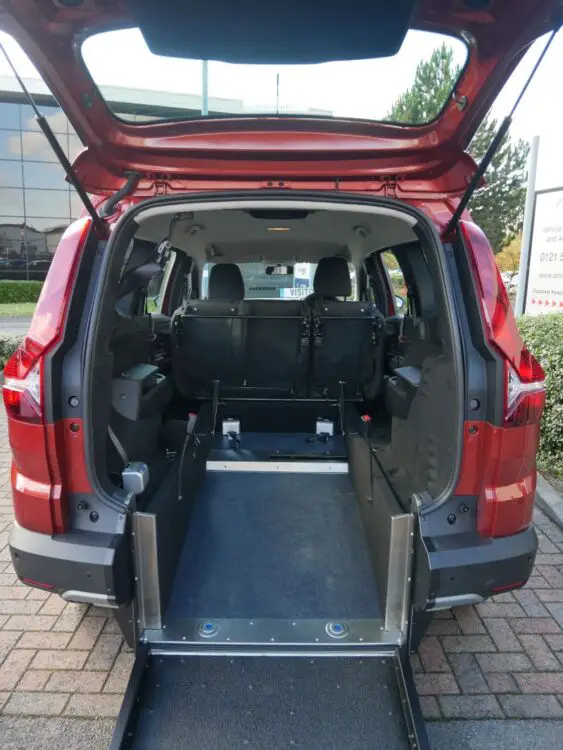 The wheelchair user enters and exits from the rear via a light, counterbalanced manual ramp.
The floor is lowered, which means the wheelchair user has a maximum entry height of 130cm with the addition of an extra headroom pocket fitted as standard.
The ramp has an anti-slip surface to improve wheel traction – an excellent feature in wet weather.
Dacia Rear Passenger WAV car specifications
At the length of an estate, and featuring the spaciousness of an MPV and the robust style of an SUV, the all-new Dacia Rear Passenger WAV combines the best of these categories in a wheelchair-accessible family car.
There's a single engine option – a 110bhp 1.0-litre, three-cylinder petrol unit mated to a six-speed manual transmission.
WAV safety – drive with complete peace of mind
Built on the latest platform, the Dacia Rear Passenger wheelchair accessible vehicles has a reinforced structure and new-generation assistance systems that make driving easier.
It includes automatic emergency braking so that if the vehicle in front slows down or stops, the driver is notified by a dual audio and visual warning.
If the response is slow or insufficient, braking assistance is automatically applied.
Active from 30 km/h, a blind spot warning system automatically alerts the driver via warning lights in the door mirrors of the presence of vehicles in your blind spot.
Connectivity technology
Benefit from the smartphone-controlled Media Control with a smartphone holder built into the dashboard, a media display featuring an 8-inch touchscreen, and integrated navigation.
Radio, music, Bluetooth, USB, telephone, navigation, voice recognition can all be controlled via the screen.
Please note, the type of connectivity depends on whether is the Essential, Expression or Extreme SE.
Find out more about the Sirus Dacia Rear Passenger wheelchair accessible vehicle on our website. Demonstrations are available from NOW and delivery from January 2023.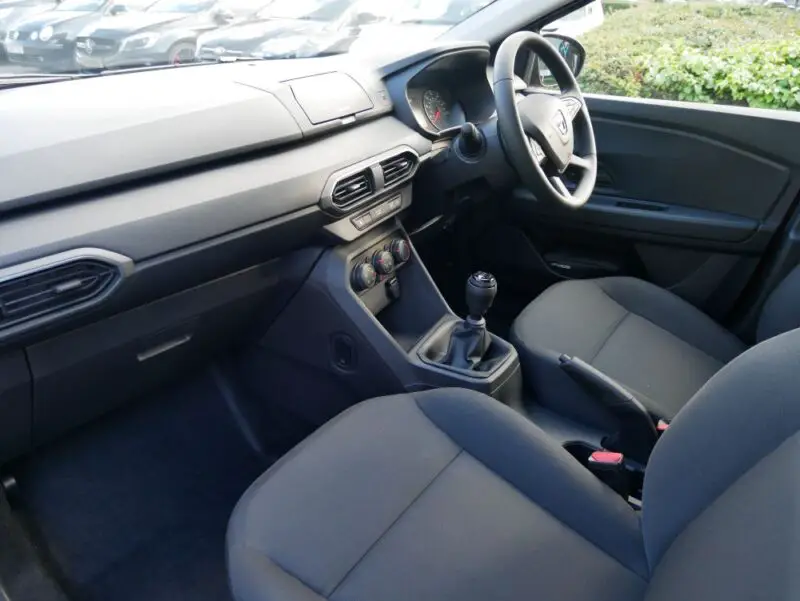 Ford Upfront wheelchair passenger car – space for five people
We have also been working hard to develop a new and improved vehicle with more room inside based on customer feedback.
The Sirus Ford Upfront accessible car is designed to enable you to travel upfront as a passenger from the comfort of your wheelchair.
A much more sociable way to travel, you can chat with the driver, control the music and have an excellent view.
Our latest accessible car now gives the wheelchair user more interior space to manoeuvre the wheelchair into the upfront passenger position.
A lowered floor in the front passenger side of the vehicle also gives more interior space for taller wheelchair users.
Side entry to the Ford
The side entry design enables the wheelchair user to easily enter and exit from the side via a manual ramp and sliding door.
It also means that you can enjoy the benefits of three rear seats as standard, as well as an unmodified boot.
The ramp and interior floor are also designed with an anti-slip coating, improving wheel traction in wet weather.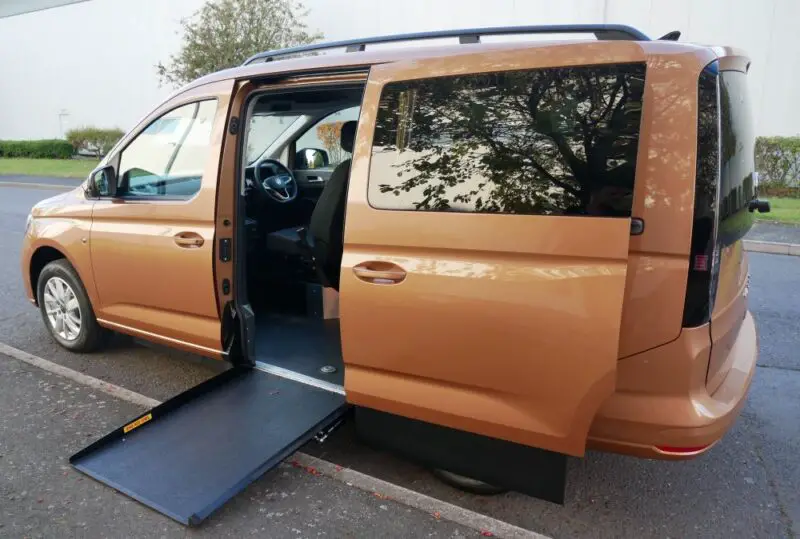 Space for five people as standard
This vehicle offers space for five people. Rear passengers can enjoy the comfort of two original manufacturer seats, complemented by a fold-away footrest for added comfort. The mid-row seat has ISOFIX included to secure a child seat.
There is a spacious boot that offers ample space for luggage and equipment, and you can also fold down the rear seats should you need additional space.
Ford Upfront car specifications and new technology
The new Ford Upfront, along with the latest VW Caddy Maxi Life, which this is based on, includes a wide range of technology, media system and safety upgrades.
The vehicle is well-equipped with an ultra-digital and fully-integrated high-resolution digital cockpit, and an infotainment system with an 8.25-inch touchscreen.
The 'Innovision' digital dash has a configurable electronic display replacing standard dials.
The Ford We Connect brings a wealth of extras, and the free app turns your smartphone into a remote control. We Connect Includes:
• Breakdown call
• Parking position
• Automatic accident notification
• Vehicle status
• Doors and lights
• Vehicle health report
• Driving data
• Service scheduling
Easy functionality with voice controls
The clever Voice Control System allows you to use voice commands to answer phone calls, select a radio station or set a navigation destination.
Even the 2-zone climate control air conditioning system (an optional extra) listens to your commands.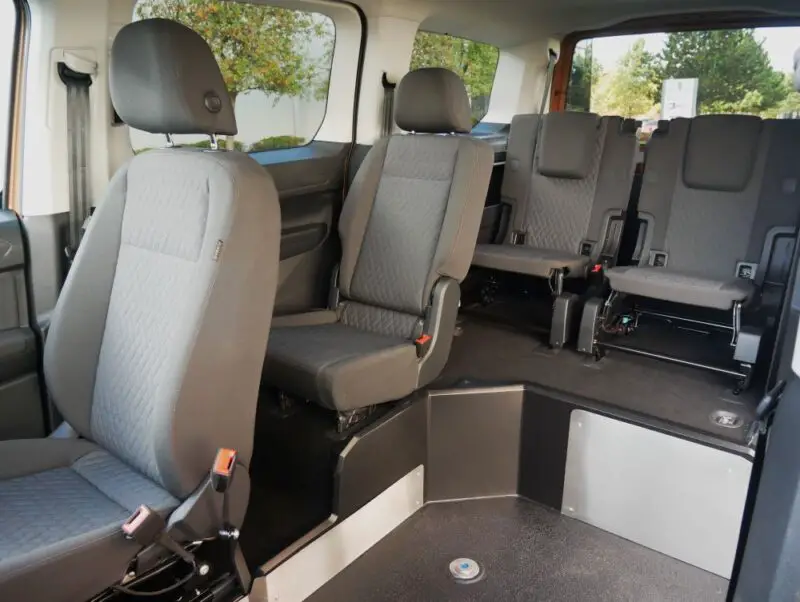 Partly automated driving and improved safety features
The Ford Upfront has the latest generation of driver assistance systems as optional extras, including:
Adaptive Cruise Control
Travel Assist with Emergency Assist, which can steer, brake and accelerate for you
and a lane change system Side Assist with Rear Traffic Alert.
In total, there are 19 driver assistance systems available as standard or optional equipment, six of which are entirely new.
There's also a driver alertness monitor, which reminds you to keep your hands on the wheel.
A petrol engine with reduced CO2 emissions
The petrol engine is a 116hp 1.5-litre unit that comes with a particulate filter to cut pollution. The petrol engine comes with a DSG dual-clutch seven-speed automatic gearbox.
Find out more about Sirus Ford Upfront wheelchair passenger car.
All Sirus WAVs are available on the Motability Scheme. To find out more or book a free home demonstration please call our sales office on 0121 505 7777 or email sales@sirusautomotive.co.uk.
By Sirus Automotive 
More on Disability Horizons…