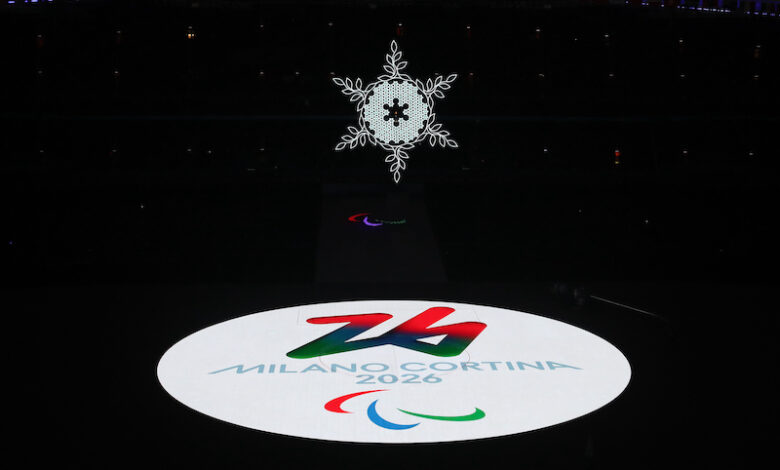 9 days, 5 sports and 72 medals won – the Beijing 2022 Paralympic Winter Games has been an incredible sporting event, full of inspiration, strength and unity.
Here at Disability Horizons, we round up 8 extraordinary moments from the Winter Paralympics, which includes 6 medals for Team GB, Austrian sibling domination in skiing and triumph for the Ukrainian super-humans.  
History made by the Team GB Alpine ski Banchory brothers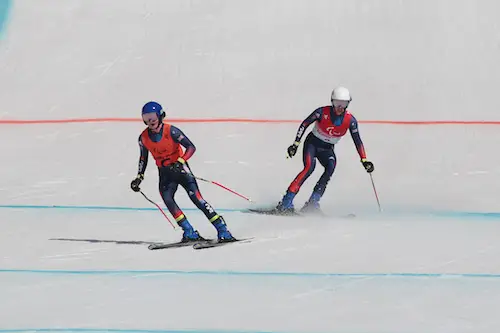 First up on the list of extraordinary moments from Beijing 2022, is 19-year-old debutant Neil Simpson who topped the podium alongside his guide and brother, Andrew, in the Men's Super-G Vision Impaired Alpine ski event at their first-ever Paralympic Winter Games.
Clocking 1:08.91 (one minute and 8.91 seconds) to finish nearly 0.5 seconds clear of the rest of the field, meaning that they've earned the right to say that they won Great Britain's first *ever* male gold medal on snow at an Olympic or Paralympic Games.
"I am just really thrilled, it's not really sunk in yet!" Neil said of their outstanding achievement.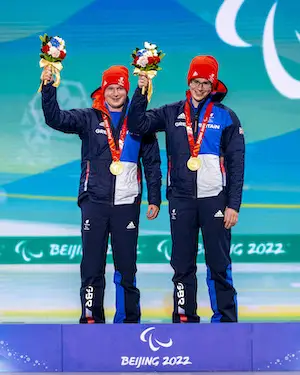 The brothers from Banchory, Aberdeenshire, also picked up bronze in the Super-Combined race. Lying outside the medal positions after the Super-G run, the pair moved up the standings with a slick Slalom run to seal the third spot with a combined time of 1:52.81 (one minute and 52.81 seconds).
Multiple medals for Menna and Millie
There was medal success for the British visually impaired women Alpine skiers too. Team GB's most decorated winter Paralympian – Menna Fitzpatrick – won four medals in Pyeongchang 2018 and secured two more medals in Beijing.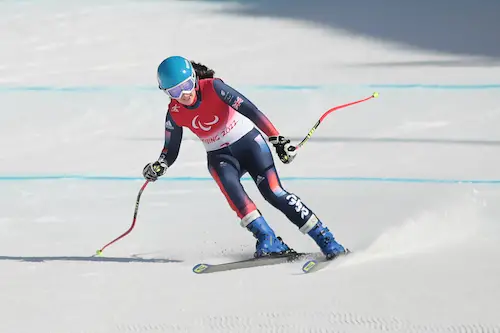 Menna and her guide Gary Smith took silver in the Women's Super-G Vision Impaired event on day two. The next day, she also gained bronze in the Super-Combined.
Menna, who was rightfully ecstatic after clinching the bronze said, "We left ourselves a bit of work to do in slalom and the plan paid off, we went out there and put down a pretty decent run, so we are super, super happy."
Sadly, Menna missed out on retaining her gold in the Slalom and only finished fourth.
Meanwhile, GB teammate Millie Knight and her guide Brett Wild also secured a medal after a superb run saw them claim bronze in the Women's Downhill Vision Impaired race in a time of 1:23.20 (one minute and 23.20 seconds).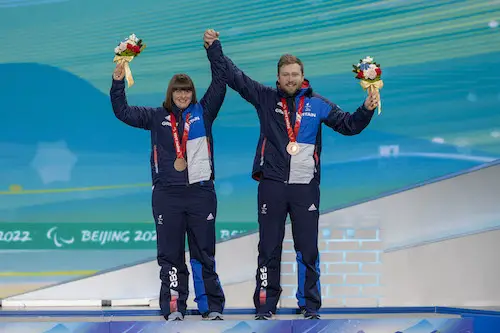 Millie was both shocked and delighted saying "Crossing the line with a smile on my face was our number one goal – we genuinely didn't believe we were at the level that would get us a medal. This bronze is something very special."
First-ever British medal in Para snowboarding
Debut snowboarder, Ollie Hill, wrote himself into the history books as he picked up the first-ever medal for Team GB in Para Snowboarding.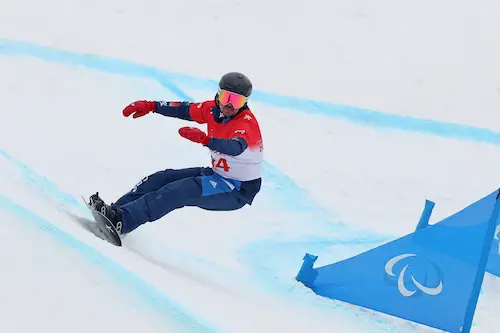 He produced a superb first run in the Banked Slalom crossing the line in 1:10.45 (one minute and 10.45 seconds) to secure the bronze medal in the LL2 event.
Lost for words afterwards, Ollie said "I can't really sum it up right now other than I am absolutely stoked."
Austrian siblings dominate the Alpine ski slopes
Austria's Aigner siblings captured the imagination of people around the world in the Men's and Women's Vision Impaired Alpine skiing.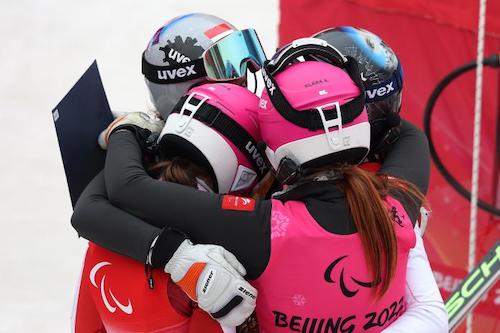 Veronika, 19, and her guide and older sister Elisabeth, along with their twin siblings Johannes and Barbara, 16, collected nine medals in their Paralympic debut with proud parents Christian and Petra cheering from the stands.
Their efforts took Austria to the top of the Para Alpine skiing medals table with four gold, five silver and two bronze.
If the Aigner family was a national team, they would be eighth in the overall Winter Paralympic table.
Canadian Brian McKeever reaches 16 gold medals in Nordic cross-country skiing
Brian McKeever is the most successful Paralympic Nordic cross-country skier in the visually impaired classification.
Competing in his sixth and final Winter Paralympics, the Canadian won three gold medals in Beijing, bringing his total to 16 altogether.
"I've always said I'm not in it for the medals, it's for the experiences," Brian, who first topped the podium in Salt Lake City in 2002, said.
"We're just happy to be here. After 20 years of doing this, it's an honour to be a part of the Paralympics."
USA secures fourth consecutive gold in Para ice hockey
In a ruthless, relentless display inspired again by Declan Farmer, the USA executed a 5-0 take-down of Canada, securing their fourth consecutive gold at the Winter Paralympic Games.
Not since the 2017 World Championships have Canada got the better of their North American rivals in a major final and, despite raining down eight shots on Jen Lee's goal in the first period alone, it never really looked like that run would be broken.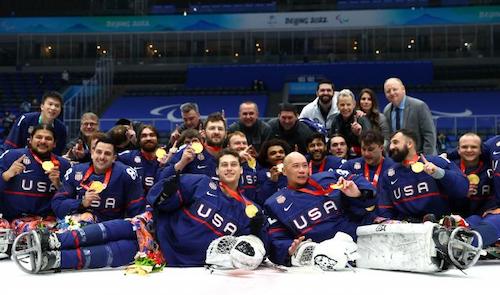 "We all just know that when it comes to this kind of game we are going to play harder than any other game," Declan said after two goals and an assist underlined his reputation as the greatest player on ice.
"It is so special to win with these guys and for everyone back home."
Brody Roybal was also a two-time scorer in the final for the USA.
After a cagey opening, a brutal two-minute first-period spell summed up the difference between the teams.
China retains gold in the wheelchair curling
As the loudest and youngest ice rink in the tournament, defending champions China won their second Paralympic Wheelchair Curling gold.
In a rematch of the 2021 World Championship final, the Beijing 2022 hosts beat Sweden 8-3 at the same venue where the teams faced each other only a few months ago.
"We all played very well today, we were very confident," skip Haito Wang said. "I'm really happy right now. We did our country proud. We didn't waste all the hard work put in over the last few years."
China had lost to Sweden and Canada in a rocky start to the round-robin but recovered to win eight matches in a row, before dispatching Canada in the semi-finals.
Ukraine wins the hearts of the Paralympic community and the world
Lastly, the ultimate highlight of the Beijing 2022 Paralympic Winter Games has to be the incredible and inspiring achievements of the Ukrainian national team.
Despite all the horrific and heart-breaking events unfolding by Russia in Ukraine, the Ukrainian team had already made success just by getting to Beijing. Then their bravery and determination shone through, which led them to reach second place in the overall medals table.
In total, the eastern-European team won 11 golds, 10 silvers and eight bronzes, with all of them coming from the Biathlon and cross-country skiing.
Headlining their efforts were Oskana Shyshkova and Vitalii Lukianenko in Men's and Women's Vision Impaired categories.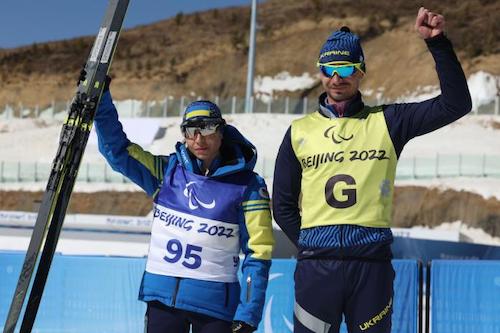 Guided by Andriy Marchenko, Oskana put her head down on the opening day to win the sprint and never looked back. The Ukrainian only dropped gold in one event – the middle distance – but still managed to claim silver.
Vitalii took two titles in a row in the sprint and middle before his spell only slightly faltered in the individual where he got second place with guide Borys Babar.
"Every time we go to the start we understand that we (want to) protect the honour of our country," Oskana Shyshkova said. "That is maybe what is motivating us to focus and do all the best that we can during the race. Maybe that is the secret."
We'd also like to give a special mention to Ukrainian skier Anastasiia Laletina who had to pull out of a sit skiing race after finding out her father – who is a military soldier in the Ukrainian army – was captured by the Russians.
Even with her worry and fear, Anastasiia managed to show courage and willpower and came back to compete in the Women's Individual Sitting Biathlon event, where she came ninth.
Since the end of the Winter Paralympics, it has been reported that the 20 Ukrainian athletes planned to fly to Poland where they'll decide what to do next and in the hope they can return home with peace and love.
What were your highlights of the Beijing 2022 Paralympic Winter Games? Has it inspired you to take up a winter para-sport? Share your thoughts in the comments box or on Facebook and Twitter @Dhorizons.
By Disability Horizons 
More on Disability Horizons…