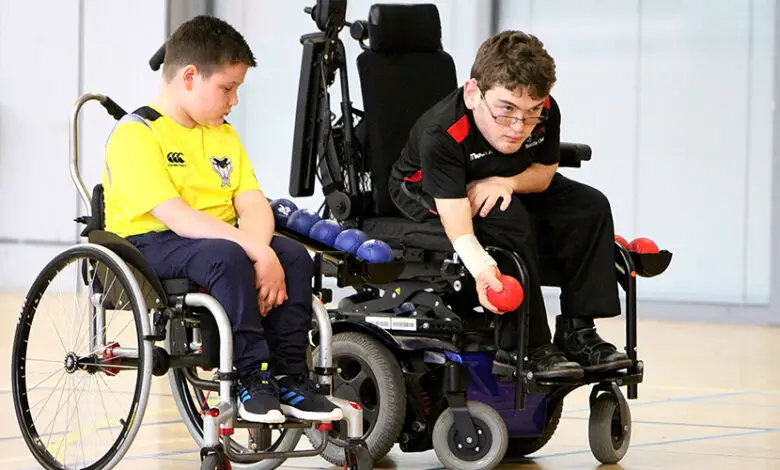 Boccia is an inclusive sport open to anyone with a disability, no matter how old they are or their disability. Here, charity Boccia England explains what the sport involves, how you can try it for yourself and shares stories from keen boccia players whose lives have been improved by playing the sport.
What is boccia?
Boccia is the most inclusive sport you'll find, and it provides fun for all the family! It can be played by anyone regardless of age, gender, ability, or disability.
The game was originally designed for people with cerebral palsy, and for more than half of our regular players it's the only sporting option available to them due to the severity of their disability.
Louis Saunders(pictured below), who recently represented Paralympics GB in Tokyo, said, "I wasn't strong enough for wheelchair basketball, not fast enough for wheelchair racing, and not agile enough for wheelchair tennis.
I love sport, I want to be the best and sadly I didn't really have that chance, that opportunity, because of the nature of my disability. But that was before boccia, now I've been given a chance and I've made the most of it."
Boccia is a target ball sport. From a seated position (and therefore ideal for wheelchair users) players propel balls to land close to a white marker ball – the jack. If you're unable to grasp and propel a ball a ramp can be used.
It's an indoor sport, played on a court roughly the same size as a badminton court. You can compete as an individual, in a pair, or as a team of three.
A set of boccia balls consists of one white jack ball, six red balls, and six blue balls. The balls are made of leather and filled with tiny plastic pellets. They are available in different grades of softness and hardness.
If you don't have a set of boccia balls and/or you can't find enough space to play a full game, don't worry. There are lots of boccia skills challenges you can have a go at from the comfort of your own home and you can start off with general household items – you can even use a rolled-up pair of socks!
If you want to take your involvement further, you'll find boccia to be a game of skill, precision, and strategy – this was clear to see for anyone who watched David Smith OBE win boccia gold in Tokyo last year!
Why you should try boccia
Boccia may just be a sport, but for many, it is so much for than that – it can give them independence, enable them to make new connections and encourage them to challenge themselves and achieve.
Azhadm (pictured below), a 20-year-old boccia player from Durham with cerebral palsy said: "Boccia will always be my passion and it has opened a path that I can confidently pursue in the future.
Boccia has changed my life and it's given me opportunities to achieve my personal goals. Boccia gave me a dream to work hard for."
Sophie, a 23-year-old player and volunteer from Merseyside who has a learning disability said: "Boccia showed me what inclusion is and helped me to help others become part of their own boccia clubs.
Since I have started playing boccia, I have made new friends and become more part of society in my own way. It also takes my mind off the thought of having a disability because I am with others who face the same barrier."
What is Boccia England?
Boccia England is the charity responsible for the sport in England and we support all levels – from beginners to elite. We believe that through the power and inspiration of boccia, REAL CHANGE can be achieved for those living with a disability.
Our CEO, Chris Ratcliffe, who has lived experience of disability as a deaf person said:
"What's really unique about boccia is that when disabled people get onto that court and they're playing their match, they're completely independent.
It's down to them to make the right call and make the right decisions. It's so inspiring to see so many people feeling completely liberated through playing boccia."
Our work includes developing and supporting around 60 boccia clubs across England. We:
work with partners to reach disabled people and older people
engage children through working with schools
organise competitions in a variety of formats to suit everyone
and identify and develop talented athletes through the England Talent Pathway.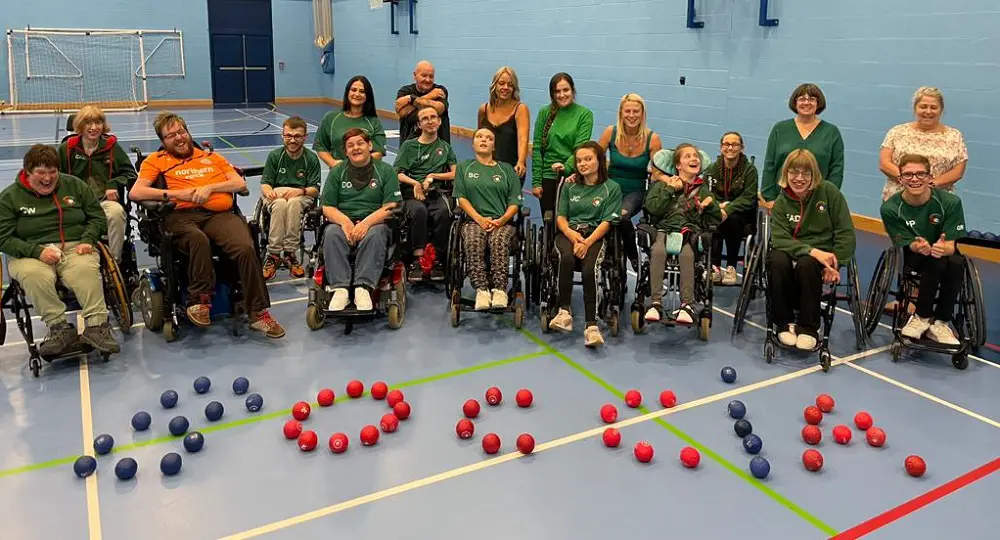 How can I try boccia?
If you would like to play boccia then the best way is to join your local club! There's a network of boccia clubs across England, and most clubs are open to all ages and abilities.
If you'd like to have a go at boccia at home, you can download resources from our website or watch challenge videos on our YouTube channel.
Boccia England runs Boccia competitions across the country, and our Heathcoat Cup, which will begin again in autumn 2022, is open to anyone including beginners.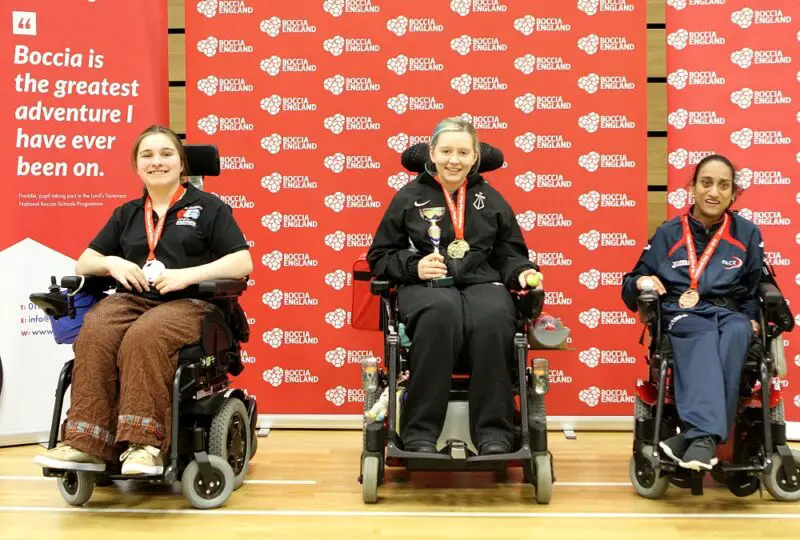 Join Boccia England as a member, to become part of our community. This gives you access to a range of member-only discounts and benefits as well as regular updates and access to our competitions.
Schools can get involved by running boccia activities in PE or even setting up their own clubs.
How can I support boccia?
Our sport is only possible because of the dedication of hundreds of volunteers who run clubs, coach players, referee at our competitions, and much more.
If you're interested in volunteering for Boccia England, please get in touch. Around 34% of our volunteers are disabled.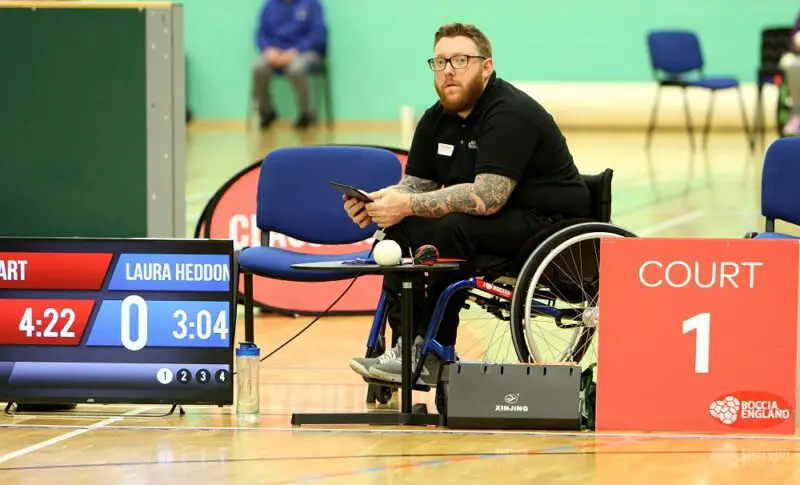 As a charity, we rely on the generosity of individuals and organisations to change lives through boccia! If you'd like to be part of this, there are various ways you can support our work:
Visit the Boccia England website, follow us @BocciaEngland on Facebook, Twitter, Instagram, LinkedIn, and YouTube.
You can also sign up to receive our newsletter – just scroll to the bottom of our home page to add your details.
For more information, email info@bocciaengland.org.uk or call us on 0115 967 8455.
By Boccia England