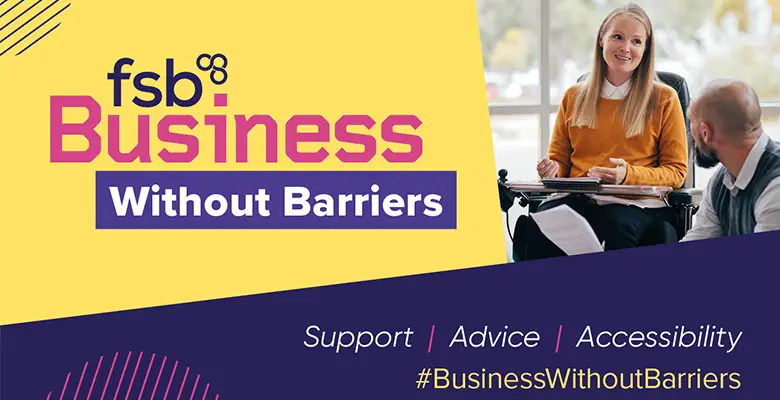 Work & Education
Business Without Barriers: online hub to support disabled entrepreneurs
The Federation of Small Businesses (FSB) has created a free online hub, Business Without Barriers, aimed at supporting disabled entrepreneurs and encouraging small businesses to be more inclusive and accessible.
From starting a business to improving workplace accessibility, our Business Without Barriers hub brings together a wealth of information, interviews, and resources from leading experts and organisations – all designed for small business owners and the self-employed.
The Business Without Barriers hub launches as our latest report exploring disability employment and entrepreneurship found that 52% of business owners have experienced a barrier due to their disability or health condition.
Our report explores several areas, including disabled enterprise, managing sickness absence, and occupational health.
"Despite the prevalence of people with disabilities and health conditions entering self-employment, support available for them to start and grow their business is lacking," said Julian John, FSB Disability, Health, and Wellbeing Policy Chair.
Starting your own business as a disabled person
Whether you're thinking about starting your business journey or you've been in business for a few years, the Business Without Barriers hub features inspiring and motivational stories from successful disabled entrepreneurs across the UK.
Disabled people are more likely to go into self-employment than non-disabled people. While sometimes this is because of a lack of appropriate employment prospects, there are many who have chosen self-employment to fill a gap in the market, to disrupt a sector, or simply to have control over their own time.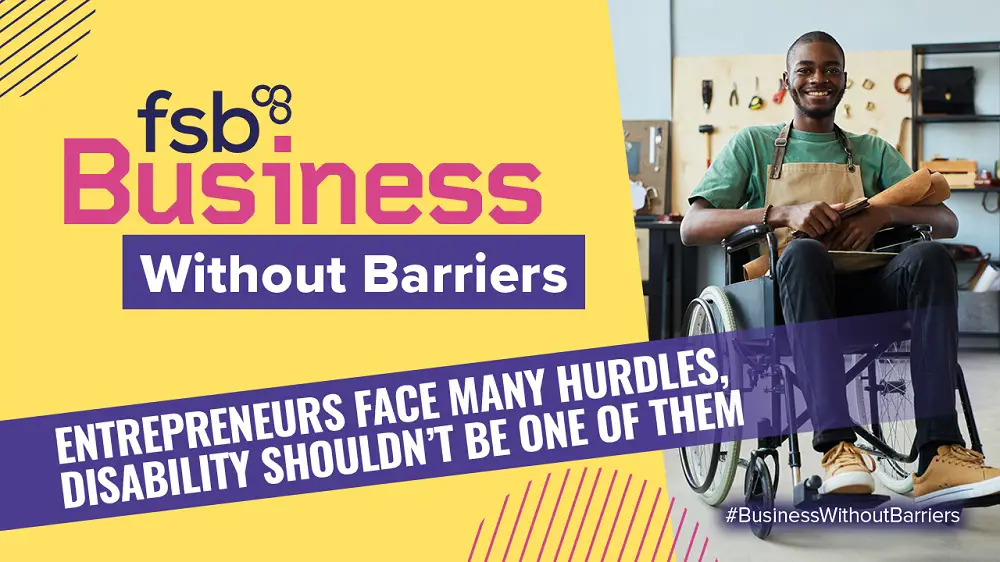 Mark Esho MBE is an FSB member and the Founder of Easy Internet Services and Easy Internet Solutions. After developing post-polio syndrome while working as a finance manager, Mark shares how he turned his hobby into a successful business and his advice for disabled entrepreneurs.
"I think it's so important to find a mentor who understands your needs, which is why I set up The Circle Foundation to address some of these issues and provide targeted support for disabled people wanting to start their own business in the East Midlands. We provide finance and a business support network, including lawyers, marketing specialists and accountants."
FSB member Hardeep Rai, CEO and co-founder of Kaleidoscope Investments, explains how he helps disabled entrepreneurs to build businesses that are investable through finance opportunities and business mentoring. When his son was born with a severe disability, Hardeep's life changed.
"I was approached by Shane Bratby, who shared with me the challenges that disabled entrepreneurs face when trying to start their own business and secure investments. This inspired me to combine my investment and entrepreneurial experience with Shane's knowledge of the disabled community," said Hardeep.
Our Business Without Barriers hub highlights the support available for starting and running a business, including:
funding advice from finance specialists
grants for disabled entrepreneurs
tailored resources for start-ups.
Creating inclusive workplaces and improving accessibility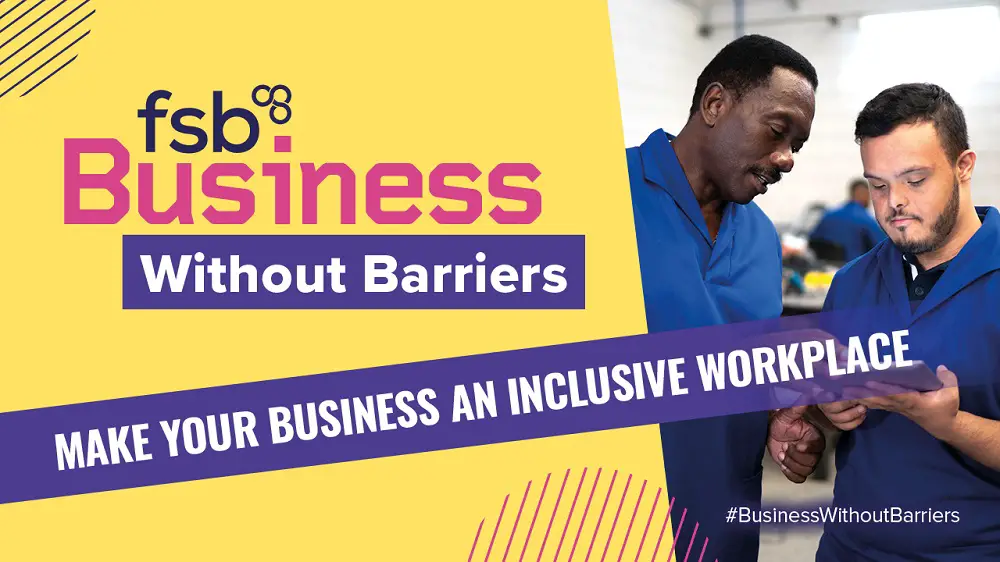 Small businesses employ more disabled people as opposed to larger organisations, in part because they are more flexible. Our hub encourages employers to consider their inclusivity and offers advice from an employment solicitor for recruiting or employing disabled people.
FSB member Elizabeth Wilkinson is the owner of The Dyslexic Dyslexia Consultant and has over 20 years' experience of working with employers to educate and raise awareness about dyslexia. Elizabeth is the founder of Dyslexia Information Day and runs the Dyslexia Awards.
Sharing her own story, Elizabeth encourages employers to remember the importance of communication. "Putting reasonable adjustments in place for staff can have a massively positive impact, not just on work, but on life too.
Any good employer will know that a well-supported, valued, and happy employee is a productive one," said Elizabeth.
Julian John, Managing Director of Delsion, an inclusion-led people and development consultancy, shares his own business journey on the hub. Having recovered from brain damage in 2005, which left him with limited mobility, Julian helped to make Swansea the first Disability Confident city in the UK.
"When I set up my business, I thought we could make a real impact with Disability Confident. Delsion has a clear social goal to make Wales one of the leading nations for inclusion, specifically around disability within the workplace," said Julian.
Alongside other resources, we have teamed up with Leonard Cheshire to provide a free accessibility audit that small business owners can download to review their accessibility and where they can take steps to improve.
Supporting disabled entrepreneurs
We are the leading voice of 5.5 million small businesses and the self-employed in the UK. Established in 1974, we provide our members with local networking opportunities and a range of valuable business services.
We have published our recommendations for Government as part of a 10-Point Plan for Disability and Entrepreneurship.
An upcoming series of Business Without Barriers webinars from us will feature disabled entrepreneurs, business owners, and industry experts, who will share their knowledge and experience.
You can find more advice, support, and guidance by visiting FSB's FREE Business Without Barriers hub today.
By Federation of Small Businesses
More on Disability Horizons…