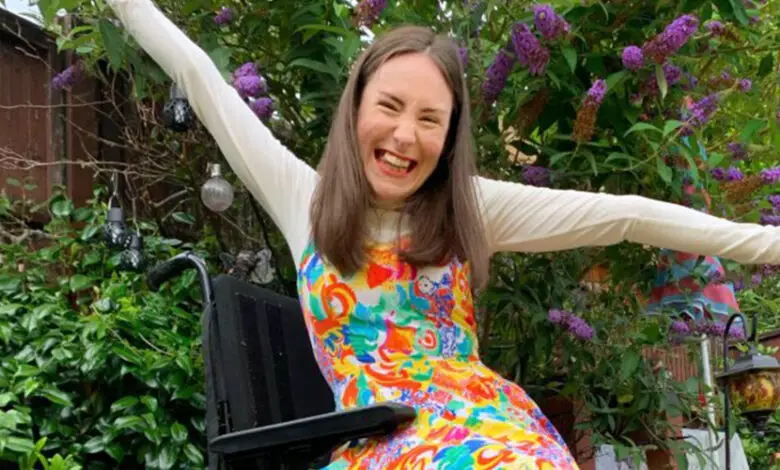 Lifestyle
What Disability Pride Month means to me
July is Disability Pride Month. Disability blogger, Rebecca Sullivan, who runs her blog From This Window, shares what Disability Pride Month means to her – how it helps her acknowledge her differences, raise awareness, reduce stigmas and bring about change.
Acknowledging, understanding and learning about disability
When I think about Disability Pride I think about what my disability means to me. I think about my cerebral palsy (CP) and how it is a part of me.
It is a big part of me that shapes my every day. From the many different ways my tremors impact me to the amount of energy I have and the speed at which I work. My CP looks different every day.
By getting to know, acknowledge and understand the different parts of my CP, I can know myself better and communicate my disability with others.
Although this may sound like a basic thing, saying such things requires courage, especially when it's being said to people who may not be familiar with my disability.
In the first post I wrote about my CP, I likened it to a lifelong teacher. I'm constantly learning about my condition and adapting the way I do things.
Those ever-evolving experiences and thoughts can help others learn about disabilities from different perspectives in the community.
I'd like to think that through clear, honest and insightful conversations about disability, stigma can be reduced, challenging views about disabled people.
It is a way to really see disabled people. It is a way to hear disabled people's voices. By inviting such conversations change can start to be implemented.
Creating disabled access in society
Access can have two meanings – physical access, i.e. lifts, ramps, hearing loops, audio descriptions, but also in terms of institutional access, i.e. work and education.
Yes, a lot of places do have accessible facilities in place, but this is by no means universal. Society cannot be branded as inclusive if not all of society is truly accessible.
Over the last few years, we have seen just how much disabled access has been put to the bottom of the pile.
For example, adjustments for people to work from home when we went into lockdown were made quickly, even though this has been requested by disabled people time and time again for a number of years.
Another clear indicator that disabled access has been seen as unimportant was when some restrictions were eased and cafes and restaurants were allowed to offer outside dining and tables and chairs were placed on pavements.
This made it impossible for people with mobility aids to navigate streets. Even more shocking were occasions when these tables and chairs were set up in disabled bays! Need I say more!
Though I have given a few examples of inaccessibility, this must not overshadow celebrations of how far we have come or our pride in it. We can instead use them to take stock of these achievements. They can act as a reminder that access can improve.
This pride and the celebrations of the disability community can also inform and trigger thinking points in others about how they can help accessibility for disabled people be better.
Highlighting disability identity
Events such as Disability Pride Month are an opportunity to highlight identity, depending on whether you prefer identity-first or person-first language, and what you do have. Who you are is not shameful or dirty or something to keep under wraps.
Highlighting identity means shining a light on the beautiful community that disabled people have built and the milestones we have crossed together.
It means we can refocus on how we can continue to move forward and keep campaigning for change. This is what Disability Pride Month means to me.
I hope you have a lovely Disability Pride Month, no matter how you are celebrating.
By Rebecca Sullivan
You can read more of Rebecca's posts on her blog From This Window and follow her on Instagram.
More on Disability Horizons…