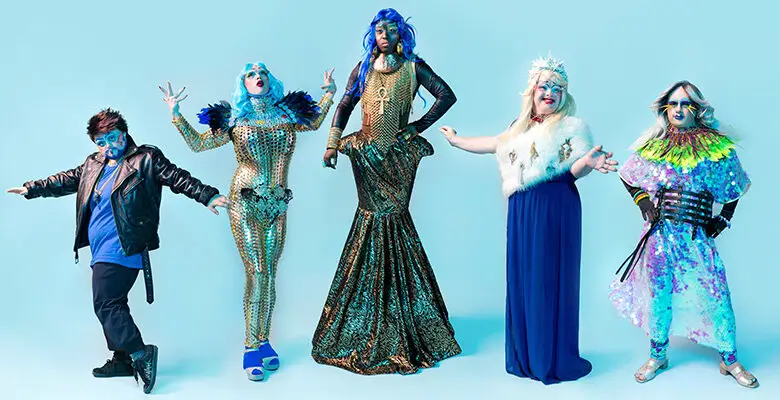 As part of London Borough of Culture 2022, presented by the Mayor of London, the Liberty festival sees 3 days of creative experiences by D/deaf, disabled and neurodiverse artists. Accessibility is at the heart of the Liberty Festival, which opens THIS Friday, 22nd July in London. Find out what to expect and how you can enjoy the festival – completely FREE.
At the Liberty Festival, you'll see innovative and ambitious work from artists who challenge perceptions of how culture can be performed and experienced by all audiences.
The festival features a diverse programme of ground-breaking art and performance, interactive installations, a thought-provoking symposium, new commissions and participatory workshops for all.
From internationally renowned artists, such as Yinka Shonibare CBE, Touretteshero, Raymond Antrobus and Selina Thompson, to brilliant community organisations, you can look forward to music and dance, theatre, visual art and more.
All events are FREE and all ages are welcome. Expect an accessible and inclusive environment.
Liberty Festival accessibility
Everyone is welcome at the Liberty Festival and the events and venues are accessible to all.
All events will take a Relaxed approach to movement and noise, with audiences able to leave and re-enter, tic and move around if needed.
Venues and locations have level access and are accessible to wheelchair users.
Accessible toilets are available in each venue
There are quiet chill out areas for visitors to rest and relax in each venue.
Some of the performances will be streamed online, including Drag Syndrome, 111, Who Plays Who, Vijay Patel & Stephen Bailey and Liberty Symposium, so that you can access them if you're unable to attend in person.
Please check individual event pages for further access information, including audio description, touch tours, British Sign Language (BSL- interpretation and captioning.
There is also an Easy Read guide to the festival, and you can watch a BSL video introduction to the festival.
The Albany (Theatre), Deptford – 23rd July, 6pm
Drag Syndrome (pictured at the top) is a ground-breaking, internationally acclaimed drag collective featuring highly addictive drag Queens and Kings with Down's syndrome.
Drag Syndrome demonstrates to the world that people with Down's syndrome aren't just sweet and cute.
They are fierce, versatile, hard-working, professional artists who know how to put on a spectacular show and are committed to honing their craft.
Giffin Square, Deptford – 22nd July, 8.15pm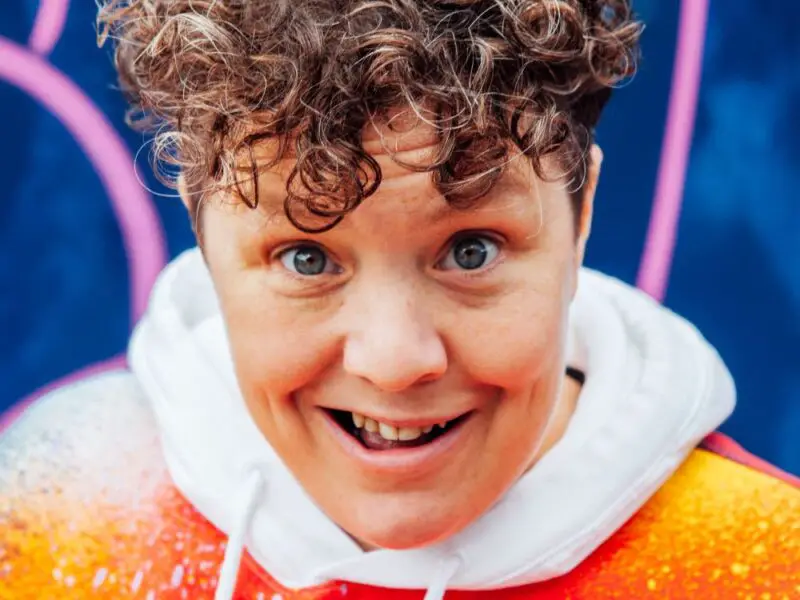 Comedy from Jess Thom – writer, performer, artist and part-time superhero. Jess has Tourette's syndrome. She co-founded Touretteshero in 2010 as a creative response to her experience of living with the condition.
Jess has written in the mainstream and disability press, including The Guardian, The Observer and Disability Now, and was recently interviewed by Disability Horizons.
In 2012, she published her first book Welcome to Biscuit Land – A Year In the Life of Touretteshero, with a foreword by Stephen Fry.
The Music Room, Deptford – 23rd July, at 12pm, 2.30pm, 5pm, and 7pm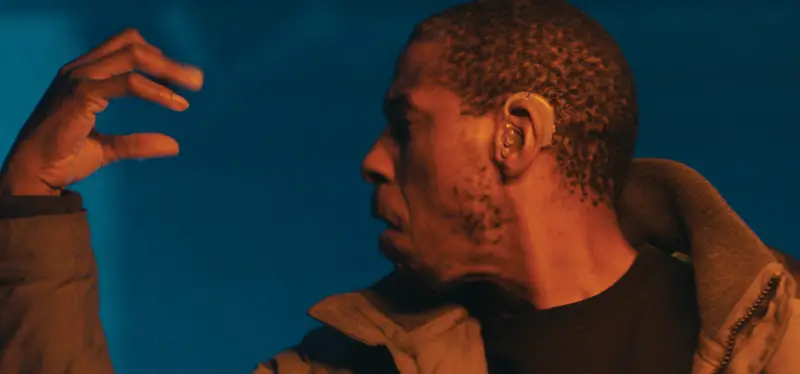 An immersive, site-specific performance by Bim Ajadi. A hip hop music drama, Here/Not Here combines Krump dance, Visual Vernacular (visual signed poetry) and street football trickery.
Funky, funny and thought-provoking, Here/Not Here explores how we all try to find our place. It showcases a new visual language for story-telling combining sign, dance, music and Visual Vernacular.
Directed by Bim Ajadi, led by disabled artists, and written by Britain's foremost advocate for Hip Hop, Jonzi D, Here/Not Here can be fully enjoyed by both Deaf and hearing performers and the audience.
There are also two 45 minute workshops at 10:30am and 3:30pm.
Deptford High Street – 22nd to 24th July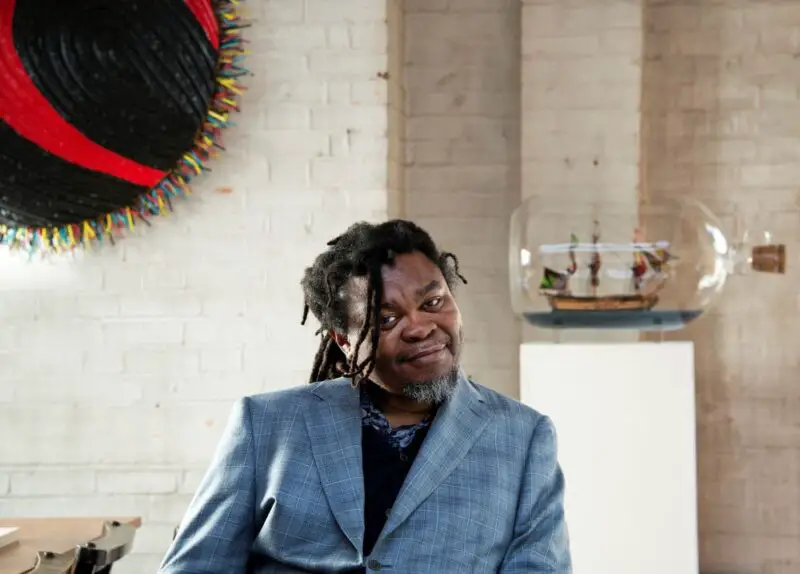 Yinka Shonibare CBE is an interdisciplinary artist, who makes work exploring cultural identity. His work uses citations of Western art history and literature to question the validity of contemporary cultural and national identities within the context of globalization.
His brand new artwork, a uniquely designed pattern printed on fabric and paper, will be exhibited across three billboards on Deptford High Street, Lewisham Way and Evelyn Street.
The Albany (Theatre), Deptford – 24th July, 2.30pm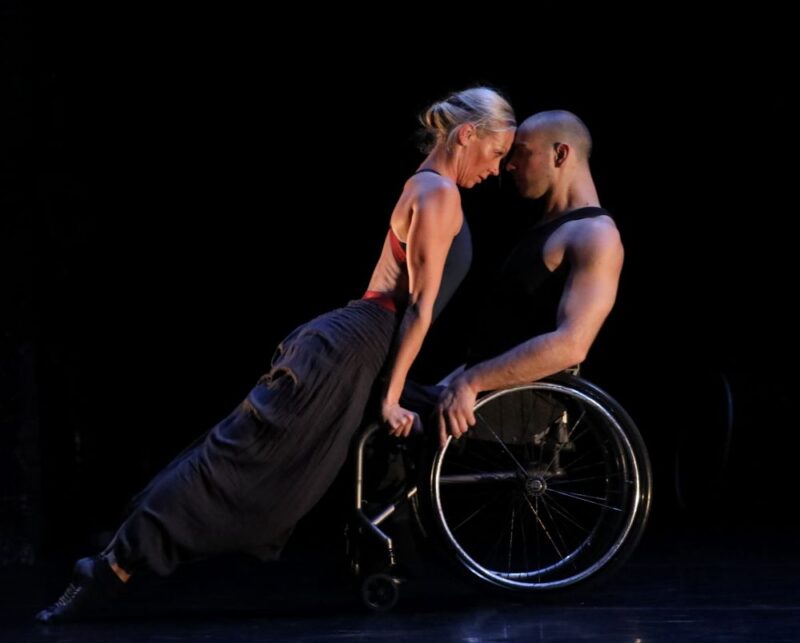 A powerful duet between two exceptional dancers as they explore their different strengths and vulnerabilities.
111 is the number of vertebrae Joel and Eve have between them…hypothetically. Eve moves like she has a hundred, Joel's spine is fused and he jokes he only has 11.
This performance has a limited capacity – please book a ticket in advance. A digital adaptation of the show is also available for those who cannot experience it live.
By Liberty Festival
More on Disability Horizons…