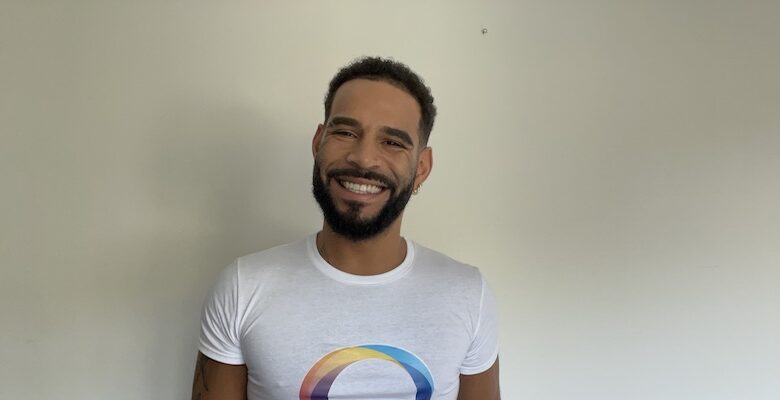 Great British Bake Off (GBBO) finalist Sandro Farmhouse has become a Celebrity Ambassador for the National Autistic Society (NAS), the UK's leading charity for people on the autism spectrum and their families. 
TV star and baker Sandro Farmhouse, who makes autism friendly recipes, will help to amplify the charity's work to transform lives, change attitudes and create a society that works for autistic people.
Who is Sandro Farmhouse?
Sandro was born in Angola, but fled the Angolan war with his mum when he was two, settling then in London.
When Sandro was 21, his father passed away and he turned to baking as a form of therapy. Now, he lives and breathes it, and is often found rustling up bakes in a relaxed vibe with the telly on, or running virtual baking classes for children with autism.
He likes to infuse his bakes with flavours from his Angolan heritage – the spice of paprika paired with tangy cheese and sweet bakes smothered in sticky dulce de leche.
Sandro's baking story
When Sandro worked in a school for children with behaviour issues, he realised that through cake decorating,  he could connect with the young people, helping them to open up about issues affecting them most. This prompted Sandro to create baking and cake decorating workshops.
Sandro runs "Baking on the Spectrum", an online workshop for autistic children and their families. Over the past two years, Baking on the Spectrum has worked with over 100 families. Sandro said:
Meet our new ambassador, TV star and Great British Bake Off finalist, @thesandrosbakes! Sandro tells us about his excitement for World #AutismAcceptanceWeek and how he can't wait to increase acceptance and understanding of autism: https://t.co/ZNU0eTkpJo pic.twitter.com/I4rW2qe19i

— National Autistic Society (@Autism) January 26, 2023
Sandro's role at the National Autistic Society
Sandro will join the charity's annual event, World Autism Acceptance Week, which runs from March 27th to April 2nd 2023. The theme of this year's event is colour with a new virtual challenge, the Spectrum Colour Challenge, and a new in-person event, the Spectrum Colour Walks, along with lots of other fundraising ideas.
Caroline Stevens, Chief Executive of the NAS, said:
"We are delighted to welcome Sandro on board as Celebrity Ambassador and greatly appreciate his time and support for our charity.  We're looking forward to working together with Sandro to transform lives, change attitudes and create a society that works for autistic people."
The work of the National Autistic Society
The National Autistic Society is the UK's leading charity for autistic people. It transforms lives, changes attitudes and creates a society that works for autistic people.
Since 1962, the NAS has been campaigning for autistic people's rights and providing support and advice to autistic people and their families.
About autism
According to the NAS:
Autism is a lifelong developmental disability, which affects how people communicate and interact with the world.
At least one in 100 people are autistic, which means more than 700,000 people in the UK.
All autistic people have difficulties with communication and social interaction.
Autism is a spectrum condition. This means autistic people have their own strengths and varying and complex needs, from 24-hour care to simply needing clearer communication and a little longer to do things at work and school.
When you've met one person with autism….
Although autism is different for everyone, people on the autism spectrum may:
be under or oversensitive to sounds, touch, tastes, smells, light or colours, which can make everyday life extremely difficult.
be unable to or find it harder to speak, face delays processing information or find it hard to hold conversations.
experience intense anxiety around unexpected change and social situations.
become so overwhelmed that they experience debilitating physical and emotional 'meltdowns' or 'shutdowns'.
Better public understanding of autism across society could transform hundreds of thousands of autistic people's lives.
Without the right support or understanding, autistic people can miss out on an education, struggle to find work and become extremely isolated.
To find out more about autism or the charity, visit www.autism.org.uk. You can also follow the National Autistic Society on Twitter, Facebook and Instagram.
By Dr Joanna Baker-Rogers 
More on Disability Horizons…