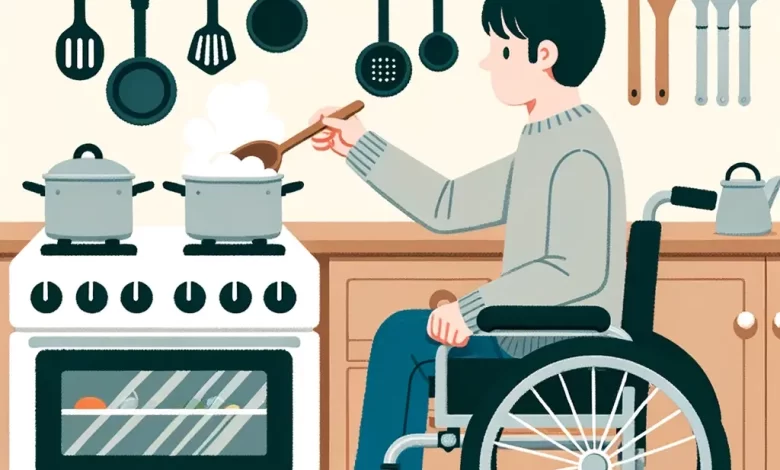 Lifestyle
Trim and tasty: cooking made easier for disabled people
Making Mealtimes Easier
Cooking isn't always easy. Whether you're one for big, homely meals, light bites or whatever you can manage to rustle up, mealtimes can be notoriously difficult to navigate. With some tweaks, it can become enjoyable. Here are some ways to ease your meal prep and dining experience:
We know the issues, for a start the kitchen itself is often of poor design, not to mention everyday utensils, and the task of cooking up a square meal can be exhausting. Here, we offer a few tips and tricks as to how to make mealtimes a little easier, no matter what your disability.
Planning Ahead
Meal Planning: It's trendy and practical. Apps like Mealime are great for this.
Scheduled Cooking: Plan cooking when help is available. It saves energy.
Avoiding Takeaways: Try healthier options from restaurants, thanks to services like Deliveroo.
One thing to consider is to plan ahead, and once you're in the habit, it can revolutionise your dietary behaviour and indeed your entire weekly schedule. Making a meal plan is all the rage nowadays, with fitness folk rating it as an integral habit to a healthy lifestyle, allowing to ensure a balanced and healthy meal every step of the week, something that is especially important for people who require very specific dietary plans. A highly-rated app such as Mealime can help with this with its specialist recipes, tips and nutritional advice.
Another major benefit of making specific meal plans, of course, is that it allows for disabled people to take on some of the trickier cooking tasks when help is on hand. Taking cooking time out of the day helps to reserve energy, too, and a well-planned weekly meal schedule is no less nutritious then if the meals were ready-cooked.
Of course, the scourge of the takeaway is one many have fallen foul for over the years, with the ease and increasing affordability of fast food meals a constant tease. However, with more and more restaurants offering healthy alternatives to classic comfort grub, food delivery services such as Deliveroo allow for genuinely healthy restaurant-quality meals to be delivered door to door, taking all the guilt out of a takeout.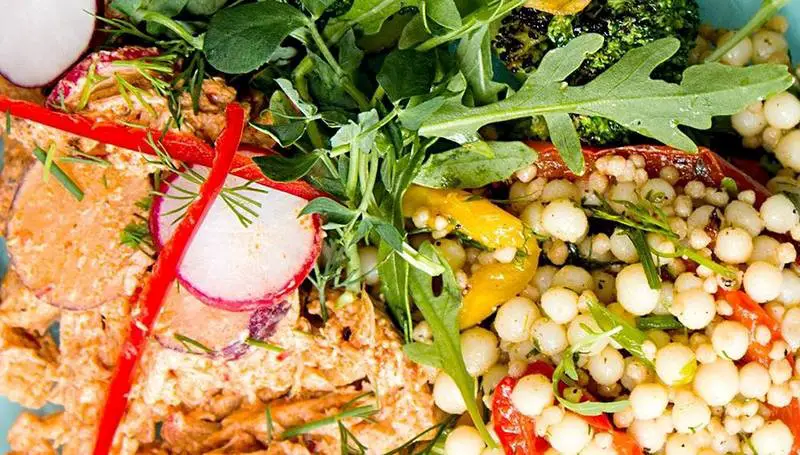 Source: Deliveroo via Facebook
Handy Recipes
Go-To Recipes: Have some easy recipes ready for hungry moments.
Specialities: Master a few recipes. It's fun and practical.
Indeed, if meal plans and takeaway evenings are not quite your thing, a fistful of easy recipes are useful to keep on-hand for when the hunger hits. Developing a few specialities is something all people should do, making it easy to grab what ingredients you need, know which sections of the recipe are tricky, and make time to prep during the day, leaving scheduled rest time should you need it.
Quick and Easy Meals Books For very easy and quick recipes for anyone to use try the list here
Accessible Chef: Accessible Chef is a collection of free visual recipes and other resources to help teach cooking skills to learning disabled people or in a special education setting. The website offers over 300 free visual recipes and resources, including articles about adaptive cooking tools and a custom recipe creator.

How to Cook While Struggling With Chronic Illness and Disability – TBQ Talks: This blog post shares the author's personal experience of cooking with a disability and provides tips for cooking with limited energy and mobility. The author includes a list of tasks they can do in the kitchen and shares their approach to finding recipes that are easy to make and provide a balanced meal.
Adaptive Cutlery Options
A simple change to shift towards easier cooking is the purchase of specially-designed cooking and kitchen utensils, with such as adaptive cutlery and other aids on our own shop. having designed a wide and varied range of items. From non-slip bowls and utensils to tipping kettles and adapted cutlery, every disability is catered for.
When it comes to adapting your kitchen for accessibility, choosing the right cutlery can significantly enhance the dining experience. One notable option is the Knork range of products, which are designed to be both functional and stylish. Here are some features that set Knork apart:
All-in-One Design: Knork integrates the functionality of a knife and a fork into one utensil, reducing the need for multiple pieces of cutlery.
Stylish Finish: Available in three finishes – Original, Matt Black, and Antique Copper, making it a stylish addition to any dining table.
Ease of Use: Especially useful for individuals who may need to dine one-handed, providing a level of independence while dining.
Durable Construction: Made from high-quality stainless steel ensuring durability and longevity.
Discover the complete range of Knork products and elevate your dining experience by opting for adaptive cutlery that blends functionality with elegance.
Of course, if you are in need, can afford it or are eligible for the funding, a few tweaks to your kitchen set up can make all the difference. Lowering worktops, adding better-accessible shelving and creating more space to manoeuvre is a handful of the options many disabled people take up in order to make their lives easier.
Cooking for Individuals with Learning Disabilities
Cooking can be a fun and empowering activity for individuals with learning disabilities. Here are some UK-based resources that provide tailored recipes and cooking tips:
Visual Cooking Guides
CookABILITY Videos: United Response has created an online video series to help individuals with learning disabilities cook healthy, homemade food. With a dozen simple recipes, each step is visually demonstrated to ease the cooking process.
Educational Resources
These resources provide practical and visually engaging ways to make cooking an enjoyable learning experience. Whether you're an individual with a learning disability, a caregiver, or a teacher, these tools can be highly beneficial in making the kitchen a fun and accessible place.