The kindness of strangers
Disability Horizons co-editor Srin, shares a recent story about his trip to Edinburgh and the kind help he received from two strangers that made the day memorable.
One might think that such a phrase is an oxymoron in modern western society. When living in a thriving and busy metropolis such as London, one would get the impression that neighbours rarely talk to one another or that people rarely help one another. The silent individuality of heads buried into newspapers and iPods as is the case every morning on a ride on the London Underground (London's metro network) often compounds such a view. However, on a recent trip to Edinburgh, the random kindness of two strangers really made my day.
The business trip and a weekend away
By way of a little background, I travelled up to Edinburgh on a business trip to visit a client of my firm who are based in Edinburgh. In my day job as a solicitor, I regularly work with employees of this particular client and was really looking forward to meeting them in person. The plan was to simply travel up to Edinburgh with a group of my colleagues and take members of our client's employees who we work most regularly with for a night out which involved a gourmet cookery class, wine tasting and a good old fashioned drinking session at a local pub. The next day my colleagues were to head back to London, but I was to stay up there for a couple of extra days to spend time with two university friends who now study at the University of Edinburgh.
Travelling to Edinburgh
This was to be my first long distance trip while at work and it was to be the first trip way from home for my new PA.  As with all my travels, I was well prepared. I have a fantastic portable hoist in the form of the MoLift Smart and the Go-Anywhere Commode Chair, which was folded into a bag and strapped onto the back of my wheelchair.
I love Edinburgh. Although its steep inclines can be challenging for a wheelchair user, it is a beautiful city and it is great to simply just wander around. I have been there several times before by car (which takes a very long time!), but for the first time I travelled there by train from London Kings Cross to Edinburgh Waverley. After travelling up by train for the first time ever, I very quickly came to decision that I would most probably never go by car again! The train journey was comfortable and much faster than the car journey. My firm had pre-booked special assistance with East Coast Rail, so a ramp was ready to help me onto the train on both sides of the journey on the way there and back.
In terms of the hotel, something central was needed. Before travelling, we booked rooms at the King James Thistle hotel on Leith Walk, which was only a five minute walk from Edinburgh Waverley station. This hotel was in a convenient location in the city centre but also had a room which had really good wheelchair access. The room was very spacious and the bathroom was large and had a roll in shower unit. The hotel staff were helpful and arranged for hotel porters to place blocks under the bed to raise it to a convenient height. I have to also note that prior to booking the hotel, it was very helpful of the King James Thistle hotel to have a detailed and accurate access guide for that particular hotel on their website. It made everything so much easier, and took away a huge amount of uncertainty that normally lingers whenever I book a room. I do really hope that type of information provisions acts as a model for other hotels to follow!
Conquering hills
The night out in Edinburgh was really good fun. We ate good food, drank good booze and partied late into the night!  The rest of my team left Edinburgh early the next morning to go back to London. Thank goodness I did not have to wake up early to head back to London that morning. It would have been impossible.
Nonetheless, the next couple of days were spent drifting around Edinburgh, along with a walk through the hills of Holyrood Park on the final full day with my friend. It was on this excursion up one of the steep hills of Holyrood Park, that the title of this article actually starts to mean something. To put things into context, since I went on my trip around the world last year, I have become far more interested in outdoor activities and especially those which have an element of risk that altogether seems to appeal to the thrill seeking / adrenaline junkie deep within me! A holiday to Tenerife, which I will write about in the next edition will be a good example of this!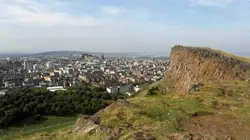 While in the park, I could see that the biggest hill, Arthur's Peak, would be impossible to get to the top of. The terrain was just too uneven and steep. But next to it, there was a smaller peak that seemed to have a solid gravel path along to the top, with areas of solid turf. Although, it was steep and uneven, I thought I would give it a go! My Permobil C2K wheelchair is like a tank, it is a tough machine that has in the past powered me up some dreadfully steep inclines and terrain in the past.
However, it is also very heavy, and I was with a friend who would not be strong enough to lift it if anything went wrong or if I came across a ditch! But anyway, I decided to start along the path, and I was so glad that I did. The views of Edinburgh and the hills of Holyrood Park were beautiful.
For most of the trip up the hill, the wheelchair performed brilliantly. Each piece of uneven ground along a steepening incline was just powered over. It was also a tough driving challenge. I had to carefully navigate my way carefully through the gravel, closely keep an eye on the best route and at the same time keep the wheelchair in a position on the path that would not allow it to tip over! It was a lot of fun. Driving a wheelchair is a mundane endeavour at the best of times, so adding this off-road element really made it much more interesting.
All was going well until I was about three quarters of the way up. The ditches started to get larger, the gravel path started to disappear to be replaced by moist grass and large rocks, and on the whole, the incline got a lot steeper. My wheelchair struggled. I was turning over lots of turf with spinning wheels that couldn't get sufficient grip, hitting rocks that I couldn't quite get over and worst of all, I was beginning to slide down on certain patches of slippery grass. By then I knew it was time to turn around and head back.
Slightly disappointed at my impending failure to get to the top of the hill, I began to slowly turn around to descend. Out of the blue, I then hear two voices "do ye need anae help?" (this is the best way I can describe the Scottish accent by text). Two guys named Chris and Lee ran over and offered their assistance. They could see we were struggling a bit! I said that I should be ok turning around to back down, but then they very kindly offered to push my chair up to top of the hill. They said the view from the top would be worth it and I as had already managed to get this far it would be a shame not go all the way!! Within a few moments they got behind my chair, and gave it the most majestic heave up to the top of the hill. Chris and Lee were incredibly strong. My very heavy wheelchair has never been pushed liked that before! The view from the top was stunning, and I like to think that this was a point where no wheels had rolled before!
Once we had got to the top, it was then time to go down. Again, Chris and Lee helped me down, until the path evened out and the ground became easier to drive on for me to independently get down.
I couldn't thank Chris and Lee enough. Their help was amazing. While I got as far as I could on my own steam, they easily could have ignored me heading back down the hill, but instead they helped me get to the very top.
In the grand scheme of things, I guess getting to the top of a hill is no big deal. But for me it was a great feeling getting to the top, and it was the kindness of strangers that allowed that to happen.
By Srin Madipalli