As part of our Access All Areas series of videos and articles about accessible tourism opportunities, Disability Horizons co-editor, Martyn Sibley visits the beautiful Catalan capital of Barcelona.
This July I took a fun-filled trip to the Catalan capital of Barcelona on behalf of the Catalan Tourist Board. Over the last twenty-two years, since hosting the Olympic and Paralympic games in 1992, Barcelona has become one of the most accessible cities in the world and continues to become even more accessible every year. With facilities for disabled people ranging from accessible museums and art galleries to assistance with getting in and out of the sea on some of the city's most glorious beaches, Barcelona really has it all. During my whirlwind two-day trip, I visited some of the best sights that the city has to offer, as well as some that were a little further afield, in the regions of Igualada, Penedès and Sitges.
After arriving bright and early on a sunny Monday morning, my first port of call was my fully accessible accommodation at MIC's Sant Jordi. Made up of 32 fully adapted apartments, all the apartments on offer at MIC's Sant Jordi come with electric beds, adapted bathrooms with rails for smooth transfers and all the mod-cons, such as TVs, DVD players and floor height alarms that you could want or need. With an adapted swimming pool, gym and physiotherapist, the MIC's Sant Jordi really does cater to your every need and I felt sure it would be a great place to head back to after a long day exploring what Barcelona has to offer.
For our first day of adventures, the travel agency Barcelona Special Traveler provided our transportation, meaning we were able to transfer from MIC's Sant Jordi to Barcelona's most iconic building, the Sagrada Familia with ease. Although Gaudi's monumental church still isn't finished over 100 years after it was first begun, it is still Catalonia's most imposing and stunning building. Visitors with limited mobility can access the Temple of the Sagrada Familia via two entrances, and although not all areas of the temple are accessible, particularly the towers, which are too narrow for wheelchair users, every effort has been made to make the temple as user-friendly as possible. The temple also has two accessible toilets and a number of provisions have also been made for visitors with sensory impairments, including tactile tours, which feature samples of Gaudi's architectural shapes and textures, audio tours and an audiovisual room. A visit to the Sagrada Familia is a must for any visitor to Barcelona and it's a great place to come back to again and again as there's so much to see and it's always being added to.
Getting to and from the Sagrada Familia is also made easy by Barcelona's brilliantly accessible transport system. 80% of the metro system is now fully accessible, while 100% of the buses have ramps so you can hop on and off as you please.
Next though, it was time to head off to see one of Gaudi's other great buildings, the Casa Milà, La Pedrera. Casa Milà has worked hard over the past few years to make Gaudi's work accessible to everyone and they've included an impressive array of sensory experiences, which are woven throughout the exhibition and are also used in lectures and seminars that take place at the house. Induction loops, braille signs and accessible toilets are also available, ensuring that everyone's accessibility needs are met. Gaudi's style really is a unique experience, and being able to handle pieces of the architectural material really brings his work to life and shows you what an amazing vision he had.
After all that architecture and art though, it was definitely time for lunch, so we headed for the rooftop restaurant at the Museu d'Historia de Catalunya. Accessible via a large lift and ramp, Restaurant 1881 offers visitors a taste of traditional Catalan cuisine; all served up with stunning views across the city, what more could you want?
Fully refreshed and rested by our tasty Catalan meal, we were now ready to get stuck into some more of what Barcelona has to offer. In order to get to our next destination, we hopped on the tourist bus, which offers audio guides in 11 languages, as well as an induction loop upon request. Fully accessible, the tourist bus is a great way to get out and explore the city and an excellent way to get to some of the top tourist destinations. We decided to get off opposite the Municipal Sports Centre, which is home to Barcelona's outdoor Olympic swimming pool and offers stunning views over the city, as does the Montjuic cable car, which is fully accessible for wheelchair users and has received certification for its efforts. With panoramic views over Barcelona, the cable car takes you up to the top of Montjuic where the views are equally stunning and well worth the journey.
After a quick look around the historic Montjuic Castle, we tucked into some tasty tapas, before travelling back to MIC's Sant Jordi for the night so that we'd be ready to take on all the adventures that tomorrow had to offer!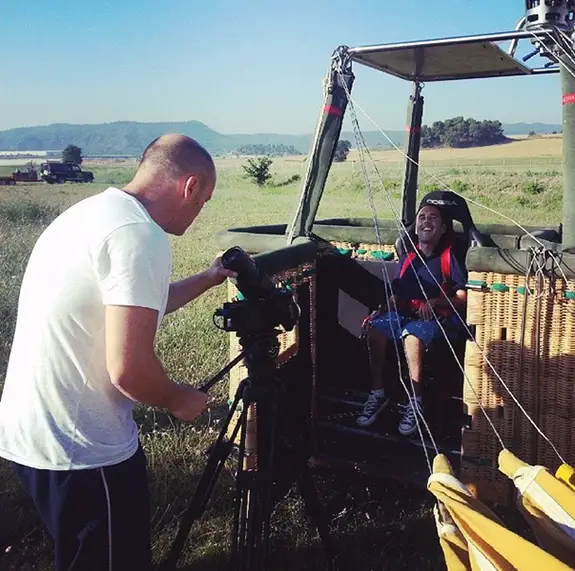 Our second day in the region began bright and early at 6am when we were driven to L'Anoia 80km away, by the travel company Viajes 2000. On arrival at L'Anoia it was time to take part in an activity I never thought I'd get to experience and was quite frankly a bit nervous about, a ride in a hot air balloon! Despite my nerves, this was an once-in-a-lifetime opportunity and not one I was going to pass up. Camins de Vent offer hot air balloon flights across Catalonia for both disabled and non-disabled guests. The baskets of Camins de Vent balloons are specially adapted with a door that opens so that your wheelchair can be pushed straight in and secured. The basket also features two hydraulic height-adjustable seats for customers who are not able to stand. Once I was securely strapped in, the hot air balloon took off into the blue sky and we set off on a one-hour trip around L'Anoia, which gave us a bird's-eye view of some of the most stunning landscapes that Catalonia has to offer. It really was an amazing experience and I felt totally safe in the capable hands of the Camins de Vents staff.
Once we had safely landed – pretty gently I must say! – it was time to head to our next destination, Jean Leon's Cellar. While most wine cellars are usually inaccessible to disabled people, mainly because they're often underground and only accessible via staircases, Jean Leon's was built with full accessibility in mind and gives disabled people the chance to access a site they are usually excluded from. Located in the luscious Penedes region, between the mountains and the sea, and famous for winemaking, Jean Leon's Winery is on one floor and is accessible via a ramp so you can tour it in your wheelchair. The site also has accessible toilet facilities and visitors can take a tour of the vineyards and learn how the wine is produced, and of course enjoy a few samples along the way!
After a relaxing and interesting tour, we said goodbye to Jean Leon's and set off for Sitges, 37km away. Our destination was the Hotel San Sebastian Playa, which looks out onto the sparkling Mediterranean Sea and the soft sands of Sant Sebastià beach. Eating lunch on the terrace was a real treat, on what was shaping up to be a very relaxing and sunny day. After indulging in some fresh seafood and paella though, it was time to hit the beach for a quick dip and some sun bathing. Catalonia has many beaches that are accessible to disabled people, with roll-in changing rooms and staff on hand to help you in and out of the water via amphibious chairs. We decided to visit La Barra Beach, which also has accessible toilets and footbridges so that wheelchair users can get from the shore to the sea, but there are accessible beaches all along Barcelona's coastline, so there are plenty of different options to choose from depending on where you are in the area.
After visiting La Barra and having a dip in the warm waters of the Mediterranean, our fun-filled Barcelona trip had officially come to an end. After experiencing some very literal highs, it was sad to say goodbye to this truly accessible city and everything that it has to offer. Barcelona really has built upon its Paralympic legacy and it is hands down, the most accessible European city that I've ever visited. With so much to see and do and so many facilities on offer to disabled people, I'm sure it won't be long until I'm back to see some more of what Barcelona and Catalonia has to offer.
#catalunyaexperience
By Martyn Sibley
Read more of Martyn's articles, see his videos, and join in the conversations by visiting his website, Martyn Sibley.
Check out…
• Bionic model: disability won't stop her
• The Invictus Games 2014 – Q&A with Derek Derenalagi
• Accessible Caribbean island: from a travel addict and wheelchair user
Get in touch by messaging us on Facebook, tweeting us @DHorizons, emailing us at editor@disabilityhorizons.com or leaving your comments below.