Arabian Gulf trip to the beautiful city of Dubai in a wheelchair
Dubai is a modern city with a lot of things to see and do. It has many luxury shopping centres, ultramodern architecture and a lively nightlife scene. The Burj Khalifia is Dubai's tallest skyscraper in the world and fills the skyline with its beauty and elegance. At the foot lies the Dubai Fountain with jets of water and lights choreographed to music. It's a must see city if you can take the heat at 30 plus degrees in the daytime with cooler temperatures in the evening.
But is it accessible? Disability Horizons' Zubee recently visited the great city to see just what it's like for someone using a wheelchair. 
The day of my holiday had arrived and I was extremely excited as I had not been abroad for four years. I love the whole experience of travelling, but don't do it as often as I would like as it can be a challenge.
We arrived at Heathrow airport at 6.45am – our flight was due to depart at 9.30am. As I had decided to travel with my wheelchair for the first time, I wanted to arrive early as I didn't know what to expect or what the airline's procedure for disabled passengers was.
We went to the check in desk and the lady conducted the usual passport checks and took our bags, but then asked my sister if I would need assistance to get to the aircraft and to my seat once on board. This is one of the annoying things when it comes to having a disability – people assume you can't speak for yourself.
I said it would be helpful to take my wheelchair up to the aircraft but that I would be fine getting to my seat without assistance. We went through security, which was all fine, and spent some time in the duty free area before heading to the departure lounge. There, we were moved to the reserved seating area so we could be first on the aircraft once they were ready for boarding. When I got to the aircraft they bought me the aircraft's wheelchair to take me to my seat. I said to the crew that I didn't request it and would be fine getting to my seat – I was worried about leaving my wheelchair in case it got lost or damaged.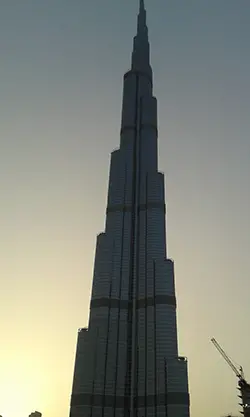 We landed in Dubai at 19.10pm local time. As soon as we got out we could feel the heat. I was expecting my wheelchair to be outside the door waiting for me, but it was nowhere to be seen, making me worry and think the worst.
We waited for about 5 minutes and then thankfully my wheelchair arrived – what a sigh of relief. We then had to get the train, which was accessible, to the baggage re claim hall. We had a transfer booked from the airport to the hotel, which took about 20 minutes. We were staying at the Arabian Courtyard Hotel located in Bur Dubai; this is the historic district on the western side of Dubai Creek. On arrival to the hotel at about 9.00pm we checked in and were told that we have been upgraded to an executive room, which had a walk in shower, hand rails with a chair in the shower – perfect.
Metro train to the Dubai Mall with Dubai Fountains
The next morning we decided to go to the Dubai Mall by train as the station was about 15 minutes walk. I went in my chair, which I thought would be a lot easier. Unfortunately the pavement kerbs on the way to the station were big and difficult to get my wheelchair up and down, so I had to get out.
Once we got to the station it was about a 30 minute walk to get to the trains with me in my chair. The train is designed like the Jubilee line in London so there are no gaps between the train and the platform. It's worth noting that there are also lifts are also available and that the fares for public transport in Dubai are cheap compared to London.
On the train they have designated seating for disabled passengers and wheelchair users, but the train was packed and I couldn't get my wheelchair in the space provided as people were standing in the way and nobody seemed to want to move.
The train itself is ok, but the distance from the station to the shopping mall is too far and vice versa. The shopping centre itself is huge with a wide selection of shops full of various clothing brands, electrical shops, restaurants, cafes and boutiques. It also has lifts.
We watched the Dubai fountains in the afternoon. The fountain shows happen every half an hour for 3 to 4 minutes outside the Dubai Mall near the Burj Khalifa.
Abu Dhabi, Sheikh Zayed Grand Mosque and Yas Viceroy Hotel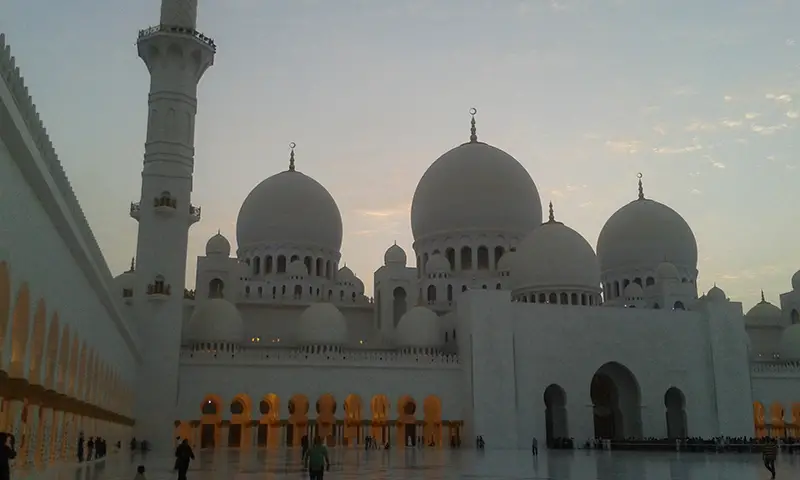 We left for Abu Dhabi from Dubai at 1.00pm by coach, which took two hours. We had to purchase tickets at the station, which was very cheap for the 3 of us. When we arrived, there was another shopping centre opposite the coach station called Al Wahda Mall. As this was much smaller than the Dubai Mall, we decided to walk around for a bit. This centre also has lifts and accessible toilet facilities.
A few hours later we took a taxi to go and see the Sheikh Zayed Grand Mosque. It's a beautiful mosque with stunning architecture inside and out. When it went dark the mosque lit up with blue lights and looked magnificent.
We took another taxi to go and see my favourite luxury five star hotel called the Yas Viceroy on Yas Island. This was a dream come true as I love the design and architecture of the hotel. They have six different choices of restaurants (we went for Indian) so we ordered delicious food – which was expensive, but worth it for a holiday – and the service and the helpfulness of staff was fantastic. I loved it, and would love to again. If I did, I would like to experience it as VIP guest for one night and see the F1 race track.
Dessert Safari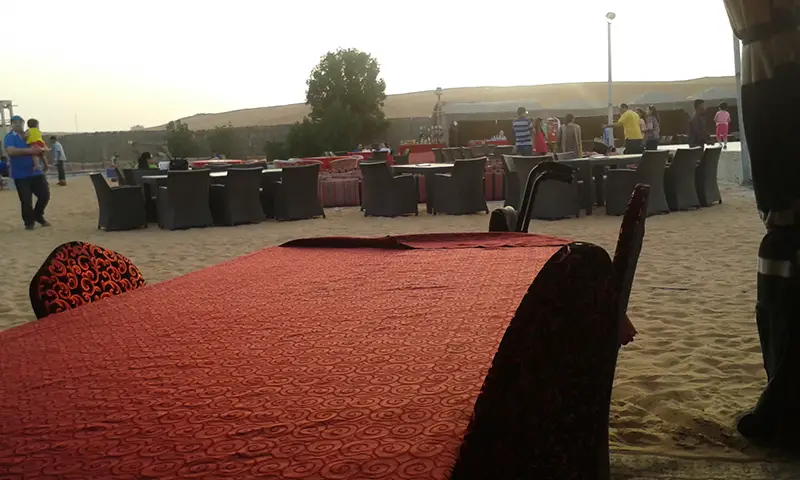 This is a must see for everyone who visits the Dubai. I know some disabilities may make it trickier for some people, but this shouldn't stop you.
You have to book the dessert safari in advance through a tour company or your hotel, although if you choose to book through your hotel it will be more expensive. We paid approx £16 per person through Royal Vision Tours. This includes a buffet BBQ dinner, unlimited soft drinks, bar, Shisha, Arabic Coffee, stalls selling traditional costumes and survivors to purchase if you wish.
Travel there is by coach or by a 4×4 jeep. It departs in the afternoon and goes across the dessert of Dubai. The drive can be bumpy, and takes about 45 minutes, but it's enjoyable and fun. Once at the site, some of the activities include camel riding, sand boarding, henna painting and much more.
When we were there, the sun sets over the dessert with a welcome speech to the guests. The shows began on stage with traditional dancing from Sufi Whirling, belly dancing and horse dancing. The show finished at about 8.30pm and we departed the campsite at 9.30pm to head back to our hotel.
Burj Khalifa at the top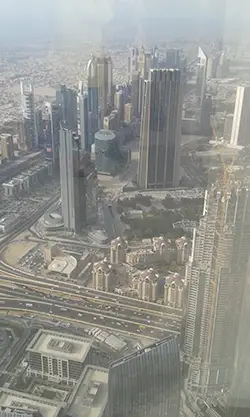 Burj Khalifa is Dubai's tallest skyscraper with spectacular views from the top. Approximately 4,000 tourists visit the Burj on a daily basis. It has the highest observation deck on record at 555 meters with the highest you can go at level 148. I couldn't leave Dubai without experiencing this for myself.
It's best to book it in advance to save having to queue up, luckily when my mum and I went to buy our tickets we didn't have to queue for long. The gentleman at the desk said the prices vary depending on how high you go up and the time of booking. If it's an evening, the prices go up. During the day it's slightly cheaper, so my mum and I decided to go more than half way up to the 124th floor, which is at 452 meters and cost us £22.00 each. Once you purchase your tickets you can stay up there for as long as you like.
The journey to the Burj starts from the Dubai Mall, lower ground area. We took a lift to the reception area. On the way there were several interactive experiences to show how the Burj was built, the people involved and behind the scenes information. This was all done with sculptures showing what the Burj would look like if it was built in different parts of the world, such as London or New York for example. 90 plus nationalities took part in the experience of constructing the Burj to become an iconic building in the city of Dubai.
To get to the 124th floor we took the world's fastest lift, which goes up in 60 seconds. You don't feel a thing, it's that quick. Inside the lift it has different coloured lights and small video screens, again showing the construction of the Burj. We got out to the 124th floor observation deck and the views were just incredible. We spent some time taking photos and admiring the views from the top. It's an experience I will never forget 🙂
We left for the airport via our airport transfer taxi. We went through all the airport procedures relatively smoothly, except for the fact that the passport control desks were high up and the officer couldn't see me sitting in my wheelchair so had to stand up.
When we touched down at Heathrow at 20.15pm, my wheelchair was nowhere to be seen. The airport staff said that they would take me down through passport control and security in their own wheelchair, which I didn't want to have to do. They radioed down to where they load the baggage and they couldn't locate my wheelchair.
I was told that it could be left in Dubai – I couldn't believe it was happening. I ended up having to use an airport buggy because they had no wheelchairs available. The airport staff asked my mum if I could walk a short distance without even looking to ask me. When we got to the baggage claim hall my wheelchair arrived 25 minutes later. I was so relived. Apart from the ups and downs I had a lovely holiday 🙂
By Zubee
Get in touch by messaging us on Facebook, tweeting us @DHorizons, emailing us at editor@disabilityhorizons.com or leaving your comments below.
If you're planning your next holiday, why not visit our new travel site, Accomable, to find accessible accommodation not just in the UK, but across the world.