Lifestyle
Disability and fashion: 7 wardrobe essentials for wheelchair-dependent ladies
Alicia Searcy, also known as Nashville's disabled style blogger extraordinaire, the Spashionista (short for Spastic Fashionista), is set on changing the fashion industry for good. Alicia's our latest DH Guru who will be sharing all her fashion tips and ideas with you. Enjoy!
#DHguru
Just because you're wheelchair-dependent doesn't mean you can't be stylish and fashionable.
While it's true that using a manual wheelchair means certain styles are off limits for practical reasons, that's no excuse to consign yourself to sweats, yoga pants, and shapeless, unflattering clothing. Instead, consider building a wardrobe starting with seven essential pieces that will become the building blocks of your closet.
Fashion essentials
You'll want to get two seasonal sets of these seven essential, good-quality pieces (one for spring/summer and one for autumn/winter), which will go easier on your wallet and closet. It also makes it much easier to put together stunning outfits every single day.
First and foremost, the little black dress (LBD). Every woman needs two little black dresses. One for summer; one for winter. It may sound cliché but Coco Chanel's greatest contribution to fashion remains one of the most essential, important dresses you should own. The LBD transitions perfectly from day to night, work to play, depending on how you accessorise it.
The black velvet, white-collar-and-cuffs 1990's Kinderwhore dress has been refreshed for modern day, but the 90s iteration was a nod to the 60s, which was a nod to the 40s. In other words, it's iconic, so invest in one with a straight or slightly A-line skirt – neither of which will interfere with pushing a manual chair. Motorised chair users can get away with a fuller skirt.
2. Straight-legged pant
Not to be confused with jeans, leggings or (heaven forbid) yoga pants. Straight-legged pants, or trouser-cut pants, are just that. They are fitted through the hip and sometimes the upper thigh, remaining that width to the ankle. Trousers can be silk, wool, cotton or twill, and are appropriate for work and dinner out.
3. Straight-legged skirt
You'll also want a straight skirt. A straight skirt, or trumpet skirt if you're broad-shouldered, can be ultra-casual or very formal. If you have difficulty keeping your knees together consider more of an A-line or flared cut skirt as these are very versatile and easier to negotiate than pants. Invest in several with various prints, textures, and details like embroidery or laser cutouts.
4. Jean or legging
As a Nashvillian I can tell you nothing looks cooler from the diner to the club than the perfect pair of jeans. If you like blue jeans opt for the darkest indigo you can find. Colored denim is fun, too Just make sure the fit as flattering as possible.
Skinny jeans are still popular, but flares (my personal favourite) are making a comeback. Leggings are sometimes easier to put on, and patterned leggings are the new opaque hose, but they are more difficult to wear because they can read sloppy quite easily. Make sure your top covers your hips and upper thighs if you opt to wear leggings as pants.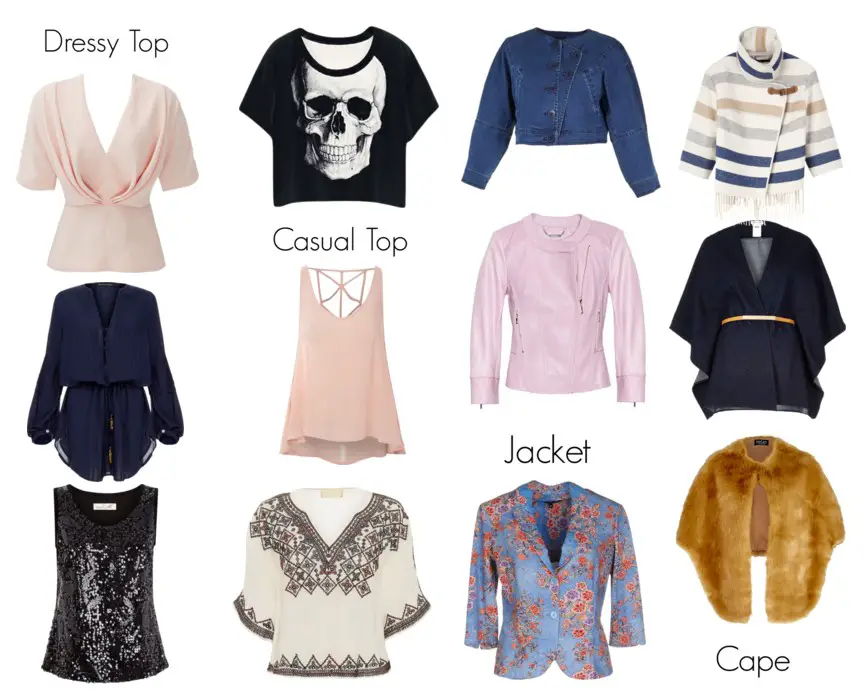 5. Dressy top
The dressy top has come a long way from the stiff-collared buttoned-down shirt. Not that there's anything wrong with that, but these modern options are easier to move in and can go from work or school to dinner and a movie. Fitted tops and tunics are comfortable and stylish round the clock, and even the sequin tank is work appropriate with a blazer over it.
6. Casual T-Shirt
Shapes are the key to keeping casual tees from looking sloppy. A cropped tee or peasant blouse should be loose, but not oversized, and long enough to cover your midsection. A slouchy sleeveless or vest top is perfect for hot days and romantic evenings. Make sure the shoulders fit properly so the top can drape over your thighs without shifting to one side – and showing off more than you intended.
7. Jacket or cape
Outerwear can be so tricky to get right. It has to flatter your shape, keep you warm or dry, and accommodate your arms without getting caught in your wheels. Having said that, the right jacket or cape can elevate or simplify everything from an LBD to a pair of leggings and everything in between.
For the office or warmer weather look for cropped jackets or blazers with ¾ sleeves and waxed denim or canvas ponchos for the rain (you can waterproof your own using Otter Wax). Great cold weather choices include faux or real leather moto jackets with zippers on the sleeves and wool poncho capes that can be cuffed back to free as much of your arms as needed. For a posh evening out nothing beats a fax or vintage fur cape.
These seven pieces are just the starting point. You may notice that most of the examples I used are either neutral in color or hues of Pantone's 2016 colors, Rose Quartz and Serenity. My advice is to keep your foundation pieces neutral until you have two of each. Then choose one or two pieces each season that are on-trend or have a vibrant, fun pattern. Another, more economical way to introduce trends is to keep your accessories such as shoes, bags, and jewellery current. More on that next time.
By Alicia Searcy
We'd love to hear your fashion tips and to see you're fashion pictures. Get in touch by messaging us on Facebook or tweeting us @DHorizons.