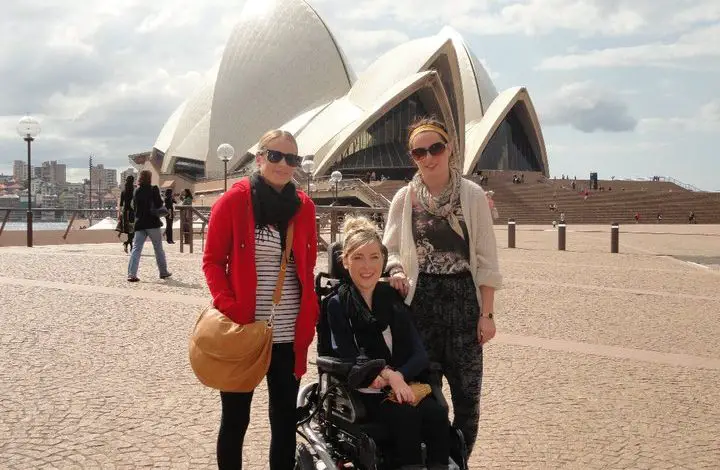 The Plan
It was around this time last year that I began planning a 6 week trip around Thailand, Australia and Fiji with my two friends, Emma and Shubes. I have SMA (Type II) and require an electric wheelchair to get around so we knew we would face some difficulties but we were definitely up for the challenge!
My friends offered to help me with my care needs for the 6 weeks and in return they agreed to use their direct payments funded salary to pay for part of their flights. We decided upon a route and booked our main flights through a company called Flight Centre and internal flights were booked separately. After trawling the internet for any travel advice for wheelchair users, I soon realised that nothing had been previously documented on electric wheelchair users visiting Thailand or Fiji. Due to our tight budget we decided to take a risk and not book any accommodation in advance, however I did manage to find a wheelchair accessible hotel in Bangkok for our first night stay, as we were to arrive late at night.
After talking to friends who had visited Thailand it was clear that I was going to have difficulties finding any kind of wheelchair accessible transport, so I was not going to be able to take my current electric wheelchair with me. I really didn't like the thought of being in a manual wheelchair for 6 weeks so I began to look into manual chairs that had detachable battery packs. However one of my friend's mum works at a school where a small wheelchair was being sold, it was an Otto Bock A200, an electric wheelchair that was easily disassembled and fitted into the boot of a car. It was a perfect fit, so I decided to take this instead.
Thailand
The date of our departure came around fast and after a hefty 12 hour flight we arrived in Bangkok. Our first challenge was to find transport to our hotel on Khao San Road, we managed to get a good deal on a shuttle bus and going by previous experience I imagined it wouldn't be too difficult to get on with my wheelchair. However the shuttle bus turned out to be a coach with a narrow flight of stairs and nowhere to store my chair! The coach driver didn't bat an eyelid and managed to secure my chair on the stairway with his belt; far more helpful than bus drivers I had come across back home in the UK.
We stayed at the Viengtai Hotel, this was to be the nicest accommodation of our whole trip. After we had checked in we headed straight for the main street of Khao San Road for a Singha beer. It was bustling and it was soon clear that many of the locals had never seen an electric wheelchair before, as I was followed by a few curious passers-by. We had our first Pad Thai and went on for a dance in 'la club', where we experienced the first of many a bucket; a lethal combo of vodka and M-150 (Thailand's stronger answer to red bull)! We woke the next morning feeling pretty rough and had to leave early to catch our internal flight to Koh Samui where we were meeting some friends who were already out there.
This flight was booked through Air Asia and it turned out to be a flight on a small plane that had no air lift but just a narrow steep flight of stairs. I was literally pulled upside down to get to the top but we just about conquered the horrendous stairs and getting back down prove to be much easier. There is an alternative of getting a night train but the flights were cheaper so we opted for this option.
We stayed at Ark bar in Koh Samui as a friend recommended it to me as accessible. However there were a few stairs leading to our room but we soon found a makeshift ramp and we were fine. After meeting up with our friends we decided to sample the nightlife; the main strip is pretty much like any other strip, full of packed clubs and tourists. The clubs and beaches in Koh Samui are amazing and I would have liked to have stayed there longer. After a few nights we decided to head to the island of Koh Panghan for the famous half-moon party, we took a tuk tuk to the port. We soon found that I could fit nicely into the back of a tuk tuk, not the safest mode of transport when tackling winding uphill terrain! Getting on the ferry proved to be another challenge as I had to go down the steepest hill I have ever seen to get on the boat. We soon found a cheap hostel once on the island, however after paying we realised that our room was a hut on stilts, once again a make shift ramp was required, this time in the form of a wooden door.
The half-moon party was an incredible experience; it takes place in the middle of a jungle and once again the buckets were flowing. After a few chilled nights we took a short tuk tuk ride to Hadrin. This is a small town with some lovely restaurants and amazing beach parties.
It was soon time to head back to Bangkok to catch our flight to Sydney. We got a great deal on ferry and night bus, however I was unable to get on the deck of the ferry so we camped out in the hold where the cars were kept. The night bus took 11 hours and after arriving in Bangkok and checking our bags it was clear we had been the victims of a scam. Money and jewellery had been stolen from our bags. Luckily I had my feet on the bag where most our belongings were kept and had felt someone tugging it from under my feet which woke me up so they didn't get to it. Thinking back it was all clear that it was an inside job; the sewn up curtains, no light, loud TV and the fact that they wouldn't allow my chair to be put in the hold where the bags were. We found out afterwards that it is common for robberies take place on buses from the islands to Bangkok. After one more night in Bangkok it was time for us to say goodbye to our friends and head to Sydney.
Australia
Arriving in Sydney I soon became very ill and it was clear that I had developed a nasty chest infection, we had booked a room at the Wake Up hostel in advance but had to wait until the morning to check into our room. I deteriorated quickly and decided to head to the nearest hospital. I had pneumonia and needed a strong course of antibiotics, the nurses and doctors were great and after a week's stay I was strong enough to carry on with the trip (I had accidently only got one day cover of travel insurance instead of 6 weeks, but lucky enough I wasn't charged for my treatment, phew!). I was also very lucky that I managed to get to Australia for my treatment as I had heard pretty bad stories about Thailand's hospitals. It changed our route slightly as we had planned on spending a few nights in Sydney then making our way down the Golden Coast to Brisbane. After leaving hospital I finally got to see Sydney, the harbor etc. Compared to Thailand, Sydney proved to be very expensive and cold as it was August, Australia's winter. We spent a few days sightseeing in Sydney and then took a night train to Byron Bay. The wheelchair access in Australia was great, nothing like what we had experienced in Thailand, even the coach had a lift. In Byron Bay we stayed at Nomads, a friendly hostel. Byron Bay was much warmer than Sydney and the beaches are beautiful, it has a really relaxed atmosphere and was full of surfers. After chilling out for 4 nights we headed further along the coast to Brisbane.
As we had left Byron in a rush, we had made a massive fail and forgotten my wheelchair charger, we had just a few days to get it back before we left for Fiji. A couple of phone calls later and we had managed to get someone from the hostel to put the charger on a coach to Brisbane and it was soon returned to us. I really liked Brisbane, it's such a clean well-kept city and a visit to Steve Irwin's zoo is a must, as you get to hold Koalas and feed Kangaroos. It was soon time to embark on the final leg of our trip, to catch a flight to Fiji.
Fiji
As soon as we got on the Air Pacific flight the Fijian atmosphere was apparent. I have to say that the Fijian people are the friendliest people, they are so accommodating and go out of their way to help you in any way they can. We stayed at Smugglers Cove on the main island of Nadia for the first three nights, enjoying Vonu beer on the beach. We then decided to visit one of Fiji's 332 small islands, there were island hopping trips that offered the chance to stay at numerous islands but we only had a week so just decided to visit the party island of Beachcomber. It was a good job we didn't opt for the island hopping as the boat that arrived to take us to the island was a small rocky boat that had to be waded out to. We managed to get on the boat ok with the help of other backpackers we had met and the friendly locals, I was however pretty worried that my chair was going to go overboard. When we arrived at Beachcomber, I soon realised that it was literally a desert island with no paths and sand everywhere. This however was no challenge for the locals, as to our astonishment one man put my chair on his shoulders and carried it up the beach!
We found that my chair could be dragged through the sand and on the hard parts could just about drive through it. We stayed in a hut with our own private beach and hammock, which I spent most my time in. The island was beautiful and you could literally walk around the circumference in 10 minutes, there was just one shop and one bar. The people on the island were so nice, and when my friends went on a fish feeding boat trip they wouldn't take no for an answer and took me on a tour of the entire island, dragging me through the sand. Beachcomber has the best atmosphere and we met a great group of people. Everyone is on what the locals call 'Fiji time', so relaxed, no one rushes, things just happen when they happen.
It was soon time to head back to the main island for a couple more nights before we headed back home. The boat ride back was pretty interesting as because of the choppy water we had to transfer to 3 different boats including an old wooden rowing boat. I had to be lifted to the boats in the middle of the sea, but the people were so nice I fully trusted them.
Returning home
Our 22 hour flight home came round fast and we said bye to Shubes, who had decided to head to Vietnam to meet up with our friends we were with in Thailand. Emma and I nearly missed our transfer from LA to London as they had to do numerous security checks on my chair, but after rushing to the departure gate with no shoes on and no minutes to spare we just about made it. The travelling blues soon kicked in after a few days back at home and as I write this now I definitely want to go back and see more of Thailand. Six weeks definitely weren't enough and I would love to return sometime soon.
By Amy Dunne