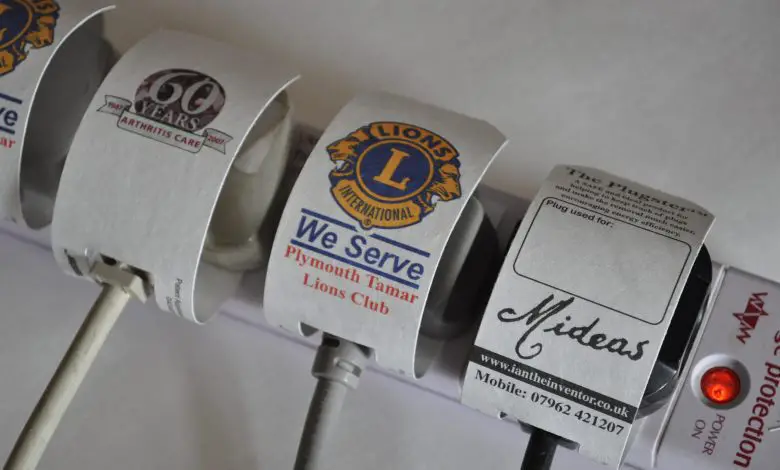 DH meets Ian Davies, inventor of The Plugster which helps people with mobility difficulties to help pull a plug from a socket.
In 1996 Ian Davies had a road accident which caused inflammation of the Sacro-illiac joint that went untreated, this became Sacro-illiac Joint Dysfunction and it affected Ian's ability to work.
What Ian decided to do was voluntary work so he could work out his own limits and capabilities, initially he worked four hours a day three days a week but over the years this was reduced as his condition became more chronic he now only goes in to check the cctv he helped set up. The Fibromyalgia condition causes muscle pain and tenderness in most of his body, limiting his voluntary work and only resting helped with the pain and discomfort.
As the chronic condition affected his everyday tasks things got even harder, one task in particular was unplugging appliances especially if it had a moulded plug. At this point Ian designed a simple aid to help him remove his plugs, the design was refined over time and Ian started to think of ways it could be given by businesses to customers. Finding material that could be printed or written on with pens, markers etc. was the answer, the problem was finding one that could withstand the forces required to pull a plug from it's socket without tearing.
After finding the best materials he found a promotional gift manufacturer who licensed it and launched it shortly afterwards, it was soon evident that sales didn't occur as quickly as Ian had hoped so he promoted it himself and got interest from the fire brigade. The Plugster™ has been used by the fire brigade to promote electrical safety and energy efficiency for about five years with no problems reported, it's also been used in Morgan Stanley UK buildings to help their I.T. staff identify what every plug is used for.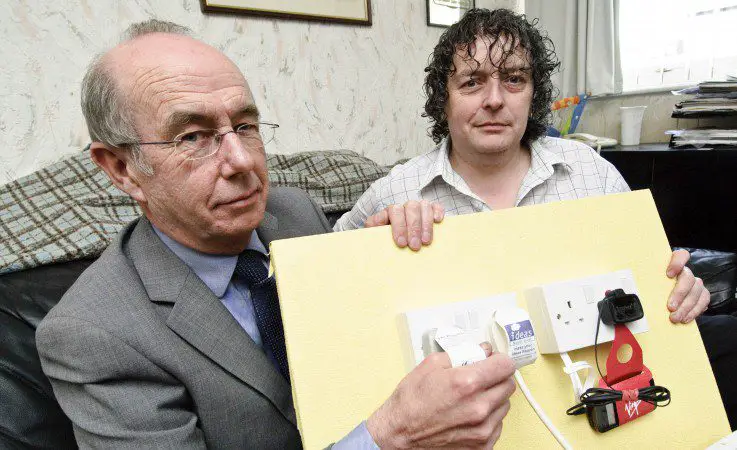 In 2010 Ian was invited to Radio 2 for an interview about his invention which was heard by a Lions International member from the south west, Plymouth Tamar Lions club bought 150 to try and followed this with an order for 1000 with their Lions logo and club name. Ian emailed various Lions clubs and soon had another enquiry from Peel Lions for another 1000, the Lions were taking more of an interest and they often got other organisations involved. One of the Lions UK districts decided to promote the Plugster™ to their district clubs this year and interest has been growing as they involved Age Concern and Shopmobility, other clubs around the UK are becoming aware of the Plugster™ with interest from individual clubs.
Towards the end of 2010 Ian was informed that the promotional manufacturer had decided to stop making the Plugster™ just as Ian had started to get interest from Lions International UK clubs, the manufacturer agreed to help Ian by producing them for a few months but Ian had to find another printer who could produce them for him. Ian got a lot of help along the way from Paul White of the Blackburn Innovation Technology Service which was run by the local council, this has changed into the Lancashire Innovation Network with the same employees. Paul White helped Ian find and visit some printers around Lancashire and they decided on Blackburns of Bolton, this introduced Ian to the benefits of digital printing and kept the Plugster™ alive.
All the work involved with the Plugster™ has been outsourced to businesses in the UK, together with his other ideas for products Ian has created work for over 12 UK businesses but it has created problems for Ian. Ian's incapacity adviser at the Jobcentre had been informed of what Ian was trying to do and why, but this year has seen them examine his books to establish if he is generating any money for himself, the financial records proved that all the money was kept within the business to pay the bills incurred and some was used to develop new ideas. This didn't stop the Jobcentre, as he then failed his next medical assessment and had his Incapacity Benefit stopped, this has left Ian on income support at reduced rate (£10 less than the minimum the government says a person needs to live off). The affect of this has been to put Ian into fuel poverty as £70 a month of his £216 a month goes on energy bills which is around 32%, that's well above the official figure for fuel poverty.
Ian said:
"it looks on the face of it that I'm being punished for helping others, when what I'm actually doing is showing manufacturers and potential employers that I have something to offer. I may be limited as to what I can do physically but I have a way of looking at problems that has helped create work for the UK and helped thousands of people at the same time. Had this been about making money I would probably have never started because I've made no money personally but have taken on debts to get the Plugster™ to market, what happened was my chronic condition made me aware how difficult a simple task can be and I set out to help the elderly and disabled with that task, receiving feedback from people makes the effort and problems with the Jobcentre worthwhile. Getting the Plugster™ to market has created job offers and I've even done a permitted work trial but less than 12 hours over two weeks made me ill and the potential employer ended it once they saw how quickly it affected me".
The medical incapacity did not involve talking to Ian's specialist or look at any treatment Ian was going to endure. The NHS are planning to kill some of the nerves in the sacroilliac area to try and reduce the amount of pain Ian's in. The specialist has said it will only be temporary and may last between 12 and 18 months, the nerves will grow back and the chronic inflammation will still be there. The other source of information that wasn't approached was the employer who witnessed the effect light duties has on Ian's health. This was someone Ian wanted to work for and they were very careful about what Ian was doing, they provided all the support they could but saw how it quickly affected Ian's health.
The real problem was the delay in treating Ian's condition early. Had the inflammation been diagnosed and treated sooner Ian could have returned to work. The specialist has said that because of the delay it is unlikely that Ian will get better, he said careful management of the pain and discomfort is essential, walking will help keep the joints mobile although brisk walking should be limited as it will aggravate the chronic inflammation.
Yet, despite the health problem and despite the stress from the Jobcentre, Ian is resolute in his desire to help others and create a way back to work that he can cope with.
For more information on Ian Davies and The Plugster,  please click here.