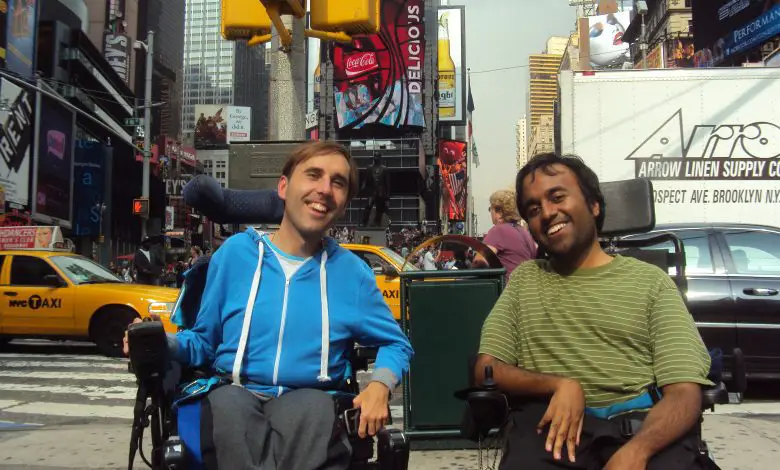 You know about the fun we had in New York, but equally important is a discussion of how we arranged and organised the trip. The real nitty gritty. The bit where organisation and planning are key. To make easy reading, I've broken the article up into following stages: 1) Equipment; 2) Flights; 3) Accommodation; 4) Airport transfers; and 5) Getting around.
1) Equipment
As I am a bit of a fat lump to carry and manually handle, I always need a hoist wherever I travel to. As our good friend Toby would be joining us too, a hoist would be needed for the three of us. I have a MoLift Smart hoist that I can take, but where possible, it is often the preferred option to a rent a hoist at the destination to save on the hassle of having to transport it around. We ended up renting a hoist from World on Wheelz, an agency that Toby used when he went to Canada earlier in the year. Unfortunately, the hoist was a manual one, which was a pain (manual hoists are always a nuisance!) to use and had to be replaced in the middle of the week after it broke down.
The other piece of equipment was the shower chair. The portable travel solution came in the way of my shower chair called the Goes Anywhere Shower Chair, which can collapse into a suitcase size bag, but also has a clever add-on, which allows you to be transferred into a bathtub if no roll-in shower is available.
2) Flights
Martyn and I travelled on Continental Airlines, Toby flew on Delta. Our flights were relatively comfortable. We use the word "relatively" as sitting in an aircraft seat for 8 hours in an awkward position is never entirely comfortable! As is usual, all three of us were sitting in our blue transfer seats before our flights, ready to be lifted.
3) Accommodation
We booked our flights and tickets in a package through Expedia. The only difficulty when booking through Expedia (and similar travel websites) is that it isn't possible to easily reserve specially adapted rooms that may be available in the hotel. To do this, we simply emailed the hotel directly with our Expedia booking reference and made the necessary request.
We stayed at the Sheraton Hotel and Towers, which was near Times Square. Fantastic location as we were within walking distance of a lot of sites. The hoist that we rented was waiting for us when got to the hotel and the hotel room and bathroom were large enough to accommodate wheelchairs, shower chairs and a hoist.
4) Airport transfer
To get from airport to the hotel and vice versa, Martyn and I had different plans to Toby as he was flying to and from JFK Airport, whereas we were travelling to and from Newark International. Toby took the simple (and in hindsight the better) option and booked an accessible airport shuttle taxi which transferred him directly to and from the hotel. As we were using Newark International, which was further from Manhattan than JFK, we thought we would try and save money by using public transport.
We used the airport train connection which goes between Newark and Penn Station in Manhattan. Penn Station was a 25 minute ride in our wheelchairs to the hotel. To save the need to carry luggage along a 25 min walk through the streets of Manhattan, one our PA's had to jump in a local taxi with our luggage between the hotel and station.
The only reason I say that a taxi might have been better was because of the drama that ensued at Newark International Airport station when we were on our way to get our flight back to London. We merrily arrived at the station thinking we were early. However, on getting off the train, we realised that lifts weren't working! There was no way off the platform, it wasn't possible to get on another train and come back in time, there was no back-up lift or solution. Basically we were stuck. Although station staff were courteous and helpful, there was no way out and the only option that remained was to use the escalator…
It what can be described as the "Evil Knieval" method of accessible travel, a group of very helpful station staff held onto our wheelchairs very tightly. The escalator had been stopped and we were carefully position on it. Once the staff helping us were ready, the escalator was switched back on. While being held onto for dear life by the station staff, we travelled up to the escalators to reach the top. We then rushed to the check-in desk and made the deadline by minutes! Relief!
5) Getting around
Normally, whenever Martyn and I have been to US, we have hired a car as, generally speaking, public transport in many US cities is non-existent. However, this time we decided to stick to public transport and use the New York Subway. While not all stations were accessible, there were usually enough in a sufficient number of strategic locations which ensured that we could travel to anywhere we wanted to in Manhattan. The only thing we realised was that the gaps between the platform and train varied at different stations, and at some stations, the gaps were quite big! But luckily, we were in a large group, so there were enough people to help us on to the trains.
We also did quite a lot of wandering around Manhattan in our wheelchairs. Pedestrian footpaths are usually quite even and wide and compact nature of Manhattan meant that simply rolling around in a fully charged wheelchair was a great way of getting around.
We did notice though that Manhattan did have one hell of a pothole problem! Crossing roads was sometimes a bumpy experience, and if either of us were driving low quality wheelchairs, things could have been difficult.
We never needed taxis, but we did spot that accessible taxis did exist. But in all honesty, we had no idea what we have to do if we ever needed one!
Nonetheless, getting around Manhattan by public transport is possible, but you have to be organised and well planned. The subway maps indicate which stations are accessible, so you have to plot your journey out and plan what you need to do!
If you have any other queries about our trip to New York or how we travel general, feel reach to speak to us at editor@disabilityhorizons.com.
By Srin Madipalli