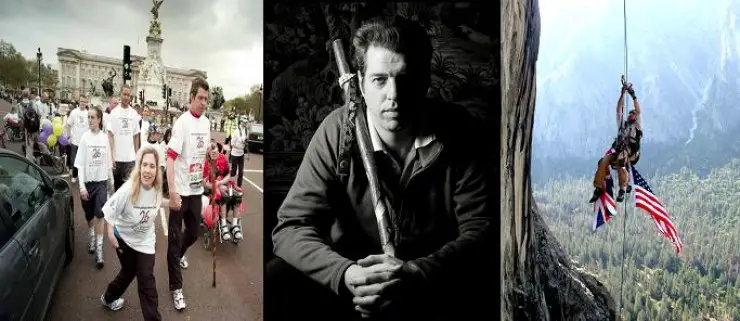 Lifestyle
Q&A with Phil Packer of the British Inspiration Trust
Disability Horizons meets Phil Packer, founder of the British Inspiration Trust (BRIT) on their efforts to create a centre to to help turn around the lives of young disabled people who have experiences tough times.
1. What inspired the creation of BRIT?
After I was injured in 2008 I lost my self-belief. One minute my life was fine and the next I was struggling. I experienced some dark times. During my recovery there were people that came into my life and inspired me to move forward. I came up with the idea to raise money for charity. Quite frankly I needed the challenge, as it helped me to focus on something other than myself, and in the process I began to slowly rebuild my self-belief. Completing a series of physical challenges to raise money (rowing the English Channel, walking the London Marathon, climbing El Capitan) helped give me purpose, a goal to work towards and empowered me to move forward with my new life.
During each challenge, especially the London Marathon, I heard from young people that were also struggling through their dark times. Whilst climbing El Capitan I had a lot of time to think about my future and I kept thinking about how hard my recovery had been, but how much harder it would have been if I'd been 16 when injured. I realized then that the direction of my life was changing. I want to give back to young people that are facing their dark times. Inspiring young people facing adversity is my mission, my passion in life and the British Inspiration Trust (BRIT) is the vehicle for inspiring and advocating for young people.
2. What is the BRIT Inspiration Centre?
The BRIT Centre of Inspirational Excellence will be a hub for charities to send young people they identify as needing inspiration to a residential course. Each month will be themed, for example August will be Special Olympics, November will be our Wounded, and charities that work with young people from those areas will send them to the Centre.
At the Centre young people will be connected to various support services and also a BRIT Mentor. The BRIT Mentors are people in the top of their fields that are identified by the Young People's Visionary Steering Group and asked to donate 24 hours each year to the Centre and our young people.
Once a young person has completed a course they will be connected to resources in their home area and remain a part of the BRIT family. BRIT is also focused on building partnerships with charities and supporting best practices in the field.
3. What need does the centre address that is not currently available to young people?
The British Inspiration Trust is visionary in that we will serve as a conduit for charities and best practices, whilst serving young people facing adversity between the ages of 16 and 26. The young people cut across a wide group including physical and cognitive disabilities, deprived youth, injured, our wounded and young carers.
Currently charities tend to work individually, but BRIT will bring them together, harness resources and provide inspiration to young people through residential courses, introductions to BRIT Mentors, and continued connection and services after their course. We are not about a onetime feel good course, but inspiring self-belief in young people that are feeling particularly vulnerable.
4. What will the centre provide young people who attend?
Charities will identify young people they work with that need additional inspiration. They might be going through a dark phase in their life and feeling lost and hopeless. The young people will attend a 3 or 4 day residential course at the Centre in West Sussex. There they will meet with other young people, be introduced to a BRIT Mentor, receiving counseling and have an opportunity to connect and begin building their self-belief. BRIT aims to empower, educate and inspire our young people. Sometimes the turning point is someone believing in you until you can believe in yourself and BRIT believes in our young people facing adversity.
5. How will the centre turn around the lives of young people?
The first stage of BRIT is to bring young people facing adversity to the Centre for a residential course inspiring their self-belief and self-worth. The second stage is to continue that experience when the young person returns home by putting them in contact with local counsellors, educational, and/or employment opportunities. Once a young person has attended the BRIT Centre they become a part of the BRIT family and we will stay connected with them. Ultimately some of them will return to serve on the Young Peoples Visionary Steering Group.
The BRIT experience is multi-faceted and designed to make sure that young people get inspiration at the Centre, but that inspiration is continued with practical help and advice when they return home.
6. How have young people and especially the young people's steering group helped in the development of the centre?
From the very start of my physical challenges over two years ago I have heard from young people, sharing their triumphs and struggles with me. When I developed the vision for BRIT, young people were and still are at the core of everything BRIT stands for. I wanted to make sure that as a charity working with young people facing adversity, that those same young people have a voice in BRIT. I was an adult when I was injured, so I never want to pretend that I understand what it is like for someone that is 16 or 22. We need to hear from our young people which is why I created the Young People's Visionary Steering Group to make sure that the voices, ideas and experiences of our young people are heard and acted upon. They are an incredible group of young people and I am in awe of them. Every time we get together I come away with new ideas and energy. They inspire me daily to keep BRIT moving forward.
7. What is the current stage of progress for the developing the centre?
Currently we have architectural renderings of the BRIT Centre and are meeting with people in West Sussex to secure the land. So that piece of the development is going along brilliantly and I hope to make an announcement shortly about the site location. We have just launched a capital pledge campaign looking for corporations and high net worth individuals to support BRIT by pledging £10,000 to help build the Centre. We are asking corporations to look at their corporate social responsibility and identify if BRIT fits them.
I serve, by choice, as a non-paid CEO and Founder. At this point, every pound we get goes into the running of BRIT. There is one full time employee and everything else is gifted. BRIT is fortunate that some incredible corporations and people have supported us.
I have intentionally not asked the public to support BRIT as given these tough economic times I do not want to take money away from other charities. The BRIT ethos is to partner with charities not compete against them. Of course this does make raising money more difficult. Even so, this is an exciting and busy time in the development of BRIT.
8. What support is BRIT on the lookout for that Disability Horizons' readers could help with?
Thank you and Disability Horizons' readers for wanting to help BRIT. There are multiple ways to support BRIT and be a part of the BRIT journey. First go to the website at www.britishinspirationtrust.org.uk and register to follow us there and then go to Facebook and like us. Next tell your family and friends to do the same. While it sounds quite simple the truth is that corporations look to see that new foundations like BRIT have support from the public. As BRIT is raising the funds for the build without asking for public donations, so as not to take money away from other charities, if you know of any corporations or high net worth individuals that you feel might support BRIT, please contact BRIT Co-ordination officer Sally Arnold at sally@britishinspirationtrust.org.uk.  You can make a huge difference in helping BRIT, so please join us now-your support is vital.
Disability Horizons