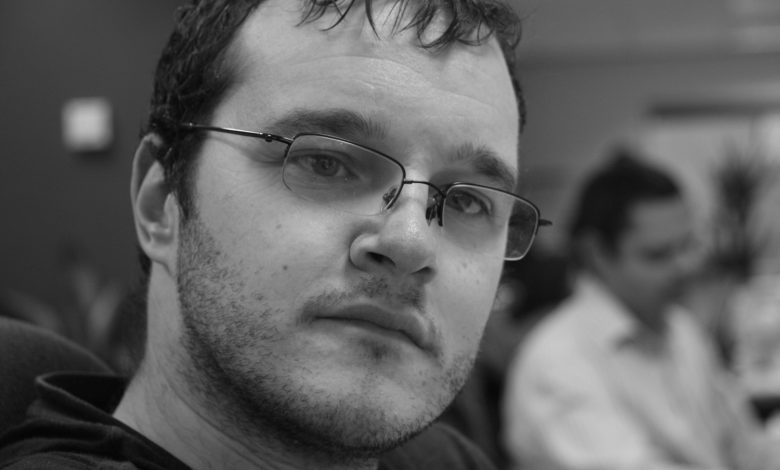 Disabled journalist and writer Sarah Ismail features Paul Carter, a co-director of Markthree Media, an award-winning television production company.
---
2019: Since publication, we've interviewed Paul Carter about working for the BBC, including Newsnight, 5 Live and BBC Click.
---
Paul Carter doesn't have an 'official name' for his disability, but he was born without lower arms or legs. Consequently, he doesn't have hands or feet. He says this with the characteristic humour that readers of his Backlash column in Disability Now magazine know so well.
I have something in common with Paul – we have both been 'quite passionate about words and language' all our lives. However, while I grew up dreaming of writing a bestselling novel, Paul has wanted to be a journalist since childhood.
His childhood dreams came true. Describing his journalistic career, he asks me not to laugh. Before joining Disability Now, he says, he was a staff writer for Zoo magazine, working mainly on its website.
However, Paul recently left his job as a reporter for Disability Now to switch – if you'll forgive my journalist's pun – to TV production. Of this career move he says:
"I'd started to fall a little out of love with journalism generally and felt like I wanted to try a new challenge, and learn something new. I did a radio show on the Paralympics for BBC London which made me realise that was kind of the direction I wanted to move in.
I'd already started looking around at re-training options when I first met Kate (@katiekatetweets) via Twitter, who suggested that I go and do some work with Markthree Media. Everything else snowballed very quickly from there really!"
Paul has had lots of career highlights. He explains: "I'm proud of a lot of the work we did at Disability Now in forcing the agenda for change around attitudes towards disabled people. I don't think Disability Now always gets the credit it deserves for some of the things it has achieved over the years.
I'd have to say the last two years with Markthree have been amazing. I feel really blessed that I get to spend my days doing something I genuinely love, working with incredible people whose drive and talent give me a kick up the backside every single day."
The worst moment of Paul's career sounds like a scene from the movie Notting Hill. He once had to ask Jonny Knoxville from Jackass a question about horse semen in a room full of art journalists from the Guardian and the Telegraph!
In 2015, Paul would like to be, "Still helping run a bigger, even better Markthree, making great television programmes."
Paul says he has thought a lot about what he would do if he was miraculously cured. He adds: "The only thing that I genuinely feel bad that I cannot do because of my impairment is playing the guitar. I actually own two guitars, but that's more because I like them than out of practicality
. If I was miraculously cured, I'd have intensive guitar lessons, buy myself a Fender Stratacoustic and a Rickenbacker and make beautiful music, maybe."
If Paul won the National Lottery, he would: "Make sure all of my close friends and family were comfortable, buy myself a penthouse apartment in central London, and invest in the company."
READ our 2019 interview with Paul Carter about his career success to date and working for the BBC.
By Sarah Ismail
If you have a story to share about your life, email us at editor@disabilityhorizons.com, or follow us on Twitter and join us on Facebook.