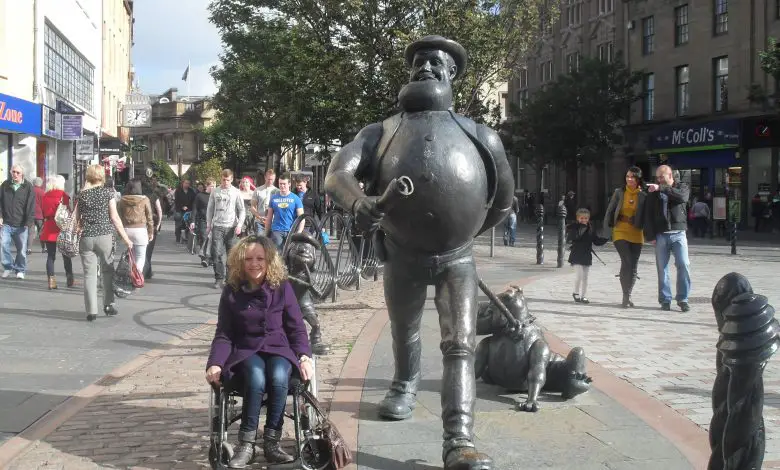 Regular Disability Horizons contributor, Carrie-Ann Fleming, has been running Tourism for All's information service, based at the Vitalise call centre in Kendal, since October 2005. Carrie-Ann shares this article about the review and familiarisation tours she undertakes for Tourism for All UK.
As a wheelchair user, I love travel, and working for Tourism for All UK (TFA) is my dream job.
As I have a disability and a fondness for travel, I have empathy with others who may have experienced difficulty in finding suitable facilities and services.
I undertake review and familiarisation tours, which involves staying at one or two accessible hotels, visiting a number of attractions, places of interest and restaurants and using public or local transport where possible.
Recent tours have included trips to Blackpool and Scotland. The Scotland tour was organised by Judith Sleigh of Tourism Scotland and I was invited to visit Edinburgh, Glasgow, Stirling and Dundee in three separate visits. Here is a link to an article about one of my trips.
Once I return, I am then able to give feedback to the tourism authority and the venues, and generate publicity for the destination. Sometimes this means encouraging venues to make improvements, or perhaps praising and promoting somewhere that is doing access particularly well that may have gone under the radar.
In Stirling, we had lunch at the King Robert Hotel, which was next door to the Bannockburn Heritage Centre. It was very quiet and at one point we were the only people in the dining room. However, the food was tasty and good value. The accessible toilet was badly designed, I found it difficult to transfer – I mentioned this to the hotel, who have taken my comments on board, and with the assistance of VisitScotland, they are trying to find a solution.
The reviews that I carry out can also help dispel misconceptions that people may have regarding various aspects of accessibility. For example, before using the Metrolink tram in Manchester for the first time, I was unsure of what to expect even though their website promised full accessibility. However, I was not disappointed and the Manchester Metrolink is now my favourite mode of accessible transport! The tram was completely level with the platform, with no gap at all, and inside there was a wheelchair space, similar to the ones provided on buses. It was so refreshing to be able to get on the same way as everyone else, without waiting for a ramp or a member of staff to push me on.
When carrying out reviews, I have often found that staff attitude and awareness can make a huge difference to how an attraction is enjoyed by a disabled person. When I visited Sandcastle Water Park in Blackpool, I was met by the Water Ambassadors on arrival. These are qualified lifeguards who have close contact with guests in the water, and they are trained to assist disabled guests. The first thing I noticed was the heat – it really was tropical! Sandcastle was very spacious throughout, and there was huge importance placed on staff training. The staff were bubbly, fun and enthusiastic, and nothing was too much trouble. They offered out-of-hours sessions for groups that would benefit, such as autistic children or those with a visual impairment, and recognised that building confidence is a huge factor to disabled people enjoying the attraction. Sadly, I didn't have time for a swim, but hope to return soon!
After the tour has taken place, I also write articles for Tourism for All's new magazine Open Britain, and my travel blog. My articles receive good feedback from Tourism for All's individual members, who say that they give them the confidence to visit new places.  I think that half of the battle travelling as a disabled person is obtaining the correct information before you go!
If you are interested in having Carrie-Ann visit and review your destination, please call 0303 303 0146 or email info@tourismforall.org.uk.