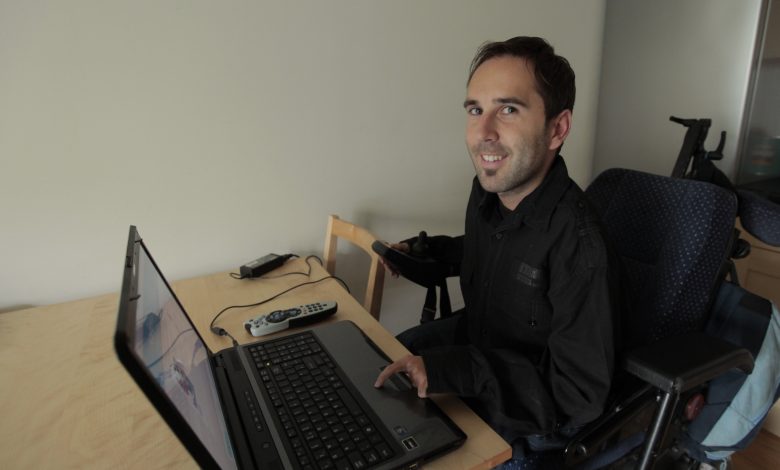 In the first of our Nokia Accessibility series on using technology to improve the lives of disabled people, Disability Horizons Co-editor, Martyn Sibley, talks about his free webinars and how he hopes they will continue to inform and inspire disabled people and their families from the comfort of their living rooms.
Whenever I am writing a blog post or a Disability Horizons article I contemplate which topic it will end up covering. The truth is each of them will span multiple aspects of life. In this piece I want to explain the work I have been doing on webinars. More specifically I want to explain what they are, how they are becoming a useful tool for disabled people, and how they enable me to live a healthier lifestyle.
I first came across a webinar when my friends AJ and Melissa from Misfit Inc mentioned them. The concept is that you use the format of a seminar (speakers, presentations and audience participation) but over the internet. So I attended one of Misfit Inc's webinars held for the Institute of Fundraising in the UK. After asking nicely, they agreed to train me up on how to use the webinar software, use social media to market them, display PowerPoint slides, record the whole session, add audience polls and a Question and Answer session.
My brain began buzzing. It was absolutely perfect for disseminating information around disability. I already knew the demand for inspiring, helpful and practical content from blogging. So I decided to run a series of 5 sessions around disability:
1 – The early years, aimed more for parents
2 – The teen years, for parents and disabled teenagers
3 – Independent Living Part 1 (housing, employment and equipment)
4 – Independent Living Part 2 (social care packages)
5 – Leisure and Travel
Between August and November 2011 I ran this series 3 times; once for my personal blog audience, once after being commissioned by disability charity Scope, and a third time for the London Borough of Hackney Council. I had 100 attendees overall and I received great feedback on my evaluation questionnaire from users and also from the organisations involved.
Despite the success of these, I am ever the perfectionist. So I set about how to improve the content, marketing and impact. I knew the content could be improved by moving away from my personal story, bringing in other people to share personal or professional experiences, and by making the experience more interactive. I knew I could improve the marketing by sharing the success of the first webinars, by explaining how simple the technology is and just from being more confident in this medium of support for disabled people. Finally the impact of this project is clear to see. If enough people sign up, they have no expenses (no travel and free attendance) and gain new knowledge to improve issues around being disabled, I'd say that the project is therefore defined as awesome!
I have since planned out 6 months of webinars. They cover more specific topics such as volunteering, relationships, travel, social care, housing and so forth. You can see the dates and how to sign up at my website.
The first session on volunteering had 3 guest speakers. We had a couple of technical glitches relating to the speakers' internet speeds, but I have already found a solution if this happens again. In the video below you can see how much helpful information was disseminated to the 20 people who enjoyed the live session.
February's webinar is on the topic of relationships; a topic many disabled people find difficult because of its taboo nature. I have great pleasure in chairing this session with guest speakers Kirsty Liddiard (who studied a PhD at Warwick University on this topic area and is presenting her findings), and Melanie Halacre (a relationship councillor specialising in disability).
Having shared a massive part of my recent work (I say work, but it is so enjoyable it doesn't quite fit), I want to explain how this enables my ideal work-life balance. When I was employed, working in an office, expected to go in Monday – Friday, 9 – 5, I had some difficult times, especially in the winter. With my disability, Spinal Muscular Atrophy, I have no pain or fatigue, I just cannot move much. With my care, wheelchair, equipment and so forth I live an active life. However if I get a cold and it goes on my chest, it is rather concerning. I cannot cough very well and so pneumonia becomes a likely outcome. With rest, antibiotics and warmth I fair better. Therefore you can see why self-employment, staying warm, managing my own workload and even working in hotter climates has an appeal.
With my business established, new webinars being rolled out (eventually with sponsorship to make them sustainable and free for attendees), my new e-course being launched soon and some partnership project work, I am getting where I want to be. Having a tool such as a webinar doesn't just benefit disabled attendees, it benefits the disabled person organising, chairing and running them, i.e. me.
By Marty Sibley
Read more of Martyn's stories, including how he started his own business, his plans to volunteer abroad and his trip to New York.
This article was part of the Nokia Accessibility series. For information on the work of Nokia Accessibility check out their website.