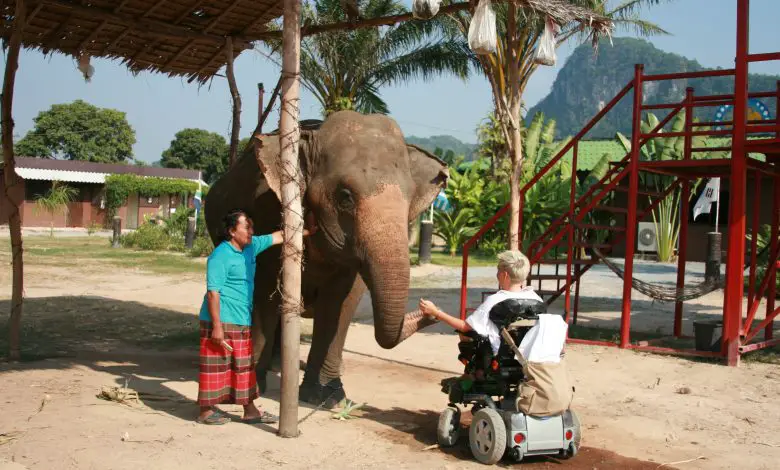 If you've always dreamt of travelling to Thailand, then you'll be compelled to book your flights after reading about new Disability Horizons contributor, Leah S.F's amazing journey.
A harsh winter had been predicted and the thought of complete restriction by layers of clothes and potential snow filled me with dread. So I decided it was time to take an adventure to the land of smiles, Thailand. Not the most obvious holiday destination for someone with SMA type 2, a traveller who uses a power wheelchair, a portable shower chair and mobile hoist. But uninterrupted sun for 101 days was what my body required, so a long haul destination was looking to be the only option. I was to travel with my two PAs, one of whom would go his own way once we reached Pattaya, and then meet us again towards to end of the holiday for the flight home. So with our 90-day visas in place for Thailand, travel vaccination against Hepatitis A+B (insist on both if you're making the same trip) and tons of the best mosquito spray available, we were ready to rumble.
Our first stop – Oman

The twelve-hour flight to Thailand would have been too much for my body, so I decided to stop over in Oman for five days. This would give me a chance to acclimatize, lessen the jet lag and of course see and enjoy another very different culture. We flew with Oman Air and their staff was fantastic with the handling of my equipment and requirements. We obtained our visas at the Muscat airport.
Muscat in Oman, where we stayed at the Shangri-La Hotel, is a lesser-known neighbour of the United Arab Emirates, but its energy is beautiful and calming. The Omani people were very welcoming and we soon became familiar with the words "ahlan wa salan" (hello and welcome). I found a company that had so called 'wheelchair accessible transport', but it was basically a Toyota van with a portable and VERY short ramp that was a little steep to say the least.
Wheelchair access is not a priority in Oman's tourist sector hence the need to stay in a 5-star hotel, which may I say, was magnificent. The rooms that had been designed with a wheelchair user in mind were the best I've ever seen, so much so that I didn't want to leave the wet room. Luckily I had a very good friend who had managed to get me a discount!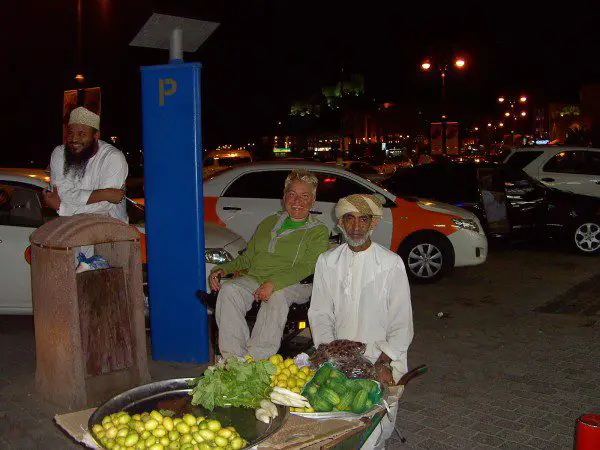 We decided that a visit to a Souq (a commercial quarter) should be attempted, despite not really knowing what the access would be like! Muttrah Souq in the evening is a magical place. I was surrounded by glittering colours of gold and clouds of incense everywhere; it was amazing. However, I don't think the locals had ever seen a trendy, blond female in a power chair wondering around their Souq before. At one point I saw a trail of bemused and interested men in 'white frocks' following me! I was certainly exploring a different type of 'wheelchair access'… where the winding cobbled paths were bumpy but manageable. I was in an Arabian bazaar after all!
Bangkok
 Our next stop was Bangkok. I use a Storm power wheelchair that is incredibly heavy. As ever, when I land in a new country my main concern is the state in which my chair will arrive back to me. Thankfully the portable hoist, travel toilet chair and power wheelchair all arrived in one piece so it was time to party…
I'd booked a company with wheelchair accessible transport to take us from Bangkok to Pattaya. This was much better than the accessible transport in Oman, but unfortunately they were based in Bangkok and so I was unable to use them like a taxi daily. It's too much hassle for me to be lifted in and out of a car so finding accessible transport was a must and, as I expected, it proved to be quite a challenge.
The Thai people are, by nature, very accommodating and with the help of a few new friends I had a portable 6ft ramp, which also folded, made for me within a week. The cost was next to nothing compared to the prices you would have to pay for mobility equipment in a Western country!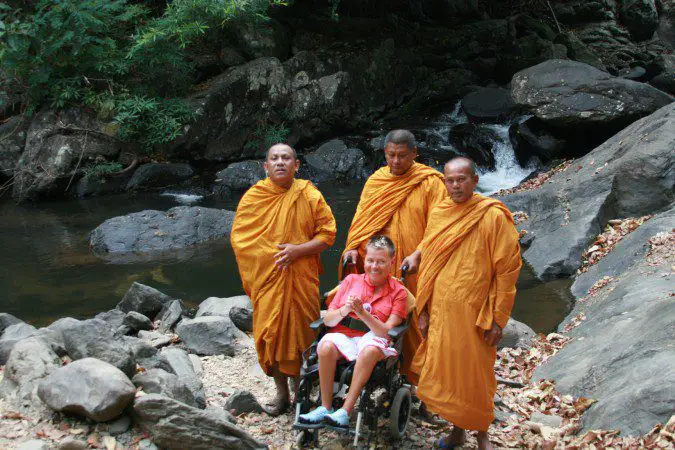 Now all I needed was a van! So I decided to hire one. I had the seats removed and I offered a friend of a new friend a five week job in driving us around. However, we quickly discovered the roads were wild with no rules or laws, so although we had planned to drive ourselves, we decided it would be too dangerous, so I hired a Thai driver. Paying for a driver is actually very affordable; again much less than what I have paid in Europe for accessible transport. I'd like to point out that none of this was handed to me on a plate. You need to be head strong and know what YOU need and WANT and then translate that to make it happen.
Tourist spots

We, of course, did the whole tourist thing, although some places we wanted to visit were not for the faint hearted. I did need to hop into my manual chair a couple of times, but despite my access requirements I saw more of Thailand than many people we met on our journey! We discovered much of Pattaya including its seedy bars, especially those in Walking St.
During the day – when not recovering on the beach from the night before – we went to Sriracha Tiger Zoo. I never thought it would be possible to be so close to these animals! The Million-Year Stone Park and Crocodile Farm were magical, and all had great wheelchair access. From Pattaya we drove down to the island of Ko Chang where we soaked up the goodness of the sun and fresh coconut water, drunk straight from the shell. We were having a ball.
We took particular care with what, and where, we ate. Absolutely no salads or garnish, only fruits with skin on and peeled by ourselves. No lukewarm soups and we always bought a good brand of bottled water. This too was used for brushing teeth even when in good hotels. All of this maintained our inner health and we had not one upset tummy!
We stayed in both apartments and hotels whilst there; 15 in total! Normally my biggest problem when searching for accessible accommodation is finding one that has a wet room. However, in Thailand most places have wet room-style bathrooms so it was easy; much better than Spain, Portugal and France where one is often faced with a bath tub!
The next stop on our journey was Hua Hin, which is on the other side of Thailand. The distance from Pattaya to Hua Hin would have been too long for me, so we stopped in Bangkok for a few days. Our hotel was quite near the SkyTrain, which was great as I didn't need to drive my chair on the main roads too much to reach the station. The pavements in Bangkok are terrible – cracked, uneven and there weren't many dropped curbs. If you ever use the SkyTrain, be aware that there are very few stations that have wheelchair access, and the Tuk Tuks (auto rickshaw) are not accessible. However, I was able to get onto the SkyTrain very easily. I am also told the underground Metro is more accessible, but I never tried it.
We decided to head to one of the largest street markets; what an excellent experience that was. The edible insects on sale were fascinating to me with my background in nutrition, however I did resist! Another accessible stop on SkyTrain was Siam which is linked to one of the biggest shopping centres in Bangkok… WOW! Great access!
From Bangkok we headed to the ancient city of Ayutthaya (on route to Hua Hin). It was probably the oldest place on earth I've 'wheeled' on! The city was founded in 1350 and it was remarkably accessible. But be aware there are very few dropped curbs wherever you are in Thailand so I often stayed in the road! Fun and scary!
Hua Hin was a 2 and a half hour drive away, on the opposite side of Bangkok and our other stops. It is where the King resides. It is quiet, there are no high-rise condos and it has the most amazing beaches that I was able to wheel across for miles, thanks to the hard sand pathways. In Hua Hin we visited the Pae Mai night market, where our  minds where turned to more creative activities displayed by the locals eager to show off their talents. Another attraction is the Hua Hin train station, which is famous because each month the Orient and Eastern Express train stops there en route to Singapore. Sadly we didn't see those trains. We visited Monkey Mountain where we were able to hand-feed the monkeys with bananas. One of the monkeys even jumped onto my wheelchair and tried to eat from the bucket of bananas! We planned only staying 7 days but stayed 14! We moved into an apartment and didn't want to leave.
Of course we all have our preconceptions of Thailand and, yes it is all there to see and 'do' if you wish, but it is equally a place with a unique culture, where one can feel very comfortable, energized and empowered.
By Leah.S.F
Bitten by the travel bug? Read about more amazing adventures from other Disability Horizons contributors, such as a trip to New York, South Africa and Turkey, in our Travel section.
Let us know about your travel experiences by emailing us at editor@disabilityhorizons.com, tweeting us @DHorizons, or letting us know thought Facebook.