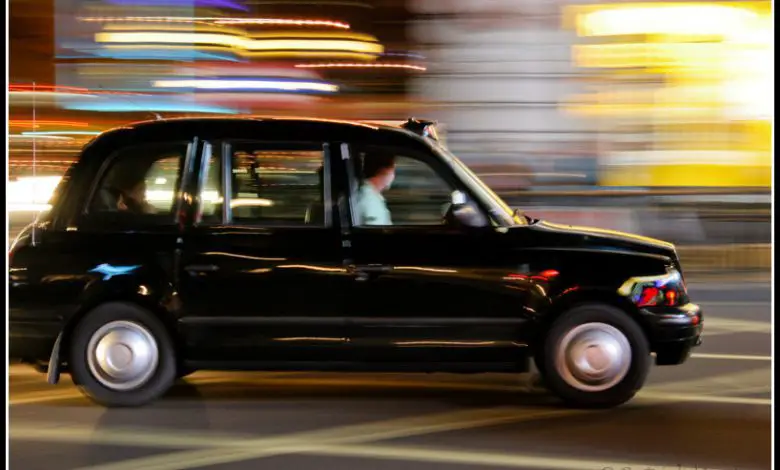 Here at Disability Horizons, we regularly keep an eye out for any new gizmos, gadgets and apps that might help disabled people in their quest for greater independence. As part of our regular "Useful gizmos and gadgets" series, co-editor Srin Madipalli talks about his experience of using a brand new app for finding taxis in central London called Hailo.
Recently on one sunny March afternoon, I was at work in my office in London and I was required to urgently get some documents signed by a client based on the other side of central London. The only way I could get everything signed in time was to jump in a taxi and head over to London's West End, which is about a 20-25 minute journey (when the traffic is not too horrendous!) from my office near Liverpool Street.
In London, the vast majority of our public taxis (i.e. London's famous black cab) are wheelchair accessible. The easiest way to get one is to usually go to the nearest busy road and flag one down.
But as a wheelchair user and someone with very limited mobility in my arms, I find flagging taxis down difficult. Also, getting into a taxi with my big powered wheelchair on a busy central London road can sometimes be a challenge. Usually, when I need a taxi, I book ahead and arrange for the taxi driver to meet me on a quieter side road by my office.
However, on this sunny March afternoon in London, I didn't have enough time to phone and book a taxi so I rushed out of the office onto a very busy road in London called Bishopsgate to flag one down. My first couple of attempts to flag a taxi failed to get the attention of the passing taxi driver. As time was ticking by, I came to the conclusion that a different approach was needed…
My good friend Toby Mildon had recently told me about a new app available on Android and iPhone called Hailo. Toby had been raving on to me about how great it was at getting a taxi when he needed one, so I had already downloaded it onto my phone but had not yet used it.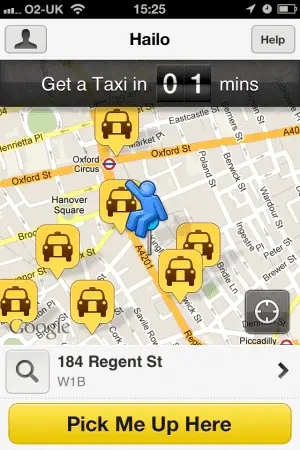 After loitering on Bishopsgate for several minutes, I ventured off onto a quiet side road called Primrose Street, and decided to use Hailo for the first time. Hailo used the GPS location in my smartphone to find the nearest available taxi. I pressed the "Pick Me Up Here" button and fascinatingly saw a map pop up, which tracked the designated taxi on its way to pick me up. It took less than two minutes for the taxi to get to my location and I hopped in and got to the West End in time to get everything signed!
While in the taxi I was playing around with the app (normally, I mess around playing Angry Birds…) and I noticed that there was an option to use the app to pay for the taxi with my credit card. Many taxis in London only take cash and if I am on my own, getting cash from my wallet or from an ATM can be difficult. So being able to pay the driver via my credit card details stored on the app would be incredibly useful for me in the future.
Feeling rather chuffed at using Hailo to easily find a taxi, I got in touch with Jay Bregman, a serial entrepreneur who is the CEO and co-founder of Hailo who kindly took the time to tell me a bit more about this fantastic little app.
The first thing to note is that Hailo is damn new! But in just five months from launch, the app now reaches out to over 3,500 taxis drivers in central London and has received financial backing from the folks that got behind Facebook, Spotify and Groupon before anybody knew about them. All together they have raised $20M in funding for global expansion.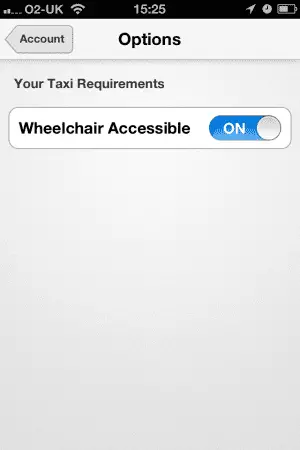 The initial success of Hailo has meant that Jay and his team can now plan the roll-out across the rest of London and other cities around the world, with New York City, Chicago and Dublin (Ireland) being next on the list.
It was really interesting to hear from Jay how taxi accessibility will form a central part of the global roll-out. In parts of the world, where only a select number of public taxis have wheelchair access, users of the Hailo app will have the specific option to order a wheelchair accessible taxi. Given the recent decision by the authorities in New York City to not require all their new taxis to be wheelchair accessible, an app like Hailo will probably be the easiest, and potentially the only way for disabled customers to track down an accessible taxi in many cities where taxi accessibility is not universal.
I'll always have a certain fondness for using technology that everyone can use, but which just 'happens' to be particularly useful for disabled people. Personally, I prefer and enjoy being able to use the same products and technology that most of my friends use, and Hailo falls perfectly in that category and just happens to make finding taxis so much easier.
By Srin Madipalli
Hailo is available on Android and iPhone App.
For more ingenious products, check out our articles Useful gadgets and gizmos.
Keep up to date with the latest features by following us on Twitter and joining us on Facebook.