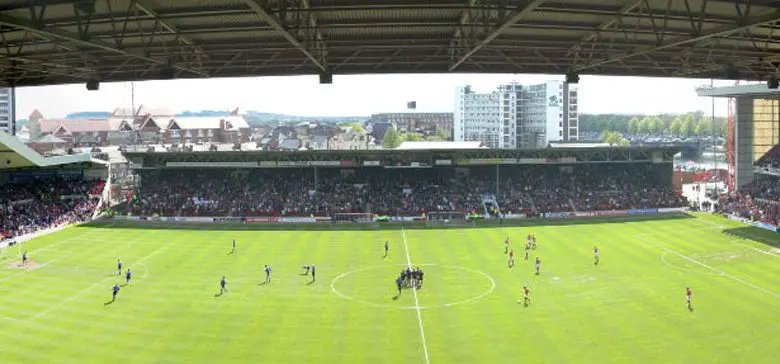 New Disability Horizons contributor, Matt Padmore, tells us of his love of football and how a stroke (which left him reliant on a wheelchair) hasn't stopped his desire to be part of the action at the football grounds.
I'm Matt Padmore and I'm a 40-year-old wheelchair user, although I haven't always been. After a fairly 'normal' childhood and much 20-something mucking about, I qualified as a teacher and moved to Japan in 2000 to teach English. I'd been happily living in Japan for nearly 8 years when I suddenly suffered a massive stroke in 2007, which left me reliant on a wheelchair. After six months rehabilitation in a hospital over there it became pretty clear that I couldn't handle things on my own so I moved back to England in 2008.
As much as I resented this enforced interruption of my life, there was one thing I was particularly looking forward to about being back in the UK – seeing my beloved Nottingham Forest Football Club in the flesh again! As excited as I was, I was nervous as well. I really had no idea how going to matches worked for disabled people. Of course I'd seen the wheelchair users on the front rows of the stand but, as with most things in my sudden, new disabled life, I wasn't sure how it worked and if I would be able to manage it.
I'd been a Nottingham Forest fan since my dad had taken me to my first game when I was 10. While I was away in Japan, following Forest was an important link to life back in the UK and, despite the time difference, I'd stay up all hours listening to the match commentaries. Once I was back in the UK my family did a brilliant job of reassuring me that it was perfectly possible to go to the football in a wheelchair, researching all the options available to the disabled supporter in the stadium.
Disabled supporters at Nottingham Forest have a variety of locations that they can use to watch the match. Being up close to the action appealed, of course, but so did being warm and dry so, in the end, I settled on the indoor viewing gallery. I'm in my third year as a season ticket holder in the same spot so we must have made a decent decision. We were behind glass so the atmosphere isn't quite so intense, but we were toasty warm and, in our position right behind the goal, the panoramic view was better than any I ever had from the stands.
In these days of newly-built, out of town stadiums, The City Ground is in comparison a crumbly old place, high on atmosphere but low on facilities. But I've been really impressed with how well they're set up for disabled supporters; parking within the ground, lifts wherever needed and plenty of disabled toilets.
The club provide up to 10 radios with a special match day commentary for use by visually impaired supporters. The stewards are polite and friendly especially as they begin to recognise a season ticket holder's face. I go to matches with my dad and my PA receives a complimentary ticket. At today's inflated ticket prices a disabled supporter's '2 for 1' ticket deal is even better value.
Since the stroke my life has changed utterly, but my love of football in general (and Nottingham Forest in particular) has remained unaltered. It's an important thread which links the 'pre' and 'post' stroke parts of my life together. A live football match is a spectacle that can be enjoyed by anyone.
Forest have had a terrible season this year but I wouldn't have missed it for the world. Forest will be targeting better performances next season. My target for next season? I'm going to start braving away games, so I have devised a Disabled Supporters Checklist:
1. Get in touch with Level Playing Field – the disabled fans' association – and let them know what was good or bad about the ground you visited.
2. Don't leave bang on the final whistle. Give it a few minutes and let the crowd thin out a little; over-excited/despondent throngs of football supporters aren't the easiest to navigate through!
3. Dress for the weather; it can be cold and wet when you're exposed to the elements for a few hours with little respite, save for a halftime Bovril.
Enjoy your next football match!
By Matt Padmore
Tell us about the disbled access at your local football ground and offer advice to others by emailing us at editor@disabilityhorizons.com, joining us on Twitter and Facebook, or commenting below.
Be inspired by more sporting activities in our Sport page.