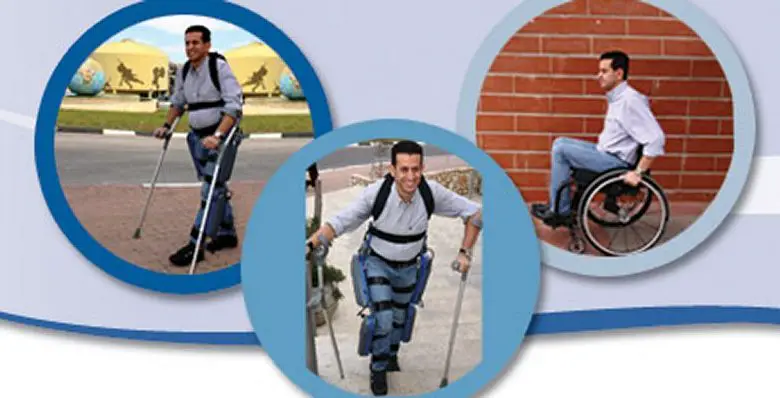 Regular contributor and technology enthusiast, Pratyush Nalam, shares his thoughts with Disability Horizons on a new technological invention called ReWalk™ that is designed to help people who have difficulties walking; to stand, walk and potentially live more independently.
If you have a physical disability, like me, which prevents you from walking, you know how tough it is. It is a big blow to our independence, and personally, I find that my disability often leaves me at the mercy of others.
But now, all this could change thanks to Argo Medical Technologies Ltd, who are specialists in the field of rehabilitation devices and are based in Israel. They have developed a clever technology called ReWalk™ which can potentially change the lives of many people who are unable to walk.
The ReWalk™ exoskeleton is the first commercially available upright walking technology that allows individuals with lower limb paralysis – such as Spina Bifida, spinal cord injuries, etc. – to stand, walk and even climb stairs. It is basically a light, wearable brace support suit with a sophisticated computer system that restores a person's mobility functions.
A computerised system, which is based on a sophisticated control system, is at the heart of this device. It comprises motors at the joints, an array of motion sensors and advanced safety algorithms, along with tailored rechargeable batteries. The batteries last a minimum of 8 hours with normal use and an additional emergency battery is supplied which lasts for half an hour.
There are 4 motors – 2 at the knees and 2 at the hips – which are connected to a control module at the wrist. Webbing straps connect the left and right legs within the self-supporting leg brace. With the help of crutches, the user's body is held rigid within the waist height frame.
The control module has 5 modes in all – sit to stand, stand to sit, walk, climb and descend. Once the desired mode is selected, a three-second warning beep is given by the module and the exoskeleton swings into action with the help of the motors.
The model currently available is the ReWalk™-I, which at the moment is only available for rehab purposes, i.e. it can only be used when supervised by a trained physiotherapist. It is expected that ReWalk™-P (which is the model for daily personal use by those who have completed a dedicated training programme to use the device) will be available by the end of the year. Such people will be able to use ReWalk™ without the aid of a physiotherapist. It is expected to be priced at €50,000, a very steep price for the average person, but one that will hopefully decrease in time!
A typical user for ReWalk™ would be someone who has lower limb paralysis and is able to use crutches to balance their upper body. The weight of the backpack is around 2.5 kg and the crutches are meant to give stability to the individual.
Most notably, Claire Lomas (who is a paraplegic) successfully completed the London Marathon in 16 days with the help of ReWalk™ to raise money for Spinal Research. This indeed shows the potential value of this piece of technology.
For any queries, you can contact Sarah Tobbell at Cyclone Technologies Ltd (the exclusive distributor for this product in the UK) via email.
By Pratyush Nalam
Check out..
• Technology section for more incredible mobility aids
• Accessibility Apps: what do you think?
• Disability and exercise: can they go hand in hand?