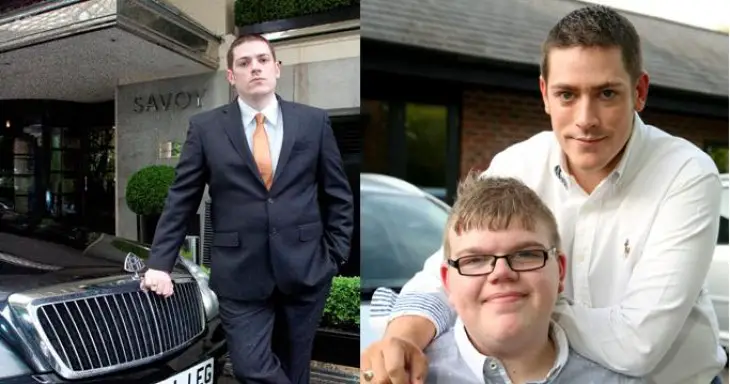 Martyn Sibley talks to amputee and businessman, Matthew Newbury, who recently appeared on the Channel 4 show, "The Secret Millionaire".
You may have seen or heard of the Channel 4 television show The Secret Millionaire. The concept is simple. A millionaire visits an area in the UK in an attempt to find a couple of people or organisations whom, with some added cash, could make significant improvements to other people's lives. The potential recipients have no idea the individual is wealthy and therefore act 'normal'.
After being alerted by one our readers, Zubee, about the appearance of millionaire Matthew Newbury (the first UK amputee to be fitted with the Otto-Bock Genium™ bionic leg) I was keen to talk to him.
A couple of days later I watched the episode – 4oD is a great invention by the way – and thanks to our reader, made contact with Matthew. With his phone number in hand, I'll admit I was a little nervous; after all, I'd never spoken to a busy millionaire property developer before, and was unsure of what to ask and how much time he would have.
But, now having spoken to Matthew I feel stupid for having felt worried. He was so friendly, made me feel there was no rush and we talked about all sorts. After ten minutes he surprised me by offering to do the interview face to face!
Fast forward to Tuesday 19th June 2012. I am staying at mum's house, she has agreed to help me note-take and Matthew arrives (to the family's excitement) in a sweet sports car. He comes in, sits down and immediately we are chatting away. It was so interesting hearing about his upbringing, the accident which resulted in him losing his leg, receiving a compensation payout and going into a successful property development business venture.
Matthew grew up in Norwich. He shocked me when he casually said he had quit school at the age of 12. I was already hooked as to how his life took the course that it did without a substantial education behind him. He went on to tell me how instead of school, he had volunteered at the Norwich Playhouse theatre. As he was under 16 he couldn't earn a proper wage, but had secured this for himself upon his 16th birthday. Sadly, only days before this landmark moment, Matthew had his accident.
Whilst going down the A14 road in 1997, aged 15, Matthew was hit as a motorbike passenger in a terrible accident that resulted in his leg being amputated.
In some ways I thought he would have recounted this more emotionally, but on the other hand he will have told this story a fair few times by now. Something I can relate to having had to recount my "been disabled since birth" line to many people. Nonetheless, Matthew was frank about how this changed his life and took a while to get his head around.
Two rather opposite stories came as a consequence of this. Firstly, he had to get used to using a prosthetic leg and also overcome the mental difficulties of acquiring a disability, but still stay clear with the purpose of getting on with life.
The second was around the lawsuit filed for compensation. I cannot imagine how difficult either of these must have been, especially running parallel to each other; trying to move on, whilst looking back to prove what had happened.
After some time away to rehabilitate and get his head around things, Matthew went back to work in the theatre world, aged 18. Rather than just go back to Norwich, he used his contacts and got a job as a lighting board operator at the Ambassadors theatre in London. This, no doubt, catapulted him back to where he was heading before the accident, and took him all over the world, such as New York and Singapore. He worked in this role until he was 25.
In terms of the payout for compensation, it wasn't until 2003 that it was settled and 2005 before the money was passed over, when Matthew was aged 25. He talked about how much time, effort and emotional strength this took from him. Every day it required something from him. However, the accident, the loss of his leg and the support the money gave, offered Matthew the motivation needed to pursue this route.
It must have been a surreal moment having over £2m in his bank account. Matthew said he felt terrified, elated and nervous. He initially splashed out on a new Porsche. Then the businessman in him kicked into action and he dabbled in the stock market, making some good investments.
He had a stroke of fortune while changing banks when the markets crashed in 2008. Narrowly missing a much more serious decline in his valuation and escaping with his money in hand, Matthew – armed with a new-found knowledge of investments – searched for a more specific market to start his own company in.
In late 2010 Newbury Developments was formed, a company that buys land, builds good quality houses and sells them on for a profit. I asked if he was worried entering the downward curving housing market. He responded that as long as you buy, build and sell within say six months (after choosing well of course), the risk is mitigated with respect to the market. I also asked him how he knew what to do, and the response was to "work hard, seek advice, learn as you go and to be brave."
With Newbury Developments, some other property projects, and now The Secret Millionaire experience behind him, I finished by asking what is next. As well as continuing to grow his property business, he has also started his own theatre production company and gone back to his roots once again.
The first and recent production is called Complete World of Sports, featuring the world famous Reduced Shakespeare Company. They have just completed a highly successful UK tour and the production is about to go into the West End to coincide with the Olympics.
Specifically talking about his TV appearance, he explained how thousands of people have contacted him with queries regarding disability. In the programme Matthew funded a theatre group, a wounded soldier's activity centre and paid for a young lad to have his family home made more accessible. Many of the emails are seeking similar assistance. I asked how he manages to reply to everyone and decide if he can help. The response was breathtaking, but not yet ready for publishing.
Therefore the two of us are getting together in a month to write an article on his new project. All I can say is it involves disability, property development and joined up thinking. Stay tuned folks!
By Martyn Sibley
Check out…
• Disability e-courses: the new frontier.
• Action for kids: enabling youngsters to be independent.
• Starting your own business: Huw Thomas of Promove UK.
Email us at editor@disabilityhorizons.com, tweet us @DHorizons or send us a message on Facebook.