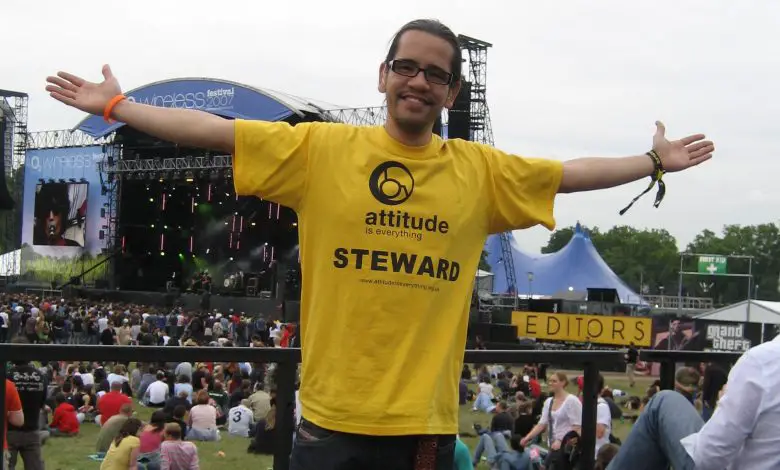 As the summer festival season gets underway, regular Disability Horizons contributor, Simon Webb, talks about his experiences of festivals as a registered blind music fan, and how the charity "Attitude is Everything" is working to make accessibility better.
In the last decade I have attended over twenty five festivals and, in doing so, I've taken full advantage of a range of disability provisions.
Most crucial for me is the two-for-one ticket scheme used at Reading, Leeds, V Festival and the Isle of Wight. My disability means I simply couldn't have attended any of these on my own, and whilst I'm fortunate to have friends that have similar music tastes to me, variations in opinion on festival line ups and the price of tickets means it's not always easy to convince even your best mate to spend yet another weekend in a muddy field.
Viewing platforms, blue badge parking and dedicated camp sites with disabled facilities are now common practise at major festivals, something which the charity Attitude is Everything has worked hard to encourage since its inception in 2000.
As Festival Project Manager Jacob Adams explains: "Glastonbury were one of the first to put in viewing platforms at their main stage – one close to the front in the crowd, and another one further back with easier access to give people choice over where they watched bands.
"In terms of access for deaf people, Glastonbury now also features a Deaf Zone, with flexible British Sign Language (BSL) interpreters available to book alongside the interpretation of set performances. Latitude is another festival that offers BSL interpretation provided by Hands4U (who also run a BSL request service, a BSL tour of the site and communication support for festival workshops)."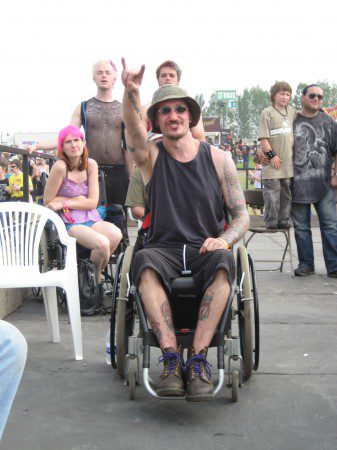 Attitude is Everything is about more than just music festivals. Their Charter of Best Practice encourages live venue promoters to publicly show their commitment to improving access and working with organisations – such as the Academy Music Group and the UK Arena Association.
A vital part in delivering this guidance to venues is the Mystery Shopping scheme. Jacob explains:
"Our dedicated team of over 150 Mystery Shoppers across the UK are deaf and disabled music fans who report back on the accessibility and overall experience at UK music venues, clubs and festivals, in return for free tickets and travel. We then use mystery shop reports when approaching venues and festivals to sign them up to our Charter of Best Practice.
"You can choose gigs or festivals that you want to go to and then contact us to see if we want it 'shopped'.  If we give you the go ahead, you buy tickets, go to the event and complete a mystery shopping form. You can download one and send it back to us, or complete an online form on our website along with an invoice form to cover ticket and travel expenses. It's as simple as that!"
Whilst the life of the disabled music fan is undoubtedly better now than ever, many readers will point out there is work still to be done. Jacob says; "One of the biggest challenges is keeping access on the agenda of events organisers who are very busy facing pressures from many directions in economically challenging times. Every venue and festival poses its own unique challenge in terms of making it accessible, but with our work we try to prove that barriers can be removed, and that where there is a will there is usually an easy, cost-effective way."
To become an Attitude is Everything mystery shopper, you can either register online or send them an email.
By Simon Webb
Check out…
• Oscar Pistorius: a historic night in pictures.
• 10 accessible London attractions.
• Volunteering in Spain and discovering new horizons.
Let us know about your experiences of festivals – email us at editor@disabilityhorizons.com, tweet us @DHorizons or send us a message on Facebook. Share your experiences with our community for a monumental Summer 2012!