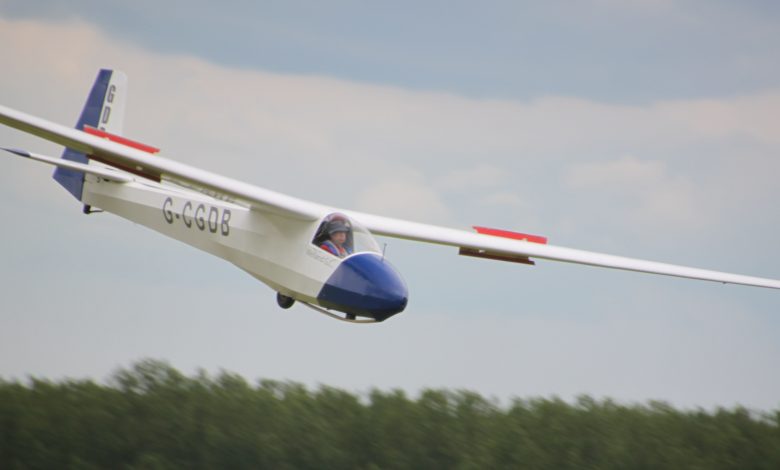 New Disability Horizons contributor, Philip Bryant, has Multiple Sclerosis and has had to use a wheelchair for the last two years. Philip shares his experience of gliding and how he managed to get around the barriers posed by MS.

I was inspired by reading the article The freedom of flying with a disability, on 3rd June 2012 (by Kary Wright), to write about my experience of flying unexpectedly in a glider a few years ago.
It began with my 28 year old daughter saying that one day she would like to experience a flight in a glider… maybe as a birthday present!! A search found a local gliding club near Brigstock, Northants, which was then operating from two fields nearby. After a quick phone call, a date was fixed and my wife and I, along with my daughter and her boyfriend duly arrived on time in the middle of a glorious English summer.
We soon established that my wife and my daughter's boyfriend were wimps and wouldn't fly even if they had been paid! At the time, even though I wanted to fly, I thought the constraints imposed by MS would have prevented me from being able to have a go.
So, my excited daughter had a flight as a passenger having been towed up by a small plane. She circled the landing strip for about 20 mins whilst we waited near some barns with a handful of gliding enthusiasts, having cups of tea and coffee while watching my daughter flying above us.
The conversation between the eight or so of us went as follows:
Q: So how long have you been in a wheelchair?
A: I've had MS for about 15 years. I've got limited mobility and can walk may be 100 yards with a walking stick on a hard, flat surface before it becomes too much. I only need to use my wheelchair for longer distances or for uneven surfaces. This long grass, for instance, is a like a minefield to me.
Q: Ever been in a glider?
A: No. Never had the chance and now it's in the "too hard" category.
Glances were exchanged among the group.
Q: If we got you to the glider, would you be able to get in it?
A: Never tried. I wear a leg splint but my body is reasonably flexible and I'm a 'my glass is half full guy'.
More glances were exchanged among the group and I noticed the odd nod and grin.
Q: Want a tow to take off by Aerotow or shall we use the Winch? Be warned it can be a bit steep and there'll be a big bump.
A: I don't mind a bump or two.
Q: Want to try?
A: If not too much trouble. Let's do it!
So a glider was pushed to about 20 yards from us. I was wheeled backwards over the long grass to the wing.
Q: So how do we do this? You tell us what to do because you know what you can, or cannot, do.
A: Well, if you can get my bum onto the wing so I can sit there. Then swing my legs over towards the cockpit resting my ankles on the lip. Somebody then needs to lift 100 kilogram of me by my arm pits at the same time. Somebody also needs to lift my legs up by the ankles and then lift me over the cockpit and slide me into the front seat. If you can do that, then we have only two problems left to overcome.
A: No problem. You have one farmer, two ex paratroopers and three ex army soldiers who are used to receiving orders all waiting to help you, so I cannot imagine the problems being deal breakers. However, what are the problems?
A: I need a pee and the canopy needs to have the hinge on the other side, or I won't be able to get in.
A: Cannot help you with the pee, but the canopy is no problem.
So my wife produced a pee bottle and I did my thing whilst they quickly swapped hinges on the canopy to allow me access to the front seat. With me directing the order of events I was effortlessly lowered into the front seat. Nothing was too much trouble for them.
I was strapped in and then we were pushed along the grass to the starting point. The 100 yard rope cable was attached to the nose and when the winch had taken up the slack we started to slide over the grass towards the ramp. As we got closer we speeded up and slid up the ramp with hardly a bump and were launched into the air.
We had taken off.
The cable continued to pull us higher and higher until John the pilot said:
'We're high enough now to cast off the rope. There will be a slight judder as the rope is released and then we are look for a thermal to take us higher. In about 15 minutes you can take the controls for a while.'
It was fabulous to see the villages, the pubs I used to use, the farms I used to visit and the house I used to live in. All the familiar landmarks I knew so well looked amazing from high up – a truly wonderful experience that everybody should have a chance to enjoy.
The silence and my reminiscing were broken by the words
'Want to have a go? Just remember everybody over-compensates the first time they take the stick.'
I took the controls. I assumed I would find it easy because I had been able to drive a rally car at horrendous speeds with deft touches of the steering wheel. I could make my cars dance around the corners of various sodden tracks and country lanes. So, how easy would it be to keep a glider going straight or to bank slightly?
I overcompensated like everybody, got the glider swinging from side to side, fought to stop it, but couldn't and handed the control to John behind me!
'We've been up for ½ hour and the thermals are getting more difficult to find so we're going to head back'.
At last I could enjoy the view again and we landed with the grace of a white swan just yards short of where we started from. My wheelchair arrived as I was lifted out effortlessly by the ex forces enthusiasts.
Both my daughter and I agreed that we must do it again. I met the people who helped me down at the local pub afterwards. I tried to buy them a round of drinks as thanks but all I got was 'No, it was our pleasure.'
I would like to extend my thanks to the Welland Gliding Club, Brigstock, Northants, for both a wonderful experience and for their 'can do' attitude.
By Philip Bryant
Let us know more about the sports you are involved in – email us at editor@disabilityhorizons.com, tweet us @DHorizons or send us a message on Facebook.