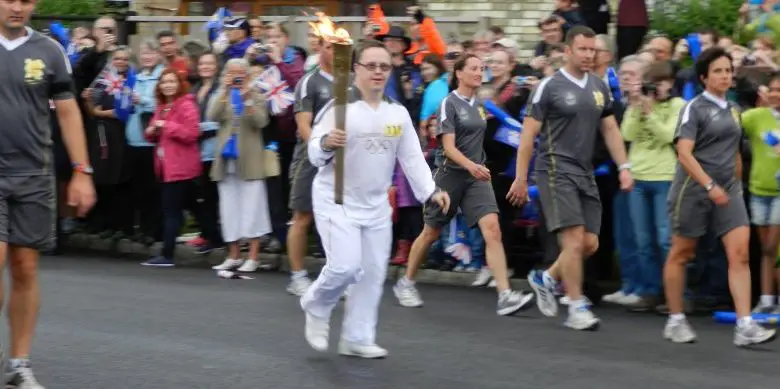 This summer the Olympic torch made its way down the country from Land's End, covering 8,000 miles over 70 days, carried by 8,000 people. Neil Adams, who works tirelessly for his community, was one such runner.
Saturday 7th July 2012 is a day that will never be forgotten by the Adams family of Earith, Cambridge. It was the day when my youngest son, Neil, became part of Team GB by carrying the Olympic torch through Cambridge City. It was a day that we'd been waiting for since June 2011, when the first steps were taken by me to nominate Neil for this wonderful honour.
On that day the calmest person in the house was, in fact, Neil as he stood waiting to run in his Torch Relay uniform, with a smile the width of the Thames. We all know that he deserved this moment to shine.
Neil was born on 27th December 1985 and has Down's syndrome; but he has not allowed this to stop him from achieving. One of his aims was to be a Black Belt at World Tang Soo Do Karate after seeing his brother David achieve this. With hard work and determination he got there and has since gone on to get a Second Dan. He has also represented Great Britain in this sport, achieving a gold medal in the World Championships in Florida, in 1998.
He has also been an advocate for other people with learning difficulties. One of his biggest campaigns to date has been to encourage people with learning difficulties to use their parliamentary vote. His team travelled around the country explaining to people how to use their vote and why it is important to do so. The team also spoke to MPs to ask for support and to bring this issue to the forefront. As a result his team won a RADAR award.
Neil has also worked with health care workers at his local hospital, Addenbrookes, to assist children and young adults who require special medication and/or communication support. In an emergency situation, their difficulties meant they may be unable to communicate these additional problems. Neil therefore helped to set up a hospital passport which contains the necessary information.
In addition, Neil works as a volunteer in a local Barnardo's charity shop twice a week and does fund-raising for them. He also sits on various committees as a volunteer to provide a personal view of issues that affect young adults with learning difficulties. For all the above, and because he is truly an inspirational young man, he was the perfect choice to be one of the Olympic torch bearers.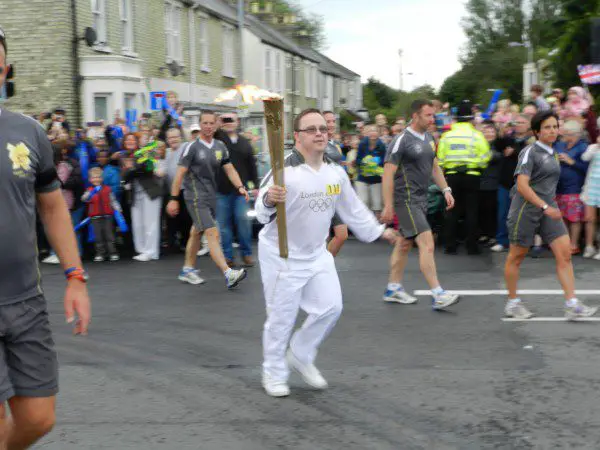 Once he had put on his uniform, it was time to set off for Cambridge. When Neil went outside the house, he found a sea of people from the village waiting to wish him well; a testament to how popular he is and how proud the village is of him.
But this reception was nothing compared to when he stepped off the bus to run. Lines of people up to ten deep were all along the route, many of them friends and family. When he ran around the corner carrying the torch and flame there wasn't a dry eye. Neil was smiling and waving to everyone and he looked so relaxed. He enjoyed every minute of his run.
Afterwards he was surrounded by well wishers, with strangers congratulating him, taking his photograph and shaking his hand. It was truly a wonderful day and to quote Neil: "That was just amazing, the best day ever, I want to do it all again!"
Since the run, he has taken his torch to the local primary school, his workplace and his karate club. This experience has sparked another fundraising idea; he is asking people to make a donation to Barnardo's in return for a photograph with the torch. He continues to work to help others and prove what a great choice he was for carrying the torch.
As a family we will never forget London 2012, not just because, as a country, we have hosted an incredible Olympic Games, but also because it's the year that the youngest member of the family, Neil John Adams, had his well-deserved 'moment to shine.'
Next week sees the start of the Paralympic Games; a time for disabled people to show their abilities rather than disabilities, to shine and compete on a level playing field. Great Britain, and the world, will all be watching and cannot fail to admire each and every competitor for their determination in achieving their dream to represent their country. Neil has had that opportunity, a dream come true for him. He will be proud to watch others follow their dreams.
Check out…
• Oscar Pistorius: a historic night in pictures.
• Jordan Jarrett-Bryan: wheelchair basketball and presenting for the Paralympics.
• Paralympic Games 2012: the freedom of sailing.
Get in touch by emailing us at editor@97c.026.myftpupload.com, tweeting us @DHorizons or sending us a message on Facebook.