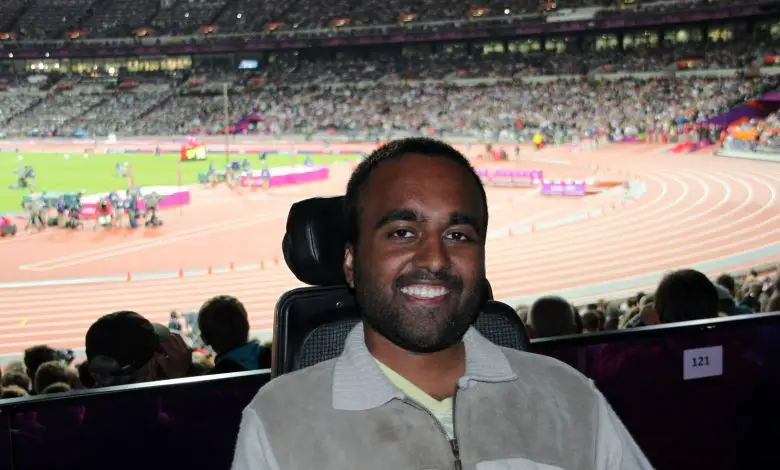 During the Olympic Games, Disability Horizons Co-editors, Srin Madipalli and Martyn Sibley, promised to test out public transport in London to the max by visiting the Olympic Park using only buses and trains.
When London was awarded the 2012 Olympics and Paralympics back in 2005, the organisers promised that the event would be open and accessible to all. As a wheelchair user and a huge sports fan, I was looking forward to finding out if this pledge had been honoured when I had the privilege of watching rowing at Eton Dorney and athletics at the Olympic Stadium.
Before setting off on Saturday morning for the rowing session, I visited the London 2012 website, which helpfully outlined the best route in terms of accessibility.
On their advice, I travelled on a National Rail service operated by South West trains from Waterloo Station to Eton Riverside Station and did the reverse journey to get back home. I rarely use National Rail services but booking assisted travel proved straight forward and somebody was there with ramps to assist me at each end.
While travelling to both the Olympic events I couldn't help but notice plenty of really helpful posters in and around stations, informing people of accessible routes to the various venues.
At Eton Riverside Station, I boarded an accessible shuttle, which dropped me off at the venue entrance. As our seats were still a significant distance away, an additional shuttle (again fully accessible) took me to where I was seated.
Safe in the knowledge that access had been thought of at every turn for smaller venues, I was hopeful that the following day's journey to watch the athletics at the main Olympic Park would run smoothly too.
I grew up in East London and am a regular user of the Jubilee line, so I was more than happy to take the tube to Stratford where the stadium is situated. My only apprehension was whether I would have any problems navigating through the anticipated large crowds. However, once I got there, all worries about this disappeared, as a well organised crowd control operation ensured that I could easily move through the station, and then get to an accessible shuttle bus at Stratford station, which whizzed me past the crowds of walkers to the Olympic Park entrance.
There were mobility scooters available to hire for free too, and I thought they actually looked good and stylish, not like the medical-looking scooters you see in shopping centres.
Once inside, the wheelchair accessible bays in both venues were packed and they didn't feel cut-off or remote as they often do. A single 'companion' was allowed to accompany me for free and while the views were great, I only had one gripe. As I went to the events with a group of friends/family, it would have been nice for all of us to sit together.
However, this is a problem I face at pretty much every event I go to, where it seems to be assumed that you will attend with a 'carer' and not mind being seated far away from the rest of your group.
Other than that, I found it easy to move around the venues, get to the food stalls and use the accessible bathrooms.
I believe the volunteers, known as the 'Games Makers', have been one of the key reasons for London 2012's success. From an accessibility perspective, volunteers were relied upon to man the accessible shuttles, for marshalling/guiding disabled spectators through the designated accessible routes and helping with any general queries or problems.
But more importantly, the enthusiasm and passion of all the volunteers was infectious. Their friendliness, kindness and helpfulness made everything so much easier and just added to the great atmosphere.
The rowing and the athletics were just awesome spectacles to watch. One highlight was seeing Oscar Pistorius compete in the 400 metres semi-final. It was an honour for me and my fellow 80,000 spectators to see this extraordinary guy fulfill his dream by taking part in the Olympic Games on his famous carbon fibre blades.
My very positive accessibility experience was from the perspective of a wheelchair user and born and bred Londoner, and I hope that the huge pride I feel at how we have hosted the games has not clouded my judgement.
Don't miss… our photo gallery of Oscar Pistorius from the night he ran in the Olympic Games!
By Srin Madipalli
Article first published on the BBC on 8/8/2012.
We're putting together a collection of articles with your pictures from Summer 2012. Whether at the Paralympic or Olympic Games, enjoying some of the events around the UK, or participating in local sporting events, we'd love to hear from you.
And let us know more about Paralympic sports you are involved in – email us at editor@97c.026.myftpupload.com, tweet us @DHorizons or send us a message on Facebook. Share your experiences with our community for a monumental Summer 2012!