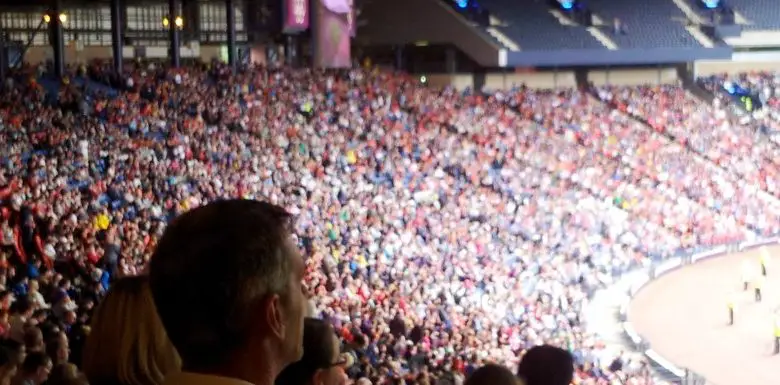 Accessible travel is of paramount importance, and something we know you have been concerned about, particularly during the Olympic Games. So we have talked to three readers about how they found travel to and from a variety of sporting events across the country.
Jo and Jeff Newall: Greenwich Park
We have tickets to see a Paralympic equestrian session at Greenwich Park. We have booked to stay two nights either side of the event at the Tower Bridge Travelodge, and booked travel to and from Greenwich on the River Bus. In April we decided to do a 'test run' of these arrangements, so have a few warnings and tips for anyone making the same trip.
London buses
Bus travel is free for wheelchair users in London, but not their assistants. London buses are wheelchair accessible, although there is only one wheelchair space on each bus.
Getting in and out of the wheelchair spaces on a crowded bus is not easy; you need to be assertive to get other passengers, who may be reluctant, to move.
Also, be aware that the bus may not stop in the ideal position, for example, somewhere that the ramp is obstructed by a tree or railings, and sometimes too far from the kerb. Drivers can vary in their awareness of these problems and their responses to them. You have to be brave and explain your needs.
The hotel
Despite booking a room that was described as accessible, we had extreme difficulty actually getting into the Tower Bridge Travelodge. There were no drop kerbs on the pavements into the car park, only two blue badge spaces and only one drop kerb from the car park. Had I used my powered wheelchair I would not have been able to get into the Travelodge.
We spoke to the deputy manager who was unaware of this. He said he would contact Travelodge head office about it and let us know the outcome, which we still await! It's worth, therefore, when staying somewhere new, asking about all accessibility, inside and outside the building.
Once inside, the room was good; it had a huge wet room and (small) wall mounted seat in the shower area.
Heading out and about
Getting on the River Bus was unproblematic at Tower Wharf. However, as our entry to the boat was via a relatively narrow path, I wonder how this will work when it's busy.
We also noticed there were no designated wheelchair spaces on the boat; you simply sit in the aisles. With a lot of wheelchairs on board (they told me when we booked that they are not limiting how many wheelchair tickets they sell for any boat) we did wonder how safe this would be in an emergency situation.
The real eye opener was when we got to Greenwich Pier. The only route from the boat to land was up a very, very steep narrow metal footbridge of some length. We did manage it, but I worry that many would not. And of course, to get back on the boat, you have to descend down that same steep path!
Happily once safely in Greenwich, the access seemed good.
When we visited in April, it was pouring with rain. It could be equally wet in September. From what we saw the seating is uncovered in Greenwich Park, so we would suggest taking a full set of wheelchair waterproofs, just in case.
Although we hope these tips will help people with travel in the future, the really responsibility for improving access lies with the service providers and not wheelchair users.
Carrie-Ann Lightley: Wimbledon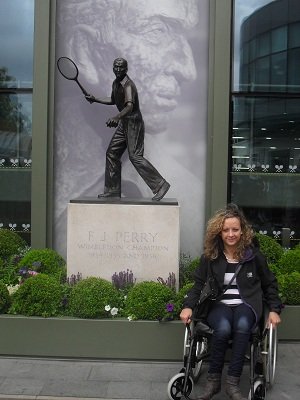 The hotel
We booked to stay at the Premier Inn Hammersmith while in London. This was the first time I had stayed at a Premier Inn hotel, and I was looking forward to staying somewhere new and seeing a different take on accessibility.
There was Blue Badge parking at the front of the hotel, a ramped entrance and a chair lift down five or six stairs to the reception area. The room was very spacious, and the bed… one of the comfiest we have slept in!
The bathroom again was very spacious, with a low-level bath and easy transfer point. We took advantage of the breakfast, dinner and drink deal and had some really tasty food. Overall a fantastic value option for a great location; all of the surrounding hotels were double the price of the Premier Inn.
Wimbledon
The All England Lawn Tennis Club (AELTC) issue an easy access guide to Wimbledon with all wheelchair tickets, which is very comprehensive and contains all of the information that a disabled spectator needs to visit Wimbledon.
On entry to the grounds we were asked if we needed a RADAR key and told to contact a steward if we needed any assistance at all. Everyone was really very helpful. The grounds itself are completely flat with a smooth tarmacked surface, so ideal for wheelchairs.
There are accessible toilets near every court, as well as food outlets, which are either level with the ground or ramped. Each wheelchair ticket comes with a complimentary companion ticket, and a wheelchair space and seat is reserved. There is ample room in the wheelchair space, even for a large mobility scooter. Our space at court two had a fabulous view, and a good patch of sunshine! For souvenirs there are several gift shops and stalls, the largest being near court one, which is more spacious and accessible than the rest.
The first match we saw was delayed by forty minutes because of rain, so we took the opportunity to indulge in some Pimms, until the sun came out again. We had a wonderful day watching fast-paced tennis; the atmosphere at Wimbledon is really special.
After a fantastic, but long and tiring day at the tennis, we spent the next morning wandering around Hammersmith, and had a leisurely breakfast in one of the many small, family run cafes. We really enjoyed staying in this area and will definitely return. If we are very lucky we may even revisit Wimbledon.
You can follow Carrie-Ann on her blog, Carrie-Ann's Travel Blog.
David Gale: Hampden Park Glasgow
As a big football and Olympics fan, I decided I would have a go at trying to get some Olympic Football tickets. I live in Carlisle so the venues nearest to me were St James Park in Newcastle or Hampden Park in Glasgow, which is Scotland's National Stadium. I decided to go for the Glasgow option. As I had never been to this stadium before, I thought it would be a good chance to have a snoop around to see what the accessibility is like.
I managed to book some tickets for Spain Vs Japan and Honduras Vs Morocco, all for a bargain £20. However, when booking over the phone, I was concerned about accessibility as there was no option for general admission spectators to buy accessible tickets. But, I was told that as long as I asked a steward to speak to a supervisor, I should be able to move to more appropriate seats.
Travelling there
I decided to get the train because the nearby train station to Hampden Park, Mount Florida, is apparently fully accessible, according to the National Rail website. To get there I had to change at Glasgow Central. There everything was clearly signposted and I had a steward leading me up to the platform.
Once we got to Mount Florida, I planned to use the lift, as sometimes walking up stairs can be difficult for me, but sadly it wasn't working! As this is the closest railway station to Hampton Park, which can get very busy for Scotland games or Scottish cup finals, I am not entirely sure it's fit for purpose when it comes to wheelchair accessibility.
Hampden Park
From there it was about a ten minute walk to the stadium, which had really good access in and around it with a ramp and lift access to the entrances. Once in the stadium, I realised the seating allocation on my ticket would have involved me going half way down the stairs. So, as suggested when booking the ticket, I asked the steward to get the supervisor who was only too happy to help and got me seats that involved no steps.
The stadium wasn't even half full when Morocco and Honduras started their game, which turned out to be a very exciting 2 -2 draw with great goals, red cards and penalties; this match was worth the £20 alone! By the end of this match the stadium was filled with nearly 38,000 spectators ready to watch Japan deservedly beat Spain 1 – nil.
Getting home
After the matches, I assumed I would have a straightforward walk back to the station, but instead the police rounded us all up into a long queue for the trains. This proved to be very painful as I was standing up waiting for nearly an hour and a half, and then lead to the train via step access.
In hindsight I should have said something to the police and I may have got on the train earlier, which would have been a big help as I subsequently had to wait another hour and a half at Glasgow Central for my connecting train back to Carlisle. Thankfully there was a good pub at the station so I could easily kill some time.
To sum up it was a great day out and I got to see two good football matches for the sum of £20. But what I came back most impressed with was how helpful the staff were and how they had kept up the promise made to me when booking the tickets.
David Gale campaigns for Trailblazers, a national network of more than 400 young disabled people who work together to highlight and fight social injustices.
Check out…
• Srin Madipalli: get me to the Olympic Games!
• Games Makers: the story of one wheelchair user.
• Oscar Pistorius: a historic night in pictures.
Get in touch by emailing us at editor@97c.026.myftpupload.com, tweeting us @DHorizons or sending us a message on Facebook.