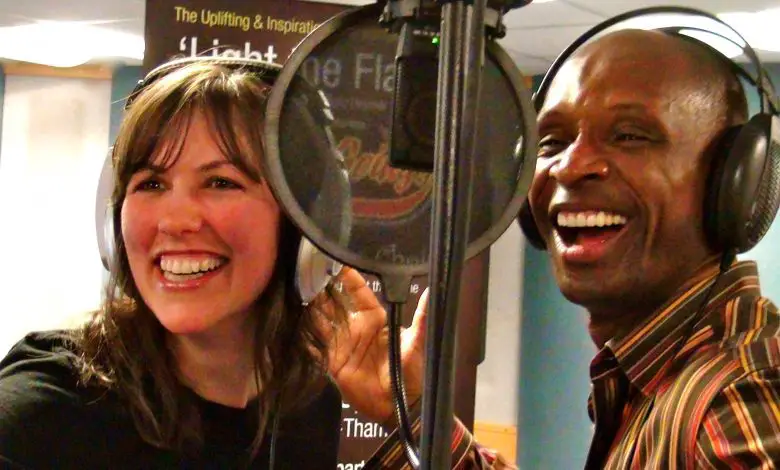 Getting kids to participate in disability sport is one of the key aims of London 2012 and the Paralympic Games. To achieve this goal, X-Factor runner up Andy Abraham, and Yorkshire singer Katy Haymer, have recorded a song, Light the Flame, to help raise money for disability sport charity, Get Kids Going!.
Get Kids Going! encourages and enables youngsters to compete in sporting events, from start to Paralympic level, by giving them grants to pay for training, physiotherapy, travel, competition fees, design and development of sports wheelchairs.
Jane Emmerson, CEO of Get Kids Going! said:
Without our funding and support, these kids would struggle to realise their potential.
A number of celebrities and Paralympians have thrown their support behind the single so Get Kids Going! can reach its fundraising target of £200,000 and raise awareness of the charity's work.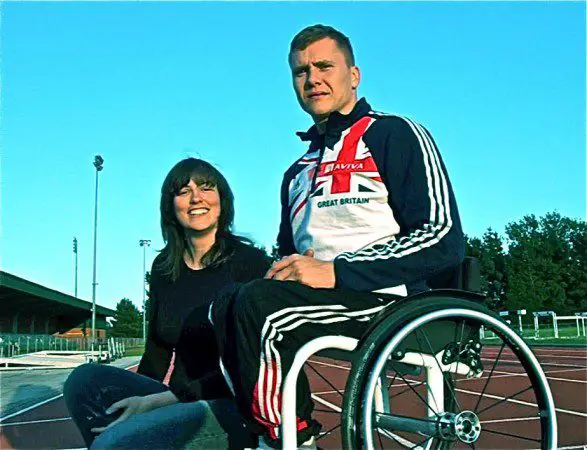 David Weir, MBE, Vice-President of Get Kids Going! – who has already won two gold medals at the London 2012 Paralympics – said:
Get Kids Going! has been a massive help and supported me over the years. Without the equipment supplied by the charity I wouldn't be where I am today, competing in London 2012.
Paralympian Louise Hunt, member of the 2012 GB Wheelchair Tennis team, has been supported by Get Kids Going! since she was eight years old. She told me:
What I love about Jane and everyone at Get Kids Going! is that they take you from nothing and stick with you, continuing to support you. It's a fantastic network.
Inspired by values of the Paralympic Games, Light the Flame was written by Judith Kelly and arranged by Surrey's Elmbridge Choir's Musical Director, Cliff van Tonder.
Get Kids Going! plans to set up a sports academy to reach and help more young people develop their sports skills as well as, with involvement by Elmbridge Choir, their music skills.
As austerity intensifies, cuts to services bite deeper, and the government pursues its aim to radically change the way disability benefits are distributed, I wonder if more disabled people will, in the future, be forced to turn to charity in order to overcome the barriers they are likely to encounter, as they strive to become the best they can be.
Jane Emmerson believes this is not necessarily a bad thing. She told me:
Most people would rather give to Charities who have the expertise and focus, than to government.
Indeed. Governments seem baffled enough by disabled people wanting the ordinary things in life that non-disabled people take for granted, let alone aspirations to do something amazing with their lives.
Sadly then, some of the song's lyrics, such as 'together we stand as one, to work together to see our dream's reality', appear somewhat unrealistic.
Yet while the government denies it has targets for reducing the number of benefits recipients, Great Britain's Paralympic team has a target of finishing second in the medal table at London 2012, with a total of at least 103 medals from a minimum of 12 sports.
The Get Kids Going! fundraising target is £200,000. I hope they make it.
The single is available to download from iTunes (79p) and Amazon (69p). Take a look at the Get Kids Going! YouTube video and see how many famous faces you can spot!
By Debbie Caulfield
Check out…
• Paralympic Games 2012: Disability Horizons' definitive guide.
• Paralympics Games 2012: Archery is an adaptable sport.
Let us know how you're celebrating the Paralympic Games and what disability sport you're involved in – email us at editor@disabilityhorizons.com, tweet us @DHorizons or send us a message on Facebook. Share your experiences with our community for a monumental Summer 2012!