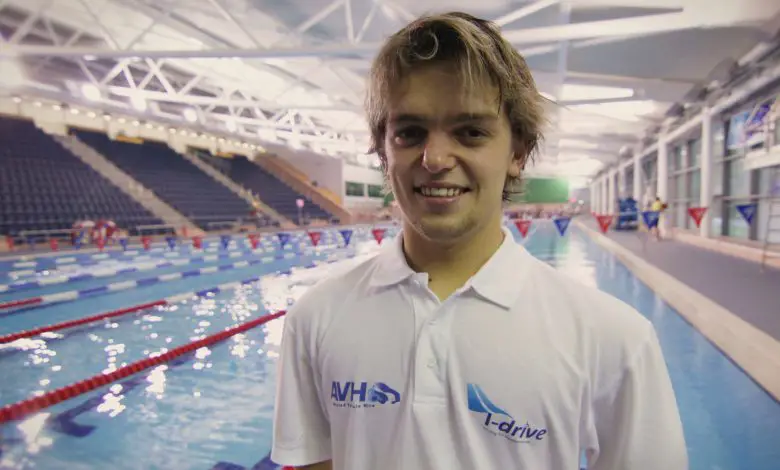 Yesterday, Matt Whorwood, 22, won a bronze medal in the Men's 400 metre freestyle S6 final. Matt has a condition called Achondroplasia and is set to compete with the ParalympicsGB swimming team in four more events. Prior to the Paralympics, Matt kindly prepared this article for Disability Horizons about his journey to the Games.
Four years, four Christmases, four birthdays and 208 Monday morning starts have come to this. It has been a long journey, in more ways than one, since my first Paralympic Games in Beijing, and now it is time to join all the other athletes in our own capital city, to take to the stage and to show the world what we can do. Watching the Olympics on television a few weeks ago was one thing, but knowing I am about to live the experience fills me with excitement. Of course I have nerves and am filled to the brim with anxiety mixed with excitement, but I also feel very much prepared. I know I have done everything I could over the past four years, and in the years before that, to get me ready to perform at my best.
It's easy to underestimate the journey Olympians and Paralympians have to take to get into the prime physical condition you see 'on the day' – it literally does take years, and blood, sweat and tears, to get there.
Like all other athletes, I would not be in this fortunate position without rigorous preparation (I train six days a week) and the right support. In my case this comes in the form of some fantastic people, including my swimming coach Billy Pye, my parents, my team mates (such as Ellie Simmonds and Graham Edmunds) and the skilled team of people that support me physically, whether that be through nutrition, soft tissue therapy, or physiotherapy, to give me optimum performance.
Throughout this time I have also been studying mechanical engineering at Swansea University. Combining university and swimming can be a bit of a juggling act but because they are both things I enjoy, it's not difficult to find the motivation.
It has been crucial for me to maintain complete independence in order to keep to this full-on calendar of training, events, therapy and lectures. I swim at the Wales National Pool Swansea, so the only practical way for me to get from my home to the centre is by car.
I have a specially adapted Volkswagen Golf through the Motability scheme. The car has a false floor which is raised six inches above the ground as well as pedal adaptations which enable me to drive safely. It also has a special back support so I can prop myself further forward and the steering column can be adjusted for extra comfort.
I am indebted to my parents for allowing me to fulfill my passion for sport; they had to endure all the early mornings before I could drive. I have now been driving for four years so those days are thankfully behind us – they can now focus on the enjoyment of attending events!
Four years, four Christmases, four birthdays and 208 Monday morning starts. Safe to say a lot has gone into the journey which has led to this moment – not just in terms of training, but the support from the people in my life and the logistics involved in getting from A to B.
Particularly for the past few months, it has felt like time has sped up. I do hope that time slows down when I am at the Games as I want to enjoy and savour every last minute of it. That is, apart from my race itself, which I hope goes very fast indeed!
By Matt Whorwood
Matt's training is supported through sponsorship by Adapted Vehicle Hire, which supplies specialist adapted vehicles to help disabled motorists stay on the road. To find out more, visit: www.adaptedvehiclehire.com
Please note: this article was prepared before 13 August, as Matt prepared for the Paralympics.
Check out…
• Our Definitive Guide to the Paralympics.
• The Paralympic Games are here! Find out about the history and the future of the Games.
• Olympic torch relay: one runner's story.
Let us know how you're celebrating the Paralympic Games and what disability sport you're involved in – email us at editor@disabilityhorizons.com, tweet us @DHorizons or send us a message on Facebook. Share your experiences with our community for a monumental Summer 2012!