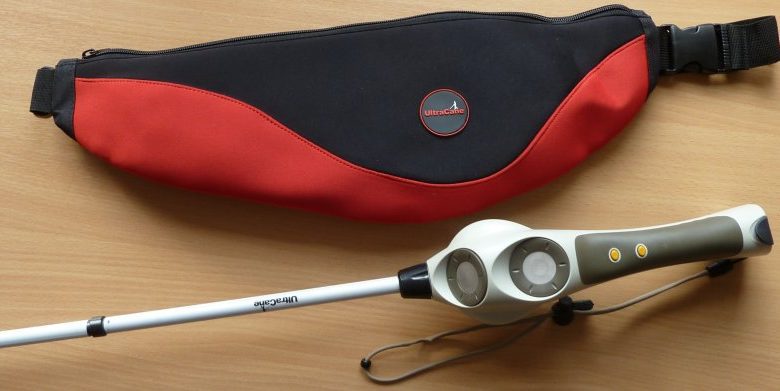 Work & Education
Access to Work and UltraCane: helping navigate the world of work
Geoff Madge, a blind research officer at Essex County Council, is the first worker in the country to acquire an UltraCane through the Access to Work scheme. Geoff explains to Disability Horizons how this sophisticated mobility aid helps him negotiate a complex office layout in complete safety.
I had read about the UltraCane but it wasn't until I tried it out at a Sight Village exhibition, in November 2011, that I really understood what it could do and the difference it could make to the way I move around.
Reading about a device that is capable of giving tactile feedback on obstacles at different distances sounds quite futuristic, but when I held the handle of the UltraCane, and felt the signals for the first time, it became very real.
Suddenly, something that sounded impractical became an exciting, new way of helping me to be more independent and adventurous. The bruises and bumps I sustained when using my ordinary cane were enough to convince me that life could be very different with an UltraCane!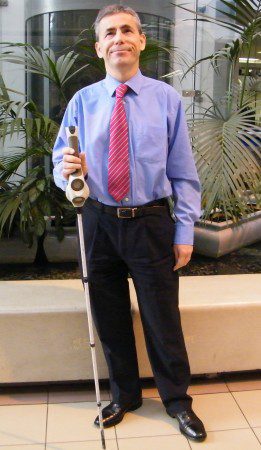 I was born with the condition retinitis pigmentosa and lost my sight in my late teens. Unusually, I can't even detect light from dark.
I have worked in IT at Essex County Council for twenty five years and have always used a traditional white cane to navigate.
When I had a PC upgrade at work and needed to make an Access to Work application (a scheme which provides advice and support to disabled people and employers to help overcome work-related obstacles) I discussed getting an UltraCane with my adviser. I explained how it would help me to travel around more easily and safely as my job often requires me to find my way around an extensive office complex.
The adviser encouraged me to add the UltraCane to my Access to Work application and it was immediately accepted, giving me 80% funding. My employer whole-heartedly supported my application and agreed to fund the remaining 20% of the cost.
I received my UltraCane in February 2012 and after a few weeks of daily use, using it has become natural. I didn't realise just how liberating it can be until I forgot to replace the batteries and used it as I would have formerly used an ordinary white cane. It was quite a shock to find out how limiting a normal cane is by comparison.
The UltraCane is like walking around with two parking sensors. One tells me about obstacles up to four metres ahead and the other tells me what is at head height. It uses a mini radar system to help me build up a picture of what's around me. The two buttons on the handle vibrate faster and faster the closer I get to an obstacle.
With a white cane I only know about an obstacle once I have hit it. But now I am finding out about obstacles and taking avoiding action before I get there. It certainly makes getting around a lot safer and gives me confidence to try new places.
My sighted work colleagues are fascinated by it and it has become something of a talking point at work. At home my two children, aged seven and four, are just as impressed with the UltraCane's potential to transform to a Star Wars light sabre!
By Geoff Madge
You can find out more about the UltraCane and the Access to Work scheme by visiting their websites.
Check out…
• 21st century walking sticks.
• Challenges and success: starting a business with a disability.
• Life working in the City of London.
Don't forget to get in touch by emailing us at editor@disabilityhorizons.com, messaging us on Facebook, tweeting us @DHorizons or leaving your comments below.