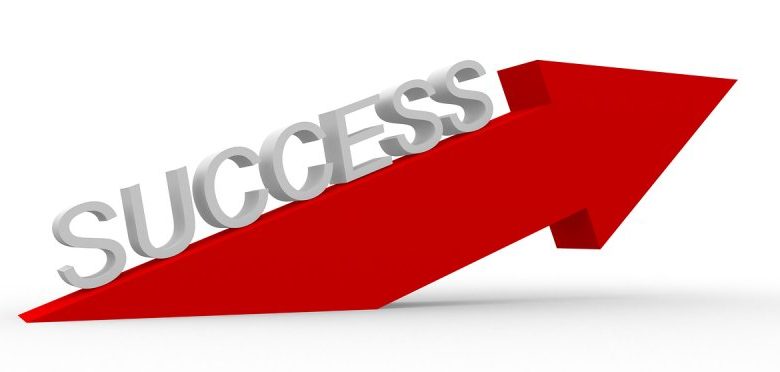 Business owner John Stanchina, a T-12 complete paraplegic, has found success in using his own frustrating experiences to create solutions for others. Here he tells Disability Horizons about the challenges he's faced and adaptations he's made to help his business grow.

Time is supposed to be the great equalizer, right?  We're all given the same 24 hours in every day, aren't we? I would argue otherwise for people living with a disability. As a T-12 complete paraplegic, I figure I really only have 20 – 22 hours in my day to accomplish the same things able-bodied individuals do.
In effect, the extra time consumed by simple activities of daily living, like showering, dressing, riding a stair lift and transferring into or out of a vehicle, reduces the hours I have available to eat, sleep and… oh yeah, run a business.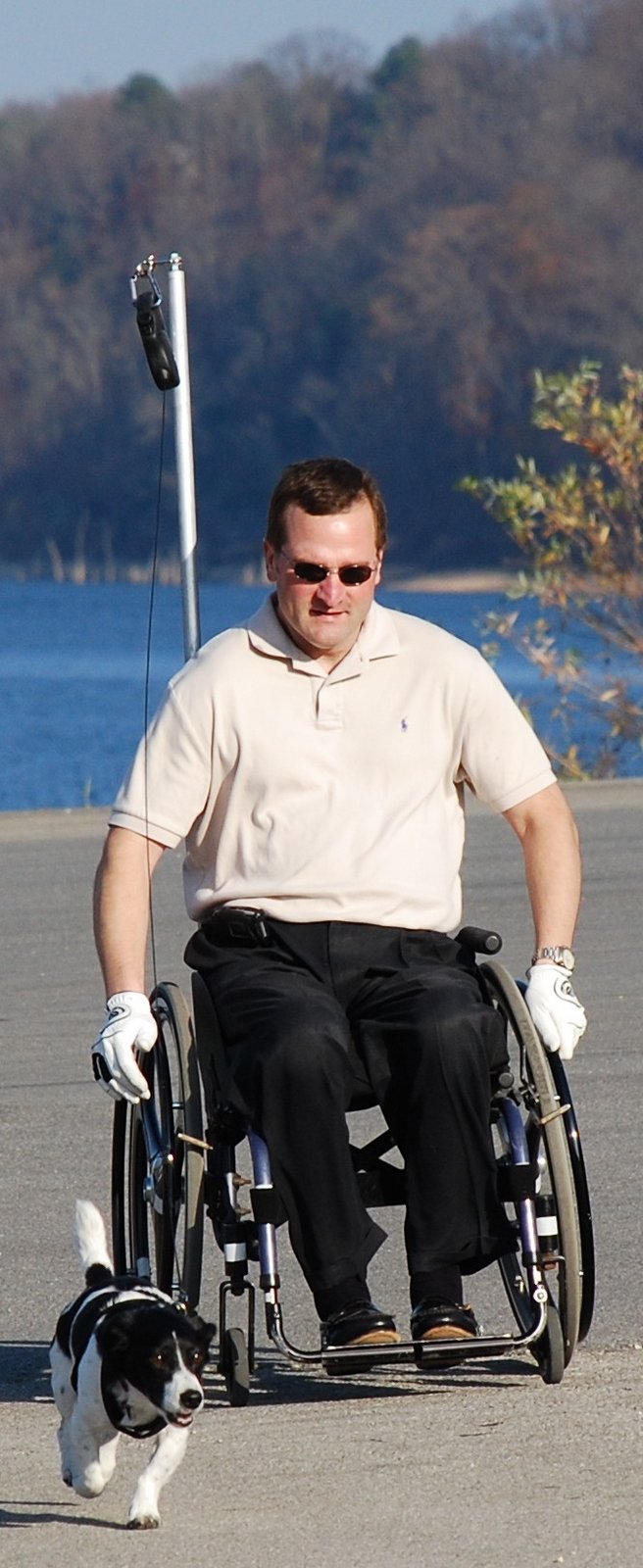 One of the many challenges faced by people living with paraplegia is envisioning how to do more with less. If the arms are busy providing the mobility that the legs used to provide, how on earth are paraplegics supposed to be able to hold a leash to walk their dogs, or to securely carry everyday items like groceries or laundry? So I invented the Hound-a-bout™ hands-free dog walking system and the Utilitote™ hands-free rigid carrier; they do what the hands and arms would be doing if they weren't busy pushing a chair.
While I originally crafted these devices for my own personal use, I realised that as these items improved my daily quality of life, others in a similar position to mine could derive equal benefit from them. So, in June 2007, I founded Blue Zone Enterprises, LLC to commercialise these items.
While motivated by the prospect of providing solutions that help independent living, I was also driven by the opportunity to be the captain of my own ship as a first-time entrepreneur. But it hasn't all been plain sailing as I have faced my fair share of obstacles. Many have been the typical hurdles that all entrepreneurs face, such as deciding how to fund the start-up of operations, determining how to generate interest and sourcing and vetting potential suppliers.
However, other barriers have been unique to my disability. Electing to manufacture and ship Blue Zone Enterprises' products myself, from my wheelchair, posed its share of physical challenges. Time management is an obstacle that all people with disabilities face, but it posed a particular challenge to me as I had to handle and juggle ALL of Blue Zone's business functions; prototyping, product testing, manufacturing, sales, record keeping, web development, information technology, copywriting, branding/marketing, public relations, finance and shipping.
So, how did I manage to pull it off and, more importantly, how can you? Put simply, planning. Thoughtful planning of both my workspace and my workflow helped me to use my time as efficiently as possible and my physical capabilities to their fullest potential.
Here are just a few of the things I considered when I sought to optimize my workspace:
• Time spent navigating through a maze of raw materials, work in progress and finished goods is time wasted. So, I installed half a dozen overhead lifts so whatever items I'm not working on can be stowed up and out of my way.
• Likewise, unnecessary movement between office space and manufacturing space burns precious minutes. So I connected my colour laser printer to my wireless network and moved it from my office to the shop floor. That way documents, like invoices and shipping labels, can be created right where I need them.
• Struggling to move component parts as they come in from the vendor would be a real time killer. So I made it a point to maintain large enough access points to the manufacturing workspace so I am able to easily move goods in and out, on my lap, from my chair.
When it came to optimising my workflow, the practices that worked best for me focused on developing linear manufacturing procedures, implementing batch processing where appropriate and breaking down more onerous tasks into bite-sized pieces.
One of the more 'weighty' tasks I had to face was efficiently moving the sheer mass of Hound-a-bout masts I received; a minimum order was 600lbs. Realising my weight lifting limitations, I simply got the vendor to shrink wrap the masts in bundles of ten, making them a little more than 40lbs per bundle, which I had no problem pulling from my truck to my lap and rolling them into the shop.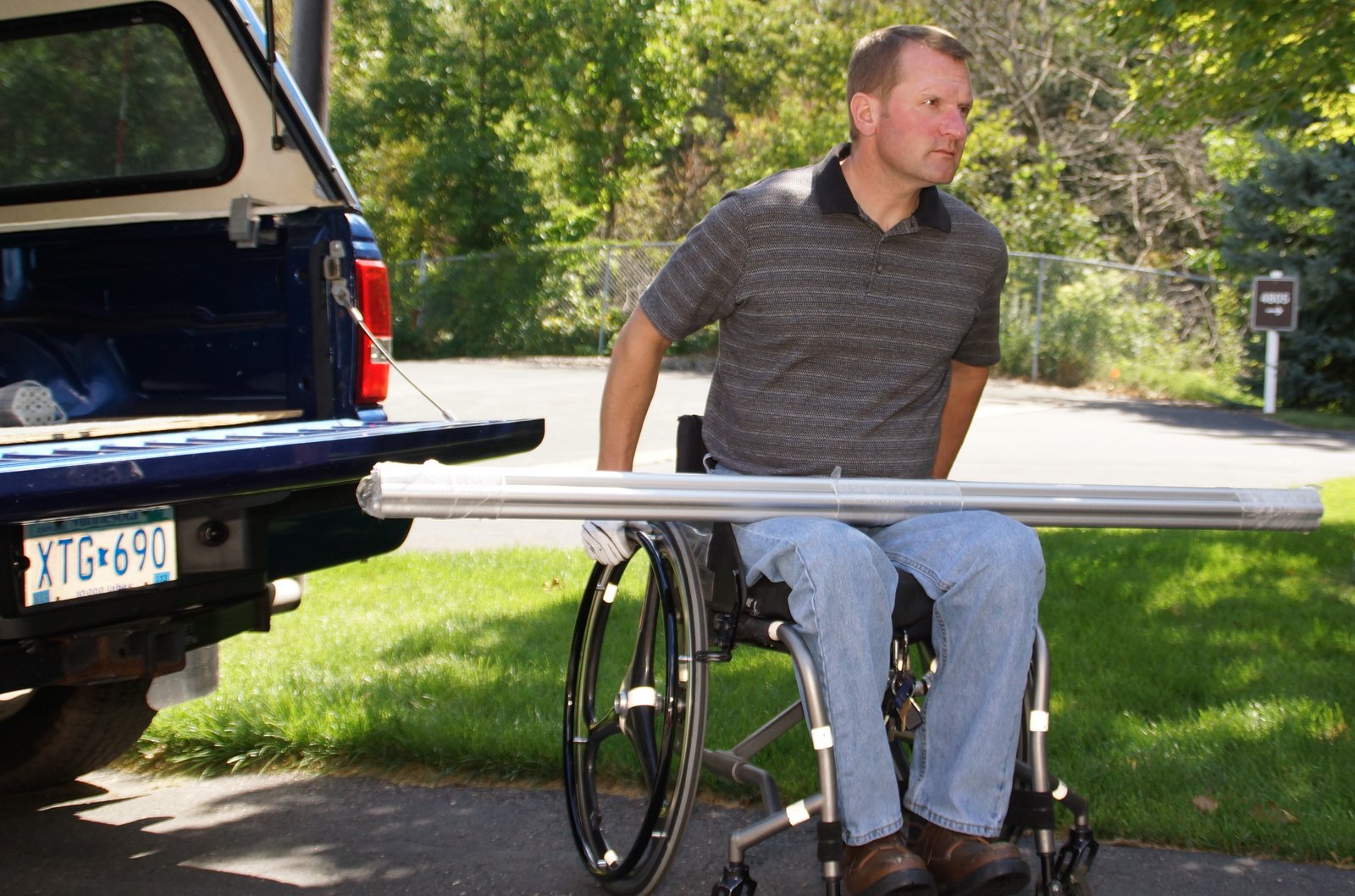 Another aspect that helped reduce the time I spent building these devices was batch processing. Doing the same thing over and over again helped me squeeze the most output from every minute I worked. So, rather than assembling a single Hound-a-bout™ system at a time, from start to finish, I first put together a batch of one element at a single workstation, moving it along to different dedicated workstations as I moved through the process. This made it straight forward and meant there was very little, if any, wasted movement.
This efficiency helps to free up precious time I can now spend on promotion, using tools like social media, and public relations activities, like writing articles such as this one. As an added bonus, if people with disabilities considering starting their own business are encouraged to take the plunge by my words, it will have been precious time very well spent.
So many of us, understandably, focus on regaining the independence taken from us by our injury or disease, so we are able to live as much like the able-bodied folks. But starting your own business just may give you the kind of independence that millions of able-bodied people will never know.
To find out more about Hound-a-bout™ and the Utilitote™, visit the Blue Zone Enterprises website.
By John Stanchina
Check out…
• Matthew Newbury: The Secret Millionaire.
• Starting your own business: Huw Thomas of Promove UK.
• Aid4disabled: opening doors for disabled people.
Got a story to tell or business idea to share with the Disability Horizons readers? If so, then get in touch by emailing us at editor@97c.026.myftpupload.com, messaging us on Facebook, tweeting us @DHorizons or leaving your comments below.