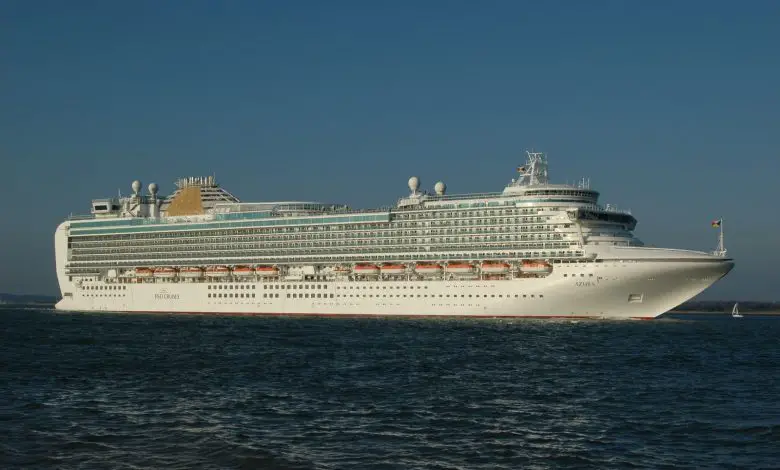 New Disability Horizons contributor, Laura May Adams, shares this article about her recent cruise holiday aboard P&O cruiseliner Azura. Laura shares some really useful tips for a disabled traveller wanting to travel by cruise!
My name is Laura May Adams and I have a disability called Cerebral Palsy (CP). Even though I have CP, I am very independent using my powered chair and like doing things that everyone else likes to do. I live with my family and my dog Jasmine. I enjoy horse riding, going out with my family and friends, shopping and watching the soaps. I'm a massive fan of Robbie Williams, Katie Price and the American TV hit programme Supernatural and its cast. Also, I am interested in travel and meeting new people.
My family and I decided this year to go on our first cruise. We know people that go on cruise holidays year after year and say 'once you have been on a cruise nothing compares to it'. So we booked a fourteen night cruise on the new P&O ship Azura around the Western Mediterranean, visiting Barcelona, Monte Carlo, Livorno (near Florence), Civitavecchia (near Rome), Ajaccio (Corsica)  and Gibraltar. We went from Southampton, which is perfect if you're not a big fan of flying.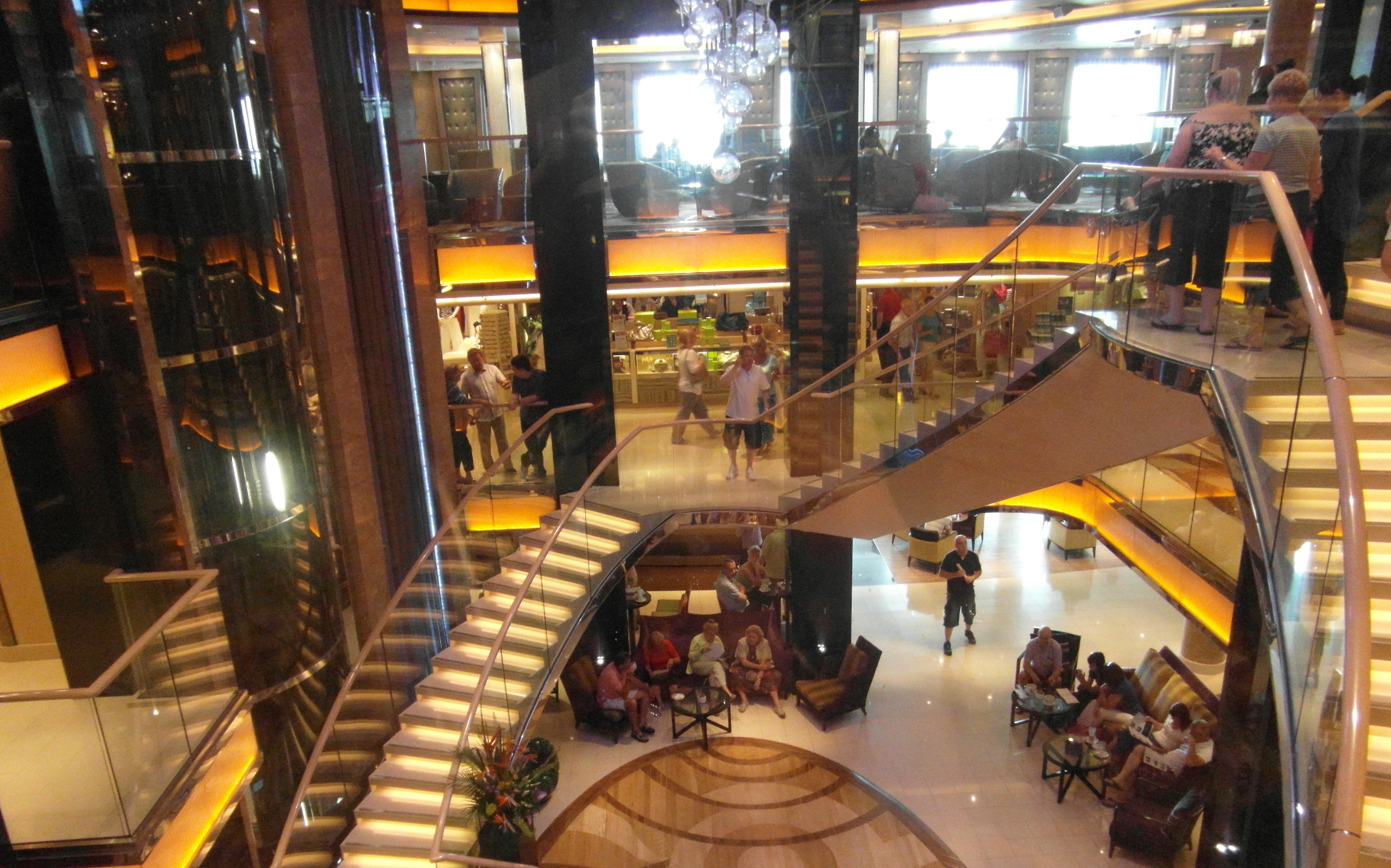 We stayed in a cabin in which (because of its small size and the step to get into the bathroom) was quite difficult for me to move around. This was the toughest part for me on the cruise. We did not book a specially accessible cabin and I would advise anyone who has difficulty with steps to book an accessible cabin, which have wider doors, adapted bathrooms without steps and more space. On my next cruise I will book an accessible cabin to make life a bit easier!
On a cruise you can go on organised excursions at the ports you stop at to explore the local destination. Even though the excursions can be expensive, it is worth the money. While on my cruise, I went on two excursions to Rome and Pisa. I have always wanted to go and see these historic places and I wasn't disappointed.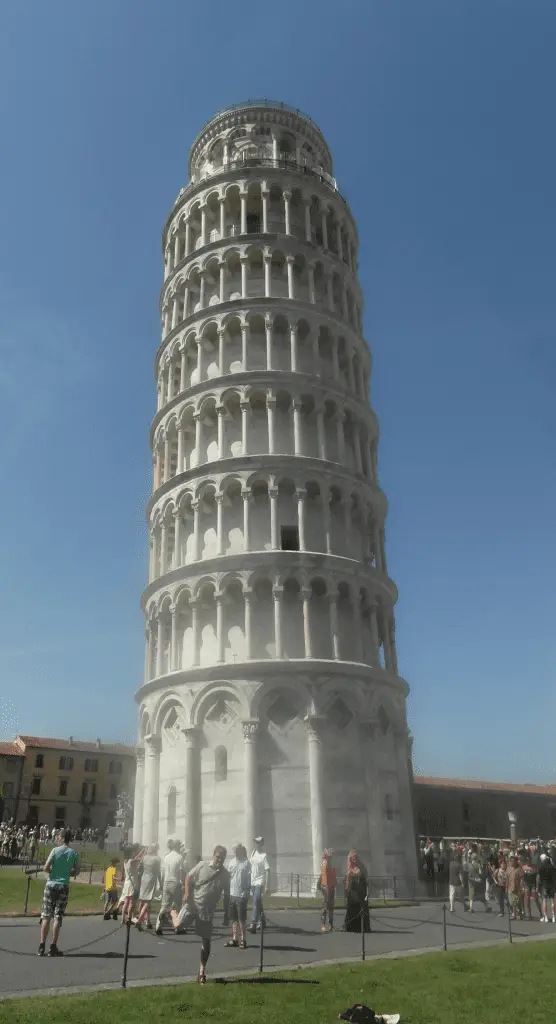 In Rome, I saw the beautiful Trevi Fountain, where my dad threw a coin in to make a wish (I always wondered what the wish was!) and the Vatican City was amazing to see, even in 35 degrees of sunshine. At times it was very difficult getting around Rome in my manual chair because of the pebbled streets, curbs and the crowds. But, with the help of my family, I got to see the sights I have always wanted to see.
In Pisa, I went to see the famous Leaning Tower of Pisa and couldn't believe how far it actually does lean. What amazed me most about Pisa is how historic it is. It still has horse and carts, little markets, pebbled streets, very old statues… but, yet, round the corner from all that history, there was a very modern McDonalds.
Before I went on the cruise I rang up P&O asking for their advice on which excursions would suit a wheelchair user. I would also advise you to ask your travel agent if any ports of call require tenders (small boats transporting you from ship to shore and back, which are not accessible) to disembark. I was quite lucky with this cruise as there was only one port where a tender was needed. At that port, I didn't want to leave the ship anyway as we were only there for the morning and wanted to just relax around the pool.
I would definitely like to go back to Rome and Pisa. But I would prefer to go in September when it isn't as hot or as crowded. Also, I would like to go back to Monte Carlo and see all the rich and famous boats and cars as well as the dazzling boutiques, where even a handbag is thousands of pounds!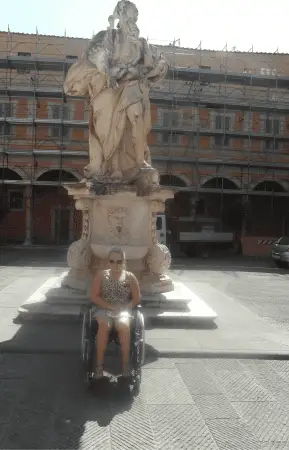 Entertainment was high standard and included a Freddie Mercury Tribute Act, Bingo, Dance Productions, various bands and a casino… in case you felt like a having a bit of gamble. There was entertainment on the Azura for all ages ranging from activities that are more active to those that are more relaxing. With sixteen decks, there was plenty to do and with every level having a lift, the ship was very accessible. I felt relaxed knowing I was able to go anywhere on the ship not having to worry about how am I going to get round.
During my holiday I saw Danny Price (Katie Price's Brother). He was on the same ship as me and it was amazing to see him as I am a massive fan of Katie Price and her family. I couldn't believe my eyes when I noticed it was him. Even though I didn't get the chance to talk to him, it was great to see him.
The Azura is perfect if you are a first time cruiser. The ship had everything to offer and was very accessible. I would definitely go on this cruise ship again as I got the whole cruise experience I wanted and even more. Finally, this holiday will always remain special to me as my Mum and Dad renewed their vows on the cruise for their 25th Anniversary and it was wonderful to be a part of that.
By Laura May Adams
Check out…
• Martyn Sibley's Epic European Disability Roadtrip: part 1.
• Top 5 accessible walks on the South West Coast.
• Airline accessibility: a campaign that's taking off.
Travelled recently and have some tips to share with Disability Horizons readers? Get in touch by emailing us at editor@disabilityhorizons.com, tweeting us at @DHorizons or messaging us on Facebook.