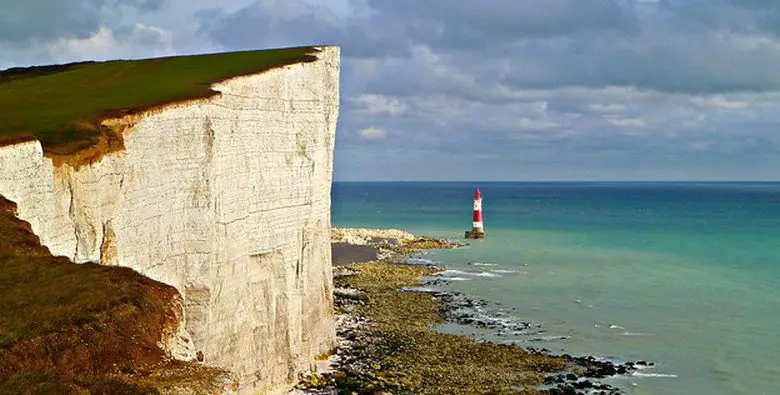 Looking for a getaway in the UK to shift those January blues? Steph Fairfoul, from Enjoybedandbreakfast.com – a small independent travel website showcasing bed & breakfasts and guest houses – shares five accessible breaks to start you off on a perfect 2013!

The festive period is well and truly over and the days are slowly, but surely, getting longer, which can only mean one thing: it's time to re-emerge from our respective hermit caves and start to enjoy the great outdoors!
Last summer, we brought you the top 5 accessible walks on the South West Coast of England. This year, we're going one better and starting a mini-series covering the whole of England. So what better place to start then the South East of England, and the stunning Sussex Downs.
Getting outdoors in the region is a joy. With four national trails and more to choose from crisscrossing through awesome landscape, quintessential English villages and fascinating heritage, it's fair to say the South East of England has it all.
1. Alice Holt Forest, South Downs near Farnham
Forming the most northerly gateway to the South Downs National Park and once a royal forest, Alice Holt was mainly noted in the 18th century for its oak trees, which were used as materials for the ships for the royal navy. These days it's a beautiful example of woodland, with easy access trails, plenty of wildlife and boundless conifer trees.
The Easy Access Trail is a double looped route that runs for about 1.5 miles (2.5km) and is specifically designed for those with limited mobility. The trail leads through the conifer plantation, then into an area with ancient oak trees and deep into the canopies of the woodland. A sight to look out for is a fallen tree studded with countless woodpecker nests. If you're with children, the forestry commission have produced an Easy Access Discovery Trail leaflet you can pick up before you start, for fun things to do on your way round.
The trail leads straight of the car park, with disabled parking spaces and toilets, and there are plenty of benches and picnic spots scattered along the route.
If you're feeling particularly adventurous, the forest has partnered with CTC to create easy access cycle paths too. You can hire an adapted cycle from Quench Cycles in the forest. For more info, give them a call on 01420 520355 or see more info on the scheme by visiting the Forestry Commission website's cycle page.
2. RSPB Dungeness Nature Reserve, near Lydd in Kent
Jutting into the English Channel, Dungeness Nature Reserve is a hive of activity for migrant birds flocking in from the coast. Appearing on first look to be a ravaged and desolate landscape with miles of shingle and gravel pits, it's hard to believe it has one of the most rich and diverse habitats for almost a third of all UK plants and wildlife.
There is a circular trail running for about 2 miles (3km), starting from the visitor centre, which has blue badge parking, disabled access toilets, cafe and binocular hire. The track surface is primarily hard packed shingle, although there are a couple of stretches of grass. There are 6 hides along the route and all are accessible by wheelchair. There is a detailed route map showing view points and gradients on the Forestry Commission website.
The trail directs you through a series of hides where you're certain to see a variety of wildlife. Most watch out for bearded tits in winter and in the summer, lapwings and redshanks. There is an RSPB fact sheet to help with spotting their star species, if you're interested.
A brief summary access statement as well as a full downloadable PDF of the reserve are also on the RSPB website.
3. Chichester Canal Path, Chichester
The Canal was opened in the mid 19th century to link Chichester with Portsmouth, but was never commercially viable. However, it has since been a popular trail to follow. A return trip covers approx. 2.7 miles (4.5km) and is a very well surfaced path. The terrain is mainly compacted stone and is almost entirely level asides from one bridge with a gradient of 1:12.
A favourite is to start in Hunston and head towards the Canal Wharf, which has a cafe and disabled access toilets, before heading back. Alternatively, a local favourite is The Spotted Cow Pub in Hunston. It's a traditional English inn renowned for its takeaway fish and chips. There's also the opportunity to take an hour long round trip on one of the resident barges from Chichester, The Egremont, which is accessible by wheelchair.
Much of the route is exceptionally peaceful and serene and you'd easily forget how close you are to the city. There is a bounty of wildlife to see along the canal, from foxes and deer to kingfishers and moorhens. There's also a beautiful view of Chichester Cathedral where Turner famously painted the canal in the 1820's.
The canal path is one of 14 easy access walks organised by West Sussex County Council. The full list, with maps and extra info can be found on the website.
4. Dyke Railway trail and Devil's Dyke trail, West Sussex

The Dyke Railway was constructed in the late 1800's to ferry passengers from Brighton & Hove up to the renowned vantage point of Devil's Dyke. It closed, and remained disused until the eighties, but has since been turned into a popular and easy access trail.
Starting out from the car park at Hangleton Way, the trail is primarily hard surface and level, with no steps or steep gradients. There are no disabled toilet facilities or refreshment stops, but the path only runs for approx 1.2 miles (2 kms) and has rest spots every 300 metres or so. It's more than worth it too, as views span through the rolling hills, farmland and right down to the sea. To the West, are great views of Benfield Hill Nature Reserve, with its nationally rare chalky grassland.
Dependent on how far you want to ramble (and how strong your bladder is!) you can continue to follow the railway trail to join onto the Devil's Dyke Trail. This route is circular and equal in distance and accessibility to the railway trail. There's a picnic spot, visitor's centre and disabled toilet facilities within the first kilometre of the trail and numerous vantage points and resting areas along the route.
For detailed maps of facilities and gradients see the Dyke Railway Trail and Devil's Dyke Trail accessibility maps.
5. Beachy Head Peace Path, Eastbourne
Albeit, not the most strenuous of trails, the Beachy Head Path (click here for an accessible path map) more than makes up for it with its panoramic views out to the English Channel. Sitting proudly on the top of Eastbourne's downland, Beachy Head is the highest chalk sea cliff in Britain.
Looking East is a stunning view down to Eastbourne beach and harbour and further on to Hastings. On an exceptionally clear day you can see all the way to Dungeness, in Kent, more than 40 miles away.
The Peace Path is a 750m circular route starting out from the Beachy Head car park with disabled access toilets, parking, visitor centre and the all important pub. The Beachy Head Pub is a traditional rustic inn serving top notch pub grub and local cask ales. Children are more than welcome, with an adventure play area in the pub garden, and the pub restaurant has full disabled access and toilets.
Although you won't have really earned yourself a pint off the back of the Peace Path trail, the pub is most certainly worth the indulgence!
Where to stay…
The South East of England has some beautiful independent accommodation to choose from with varying accessibility.
High Ray Barn, situated south of central Farnham, with beautiful views across the countryside, may suit your needs. The self catering Rose Flat has been awarded by the NAS as suitable for part time wheelchair users. To check if your requirements can be met just call Alexine and Warren ahead of booking on 01252 715 589.
Summerfield House, in Hastings, is a real countryside retreat set in several acres of garden and woodland. The accessible Garden Room is a cosy double/twin room with en-suite accessible wet room. Little luxuries like bathrobes and slippers are also provided. Guests rave about the breakfasts so be sure to give it a try. If you'd like to call in advance to check requirements, you can get in touch with Liz on 01424 718142.
Heath Farm, in Lewes, is situated on the doorstep of the South Downs surrounded by breathtaking scenery. A working farm, with live stock and beautiful self catering cottages to choose from. There is a virtual tour on the Heath Farm website to check the cottage's suitability. Robyn and Marilyn have worked in close partnership with the NAS scheme to ensure the accessibility of their cottages. You can call ahead to speak with them on 01273 890712.
Enjoybedandbreakfast.com believes strongly in equal opportunities. That's why they recently launched a hand-picked collection of Accessible Bed and Breakfasts, exclusively for disabled travellers.
By Steph Fairfoul
Check out…
• Top 5 accessible walks on the South West Coast.
• Accessible Paris?
• Trailblazing as a tourist in Liverpool.
Do you have a favourite holiday spot in the UK? We'd love to hear about it. Get in touch by emailing us at editor@disabilityhorizons.com, tweeting us at @DHorizons or messaging us on Facebook.