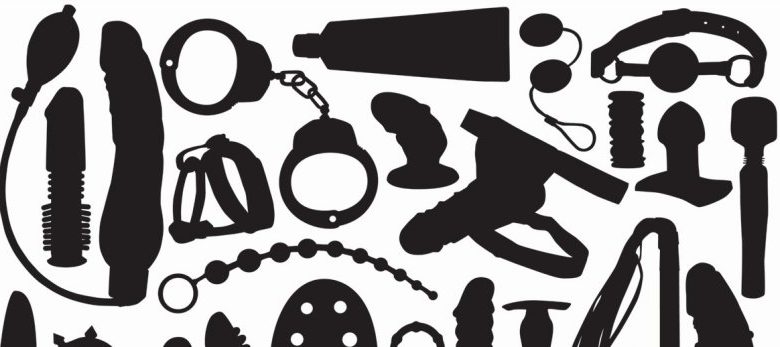 Disabled people use sex toys for the same reasons as anyone else: for pleasure, variety, sexual experimentation, kinky sex… the list goes on. But some disabled people also use them to assist with sexual difficulties or physical, mental or sensory impairments.
Sex isn't always straight forward for anyone, and it certainly isn't like in the movies. But sex can be just as mind blowing with the right assistance. I'm talking sex toys – dildos, vibrators, butt plugs, love eggs, strap ons… I could go on.
Disabled people often use equipment to help with everyday things, like a grip to hold a cup or hoist to lift them from a chair to bed, and the idea of useful aids carries on into the bedroom. Just because you can't do certain things, doesn't mean you can't enjoy sex. For example…
Men who cannot achieve an erection may use a strap-on dildo in its place, or strap it to their thigh, so that their partner can sit on it and play with their penis at the same time.
Men who can't orgasm from penile stimulation, maybe because they have spina bifida can use a prostate stimulator to orgasm.
Women who cannot reach down between their legs to masturbate may use a Magic Wand, which has a long handle, to stimulate the clitoris.
Women with spinal injuries and others with neurological impairments may not lubricate naturally, so need lubricants in an accessible container.
Blind and visually impaired people may use audio erotica to excite them.
People who cannot move and want to pleasure their partners may be able to hold toys on them – vibrators or electrostim gadgets, to provide stimulation. People with arthritis or that have difficulty getting into the right positions for sexual interactions, might use sex swings or supports to make it easier for them.
People with spinal injury use strong vibrators such as Ferticare to have orgasms.
Some people with learning difficulties need toys to assist their stimulation to make it easier.
Masturbation to reach the big O
But the most pressing reason of all why some disabled people need sex toys is that they are unable to masturbate to orgasm, maybe because they have short arms, their hands get tired and weak, or they cannot move their arms.
Women are lucky that no-hands toys like the butterfly and vibrating panties can get them off. Some may have partners who will toss them off or go down on them. Some single people have the knack of persuading people they know, or meet, to lend them a hand, and this skill comes from building up enough confidence to be brave enough to ask in a relaxed, good humoured way.
Others have PAs or care staff willing to put a vibrator on their clitoris or masturbator on their penis, secure it in place, maybe even turn it on, and leave the room, coming back later to clear up and put the toy away.
All this shows that there are many ways to still enjoy sex and orgasms, even if you have a disability. But there are issues with some sex toys.
Sex toys are usually secured by tucking them into tight pants — which is totally unsatisfactory. Not only are they sometimes just shy of the right spot, but there is a chance it will dislodge itself and fly across the room just before orgasm is reached. However, I have invented a solution – Happy Harnesses.
Happy harnesses are bespoke harnesses that will fit to the wearer and hold the required sex toy, meaning the sex toy is not only in the right place, but it will also stay firmly in place.
Unfortunately, it's currently only in the design stage as I haven't been able to find anyone to actually create such harnesses — they cannot just be manufactured as they need to be made to measure to accommodate the required toy. Plus, as it's such an intimate necessity, it would be nice if it were customised.
But think of this: a guy living in a residential home, with a night-time raging hard on, or a woman who wakes with a sudden horniness — they cannot just ring a bell in the middle of the night and expect immediate assistance. They just have to lie there and think of England, letting the desire subside. If this goes on every night and often in the daytime too, it's extremely bad for their mental health. I want to change this so that everyone can experience sex toys at their desire.
Sex toys have come a long way
A few decades ago, when I attended the first ever sex toy fair in Frankfurt, all the people in the trade were gangsters. A manufacturer said to me: "Tuppy, I want you to see my new life-like toy. Poke your finger to the end and you will feel the clitoris". I sighed and muttered; "that's where the cervix is, the clitoris is not inside the vagina, but in front of it." The sex trade was dire: sex toys were shabby, ugly, split and smelt of rotting cabbage.
My boyfriend said of Jacqueline Gold, owner of Ann Summers; "even their condoms are tight­" – they were made in the East where cocks tend to be smaller, but condoms cheap to buy.
Slowly, the gangsters moved out of the trade and the business men took over. I'm not sure who was worse. At the last sex toy fair I went to in Berlin, on a research trip for Spokz several years ago, my friend, Shiri Zinn, spent most of her time covering up her beautiful porcelain and exquisite fluffy toys on her stand to prevent people from taking photos.
It's only in the last couple of years that designers and people with any sense of morality, intelligence or pride have entered the business.
And a couple of months ago, quite amazingly, I made a breakthrough. I was quoted in the sex toy trade journal, Erotic Trade Only, as saying; "I think disabled people who cannot masturbate are better off having hand jobs because none of the sex toys are much good for them," also mentioning my frustration with Happy Harnesses.
A week later a letter arrived in the post from a design company saying I had really got them thinking. I phoned them up and learnt that they too want to create a sex toy that disabled people can use independently, with no, or as little as possible, need for support from anyone else. They recognised the need for spontaneity and privacy, and had been thinking along the lines of how people with no arms or arm movement can paint beautifully artistic paintings using their mouth or feet. I was over the moon.
So, in our bid to work together on this project, I pledged to ask all the disabled people I know who are unable to masturbate to tell us exactly what they might be able to use to operate a sex toy. I'd be thrilled if as many people as possible could get in touch to let me know what they think – I want to make this the best possible sex toy to suit everyone's needs. You can email me at Tuppy@Outsiders.org.uk, or call on 07770 884985.
Sex toys available now!
And in case you want some other recommendations, here are some of the toys currently out on the market which I have recommended in my book on sex and disability, to be published by Jessica Kingsley later this year:
The Humpus
The Fleshlight (one version with a suction pad)
Rends A10 Cyclone
Butterfly vibrators
Vibrating panties
Venus 2000
The Sybian
Hitachi Magic Wand — look online for European imitations.
Ferticare
Liberator — manufacturer of support equipment
Silver Sex — furniture for people with arthritis
Literotica — audio erotica
Spokz stock sex toys for disabled people in the UK
Kinsters Paradise will adapt and create accesible toys, gadgets and furniture
TLC — the website for disabled people to access responsible sex workers and strippers
The Hold It —  a great gadget for people unable to hold books and ipads to read or write. They don't have a clamp for sex toys but such a clamp could be attached
And do come along to the 2014 Outsiders Jamboree on Monday 21st July, noon till 6pm. The venue is The Lighthouse, 111 Lancaster Road, London W11 1QT.
The event is free of charge and features Tableau Vivantes, performances by the incredible Mouse, Mat Fraser, David Young and Jamie Willmott, with discussions, loads of networking and fun.
I hope to see you there!
By Tuppy Owens
Check out…
• Outsiders Jamboree: a life changing experience
• Sex tips from a sexy 'crip'

We want to stop sex and disability being a taboo by breaking the silence on it. Share your thoughts or stories with us by messaging us on Facebook, tweeting us @DHorizons, emailing us at editor@disabilityhorizons.com or leaving your comments below.