9-year-old Sonny, who has got a rare genetic visual impairment called Congential Fibrosis CFEOM, is a keen skier. Here, his mum tells Disability Horizons how Snowbility, who provide coaching for people with additional needs, helped him overcome the challenges to become a great skier.
Sonny attends a main stream school and, like many of his friends, wants to excel at sport. He loves football, but this has proved to be very challenging for him due to his visual impairment. Sonny is only able to see out of one eye at a time and has no properly functioning eye muscles. This results in his eyes not moving and his lids are being half closed.In addition, he also has poor balance and co-ordination.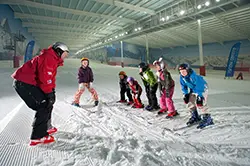 But despite this, he still plays football, rugby, cricket, swimming and Jujitsu, but although he enjoys them, they are no substitute for playing like footballer Jermaine Defoe in the playground!
Through school, Sonny was given the opportunity to go on a skiing trip and, not being fazed by anything, saw it as a great challenge to try his hand at a new sport. To give Sonny the best possible chance of actually being able to manage his balance and co-ordination whilst on skis, private one-to-one lessons were arranged with Richard Fetherston of Snowbility.
Based at The Snow Centre in Hemel Hempstead, Richard and his team of instructors provide tailor-made snow sports coaching for individuals with additional needs. It soon became apparent that this personal approach was an ideal platform for Sonny to learn. His confidence, balance and co-ordination improved dramatically, far outreaching any of our expectations.
This style of learning worked because firstly, Sonny hit it off immediately with Richard and Josh, another of Snowbility's coaches. Secondly, they advanced him through encouragement and positive praise, allowing for his confidence, self-esteem and balance to develop.
Due to Richard and his team's fantastic coaching techniques, Sonny's holiday was a huge success. Not only did he impress his friends with his amazing skiing ability, but he was put into the advanced group lesson from day one!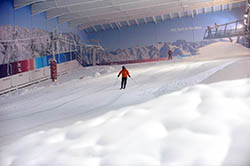 Finally, Sonny has found a sport which he can excel in. He is a far better skier than many of his friends and he is as competent as any fully-sighted child of his age. His confidence in his ability and potential has increased enormously. He even wants to ski for the Paralympic team one day and, although this may be a tall order, Richard and his instructors' view would be: "Why not?"
Many people with additional needs can have difficulties being part of a team, often getting it wrong, to the upset and frustration of their friends, just like Sonny with his football. However, with skiing, it is not just about a team sport, it is a fantastic activity where there are no complex rules, just a repetitive pattern that is great for improving fitness, balance, confidence and self-esteem.
Thank you so much Snowbility for improving Sonny's life – he is now one cool dude amongst his friends!
For further information about Snowbility, please contact Richard Fetherston on 07713 888199 or by emailing richard@snowbility.co.uk.
Check out…
• ST Motorsport: accessible adrenaline
• Q&A with disabled skier Talan Skeels-Piggins
• Doing Sport Differently: a guide to disability sport and exercise
Are you involved in any Parlympic sports? We'd love to hear about it! Get in touch by messaging us on Facebook, tweeting us @DHorizons, emailing us at editor@disabilityhorizons.com or leaving your comments below.