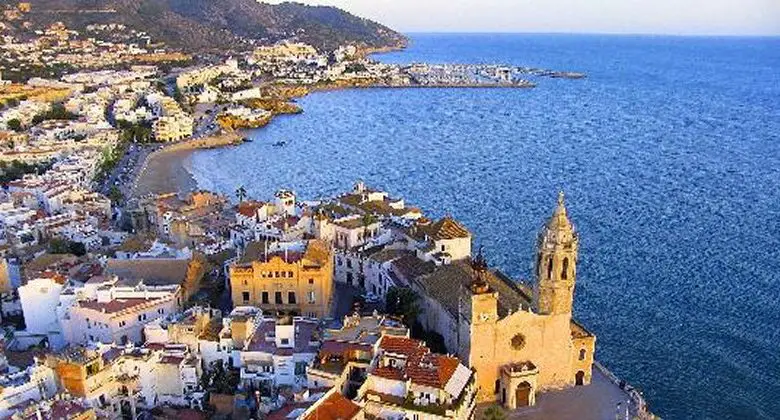 On Wednesday 19th June 2013 Martyn Sibley began one of the craziest adventures of his life. The Catalan Tourist Board had invited a group of UK disability specialist travel agents to view their accessibility facilities. Enable Holidays kindly suggested he accompany them to test the facilities and share his experience with you guys…
Now that I was settled into the hotel and had familiarised myself with the Barcelona city, I was ready for some activities! I could write about 6 articles on all the varied activities we did, but I shall try to condense them here for you!
Amphibian chair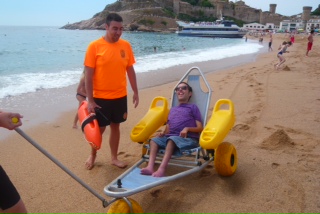 After a good breakfast on the 1st day of activities, we took the bus past the infamous Lloret De Mar to Tossa De Mar. We were greeted by the local tourist board employee and headed straight to the beach.
I was lifted by Diego my guide and a lifeguard onto one of their amazing amphibian chairs. As I didn't have my trunks on and the sun was being shy, I didn't go right out to sea. However, it would certainly be possible. The chair is pushed along the sand with ease and floats in water, too. The lifeguards placed some sea water on my feet, something I've not done in years!
After an exhilarating 'stroll' along the beach and shore, we headed for a coffee. The view was amazing as the sun shone harder- a world away from home in the UK! We learnt about the chairs, the lifeguard training and other adaptions made in the area.
Accessible bikes
Having viewed and audited a couple more hotels and grabbed lunch we drove to the bike activity.
The rest of the crew had traditional bikes while the adapted bike was a hand 1. Unfortunately I had neither the balance or upper body strength to operate it, but they are great for other disabled people with a bit more strength than myself.  So, as always, I adapted and cruised along in my wheelchair. The views were stunning, I kept up as my chair went 'like a bat out of hell' and we arrived at the beach in good time.
Scuba diving
Having swam lots as a child and scuba dived last year, I was excited. The difference here, however, was going on a boat first.
On arriving at the boat I could see some difficulties straight away. The entrance width wouldn't fit my 130kg wheelchair, but the benches wouldn't support my seating needs on board. So we called for an amphibian chair for me to sit on comfortably. Being lifted by Diego felt more stressful this time with the distance, the step and rocking motion on the boat, but he did well.
The next test was to get the wetsuit on, carry me to the lift and get me in the water. A good 30 minutes later and I was in, but a little flustered I must say. Once in the water the weightlessness made things easier, and I had a good swim and saw some fishes. The view of the blue bobbing water, high cliffs and marine life was worth every hard fought struggle.
Getting back on board, on the amphibian chair, dry and back in my chair was tricky. However, I know mine and Enable Holidays' feedback will be taken on board by the team to make necessary improvements.
Sometimes trying to make change has its difficult moments too. As people often say, what doesn't kill you makes you stronger, and I thoroughly enjoyed this activity nonetheless.
Sailing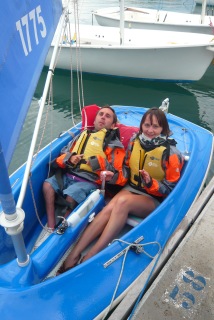 Feeling a bit tired and worn out, I was a bit concerned. Upon meeting Xavi at Club Nàutic L'Escala (@nauticescala on Twitter), I knew all was going to be OK. The hoist put me comfortably in the tiny sailing boat, Kasia sat next to me and and steered the rudder as we headed off. The steering was just too hard for me, but many others disabled people could do it I'm sure.
This was by far my favourite activity, far more adventurous than I get in normal life, but it had a tranquillity with it also. I was made to feel so comfortable and secure in this tiny boat.
Hot air balloon
I had never thought about, let alone done, a hot air balloon ride. I was rather apprehensive to say the least!
Waking up is never my favourite activity, and waking at 5.30am Spanish time was tough. We drove out of the beautiful volcano surrounded hotel into the fog. Fortunately by 7am the fog had lifted as we studied the balloons being inflated.
I was concerned about the general adventure and how it would be adapted for me, but I was relieved to see how much had been thought of. The basket opened, so no being thrown over the side and into the situation head first. There was a chair with full head support, straps and a system to raise me up to look out of the balloon more. We gently went up to 11am, overlooked the beautiful Catalan scenery, drank Cava and enjoyed the tranquility.
The landing proved difficult as we struggled to find a suitable field, had to go higher a couple of times to avoid electricity cables – you could feel the suspense build. It was nice to feel secure as I was firmly strapped in, whilst the others stood holding on to the side of the balloon. Suddenly the balloon thudded to the ground, dragged along, started tipping and with a blast of gas went up a touch. It then landed again and started to tip once more! Just as I thought we were going over, tossing everyone out, a guy appeared on the basket and pulled us back to earth. My heart was going very fast!
Here is a video of the balloon ride, as well as a round-up of the facilities and accessibility of the trip:
Horse riding
I had rode many moons ago before my spinal operation. Already in 2 minds if I had the energy to actually ride, and as we were to pushed for time before our flight home, we were just shown the facilities.
With a ramp taking a wheelchair user up to the horses height and a hoist present, transferring to the horse would be simple. The staff were very well trained, as were the horses too. It would've been amazing to have a go, but I'm more than content to have just viewed this time.
Accessible Catalan
I would recommend the Catalan to any disabled people. If you want to play it safe with city tours and beaches, you'll still have a great time. However, if you want to push your limits, any one of these activities (never mind all in 4 days) will do. The people can't know your every need, but will help in every way they can. The facilities are very well thought through, and mostly perfect. Any elements needing improvement I have no doubt that they will be.
It was also great to see Enable Holidays and the other travel agencies in action. They go to great lengths to audit facilities and give you the best holiday possible.
I'm off to stare at some paint and recover some energy before my next expedition, to Poland. Please do get in touch with any questions on Barcelona, the Catalan and disability travel.
Thanks again to Silvia, Diego, Raquel and the Catalan Tourist Board for making this possible.
By Martyn Sibley
Check out…
We want to ensure that all Disability Horizons readers have as much accessible information about their chosen destination as possible. So, if you have a trip to tell us about, get in touch by emailing us at editor@disabilityhorizons.com, messaging us on Facebook, tweeting us @DHorizons or leaving your comments below.