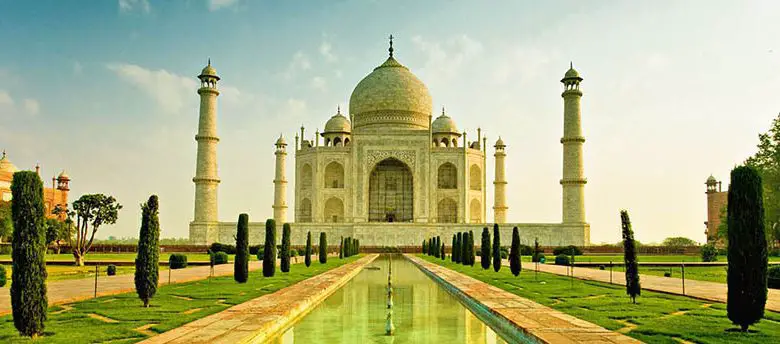 Lynne Kirby from Enable Holidays, a specialist tour operator for wheelchair users and those with limited mobility, recently visited India to assess the suitability of The Golden Triangle Tour. Here is her second installment of diary notes from the extraordinary trip…
Taj Mahal
A 5.30am start to the day may not be everybody's cup of tea, but with a sunrise visit to the Taj Mahal on the agenda, I needed no encouragement to get up and go! Sunrise is most certainly the best part of the day to enjoy this wonderful treasure house of India. The Taj Mahal proved to be everything I expected it to be, and more. Built by the Mughal Emperor Shah Jahan as an expression of his love for his wife, this magnificent monument is indeed one of the greatest and most romantic buildings in the world.
The palace has access ramps throughout the visitor area right up to the very last sections into the main building, which can only be reached via stairs. The gardens however can be enjoyed in all their glory and photographs with the Taj Mahal in the background will give you wonderful memories of a holiday that is most definitely exotic. The area leading up to the last section is very flat, and it is here – perched in front of the water fountains – you will find the famous bench that is now affectionately known as Diana's bench.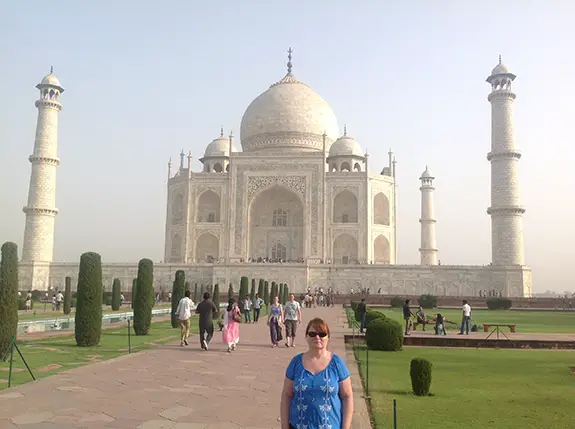 Upon leaving the Taj Mahal, our next stop was a sightseeing tour of Agra City and a visit to the Bagar Fort – the seat of the stronghold of the Mughal emperor under successive generations. Bagar Fort is another extremely impressive example of Mughal architecture, which also benefits from having plenty of ramps to ensure most areas are accessible. This is good news indeed for tourists with walking difficulties, and proves once again that India is keen to cater for the needs of disabled people.
The road to Jaipur
I then headed to a number of hotels in Agra to assess the accessibility. The Gateway, Trident Agra, Jaypee Palace (although there are steps to the pool area) and the Armavilas all qualified for an E grading, which is the highest grade we offer hotels that meet our criteria for accessibility and suitability for wheelchair users and people with limited mobility, as they all had adapted bathrooms with a flat floor shower.
It was now time to move on to our next destination, Jaipur. As we crossed the Yamuna River, the banks were vibrant with colour with locals busily laying out their clothes to dry in the warm sun. Beyond this, every spare piece of land was occupied by teenagers and young boys playing cricket, which I've been reliably informed is not just a sport in India, but almost a religion.
Eventually we arrived at Fatehpur Sikri, an abandoned city that was built by the great Mughal Emperor Akbar in the late 16th century, but was abandoned soon afterwards when the water wells ran dry. It remains today much the same as it was over 300 years ago. Most of this site is accessible and has been fitted with ramps and adapted washroom facilities.
On the journey to Jaipur we stopped for lunch at The Hotel Bagh in Bharatpur, which proved to be the perfect relaxing retreat after the hustle and bustle of Delhi and Agra. This hotel was a real retreat set in beautiful gardens, which are flat and easily accessible, and the adapted rooms have a shower cubicle (although the owner did say that he would be moving the cubicle). The area is also an ornithologists paradise with a huge selection of birds to watch.
Jaipur
And so to Jaipur where I've had the pleasure to discover the 5-star LaLiT hotel, which is accessible and has fully adapted bathrooms, and is 1 of the finest luxury hotels in the city and conveniently located near Jawahar Circle. The hotel was pristine, beautifully decorated and very well-appointed.
Jaipur is the capital city of the state of Rajasthan and is known for its remarkable gridded street system. With awesome fortresses, palaces, temples and beautiful havelis, Jaipur is a popular tourist destination offering royal attractions and cultural ones with traditional handicrafts and spectacular jewellery.
I was advised that the best time to visit Jaipur is between October and March when the climate is at a very pleasant temperature. Even though it wasn't unbearably hot for my mid-April visit, I could really feel the strength of the sun.
The final chapter
En route to a 'surprise' event that had been arranged by my hosts, I noticed that the tuk tuks in Jaipur are much larger than those in Delhi Agar, and being square, might be easier for those who could transfer  to use. I now understand that this is because they are mainly used as taxis for local people. After leaving the boundary of Jaipur we turned off the road and ventured down a track for about 2 miles to this secret event.
Arriving at the destination, I was welcomed by a herd of elephants, with the bull (presumably the head of the herd) bejewelled and decorated in his finest attire and standing with grace and authority. But this was to be no ordinary animal viewing and photo opportunity, as sport was on the agenda in the form of polo on elephants. The match was extremely entertaining, both to watch and take part in. Now, to be honest, this was a bit scary to start with as it was such a long way up, but once I got used to the size, height and lumbering movement of these magnificent animals, I felt in very safe hands (or maybe I should say trunk). What a wonderful experience!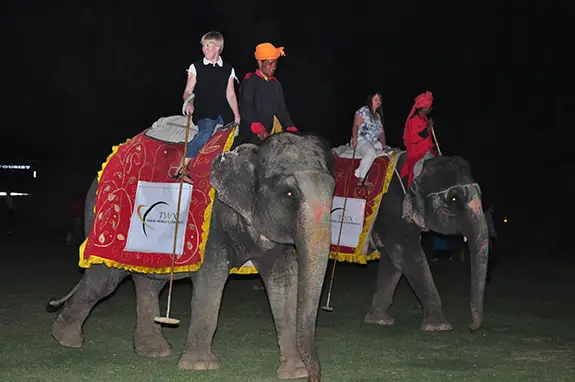 The following morning we ventured to the city palace where the Maharaja and family still live today. They occupy 1 enormous wing, whilst the rest of the palace has been made into a museum where the history of the textiles, clothing and the armory are displayed. I found everywhere to be accessible by ramp, except for the armory as this can only be reached by a staircase. We finished the city tour at the Jantar Mantar, the astronomical observatory which dates back to 1726. It is one of 5 such astronomical wonders constructed in India and still providing accurate predictions in the 21st century. Most of the area and gardens around this site is accessible.
My final evening in Jaipur was spent in a futuristic tent site, which had a full adapted bathroom with a flat floor shower. There were a couple of lips that would have to be maneuvered over, but nothing insurmountable, and the ramp into the restaurant was a little on the steep side, but everywhere else was flat and accessible. It was a great place to soak up their last views of India in a natural environment. This tour has opened my eyes to a whole new world of opportunity for those Enable Holidays customers looking to widen their horizons.
I've been privileged to discover the fascinating elements that make up this unique country – the affluent and successful new India living alongside the less privileged of old India. The happy faces and polite manners, the rich history and wonderful culture. The temples and places, the scenery and wildlife. India is like no other holiday experience on earth.
With the hotel and tour audits now safely stored away in my case, I have all I need to produce my final reports. I look across the landscape before retiring for the evening, and there I notice a camel transporting a family in a cart alongside motorised vehicles. Now that could only happen in India, and that's precisely why I love it!
Lynne Kirby and the team at Enable Holidays are currently planning The Accessible Golden Triangle Tour of India – a new opportunity for holidaymakers with limited mobility. For further details telephone 0871 222 4939 or visit www.enableholidays.com.
By Lynne Kirby
Check out…
Have you been to India? We'd love to hear about your trip, so get in touch by messaging us on Facebook, tweeting us @DHorizons, emailing us at editor@disabilityhorizons.com or leaving your comments below.