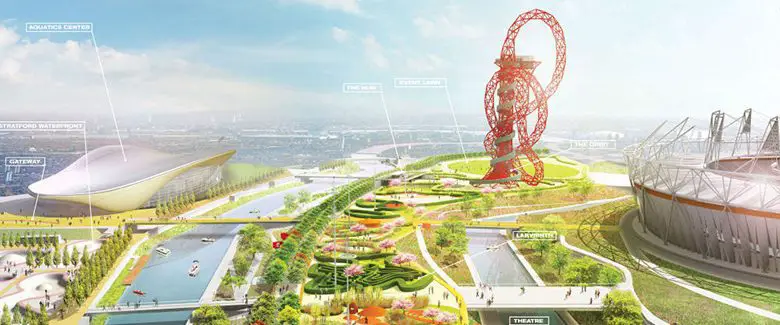 At the end of July, the Anniversary Games celebrating a year since the 2012 Olympics and Paralympic Games, took place at the renamed Olympic Park. Disability Horizons new contributor Jo Evans tells all about her experience of visiting the Queen Elizabeth Park Stadium to see the Anniversary Games in action. 
No UK citizen will ever forget the excitement of summer 2012. Bolt, Ennis and Rutherford were quickly followed by names of Paralympians that were to become household – Whitehead, Weir, Peacock, Cockroft.  The momentum of the London Paralympic Games was unprecedented, but could it carry on?
Having missed out on going to the Olympic Stadium last year, I jumped at the chance to get seats for the Anniversary Games. Booking a wheelchair space for the Stadium in the renamed Queen Elizabeth Olympic Park was fast and convenient, unlike for the rest of the country who were trying to get seats to see Bolt!
A couple of weeks before the day, Ticketmaster had emailed me informing me that they had organised Blue Badge parking for all of the people who had booked wheelchair spaces with them. Fantastic, as this cuts the journey time from Oxford in about half if you can drive.
After being terrified at the Sat Nav making my fiancé and I drive through central London, and not helped by the lack of signs, we arrived at the car park to the north west of the Stadium. A shuttle bus had been laid on for everyone, but it was a sunny day, so we opted to walk.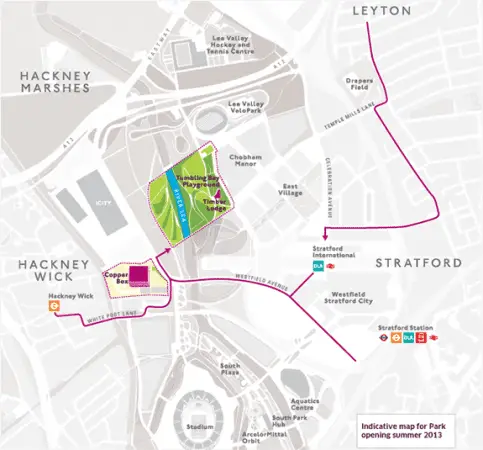 The Queen Elizabeth Olympic Park has been downgraded quite a lot – gone are the bright colourful food stands and seating from last summer. All that is left now is a concrete jungle.  However, there were enough ice cream vans and food stands to keep us happy, and after collecting our Go Weir and Go Cockroft signs from the Sainsbury's volunteers, we took our space in the Stadium.
Wow, it was possibly the best wheelchair space I have ever sat in. The barrier in front of me was sheer so I could see through it if I chose not to rise. We were way above the tier in front of us so no chance of a 6-foot-gorilla-with-a-haystack-on-his-head situation. I could see everything clearly.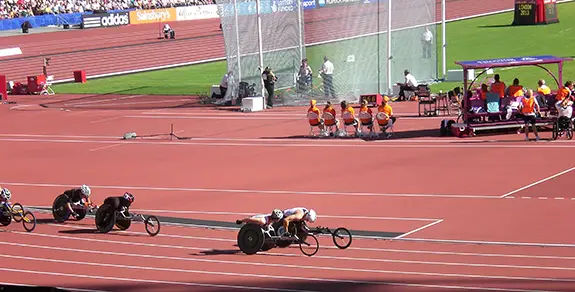 The venue staff were so helpful, offering to get us anything we needed and taking our picture. The big screens allowed us to watch close up, but with the view we had, for the running events there was no need as we watched the athletes zoom past us. Richard Whitehead did a walking lap of the Stadium before the games began, much to the crowd's delight.
All the big names were there, Aled Davies, Josie Pearson, Hannah Cockroft, Graeme Ballard, Sophia Warner, David Weir, Jonny Peacock… and a special mention for Richard Whitehead's gold C3PO blades!
Queen Elizabeth Olympic Park is ideally situated next to Stratford International Station and Westgate Stratford, making it easy to get to and meet up with friends. Wheelchair access is second to none and that can only be credited to the legacy of 2012.
The IPC Championships the previous week filled out a 3,000 seater stadium in Lyon… the Sainsbury's Anniversary Games filled out a 30,000 seater proving that the Paralympic spirit is still alive and well in London.
Visit the Queen Elizabeth Olympic Park to see details of how to visit the venue and what events are coming up.
By Jo Evans
Check out…
We want to make sure that all Disability Horizons readers have as much accessibility information about their chosen destination as possible. So, if you have a trip, whether a holiday or to a night at a music venue, get in touch by emailing us at editor@disabilityhorizons.com, messaging us on Facebook, tweeting us @DHorizons or leaving your comments below.