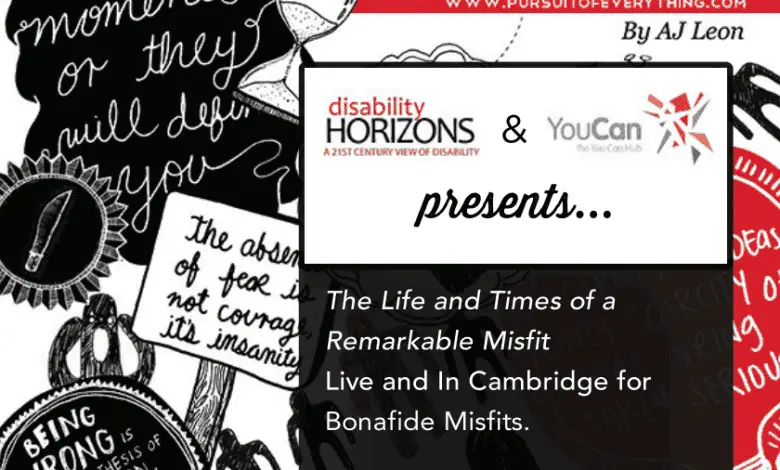 Lifestyle
Disability Horizons and YouCan Hub present the Misfits
Lou Shackleton of The You Can Hub and Martyn Sibley of Disability Horizons invite you to spend an evening out of the ordinary, exploring what it means to live a life with intention and leave the mark you want to leave on the world.
The You Can Hub and Disability Horizons present: "The Life and Times of a Remarkable Misfit – The Intergalactic Book Tour"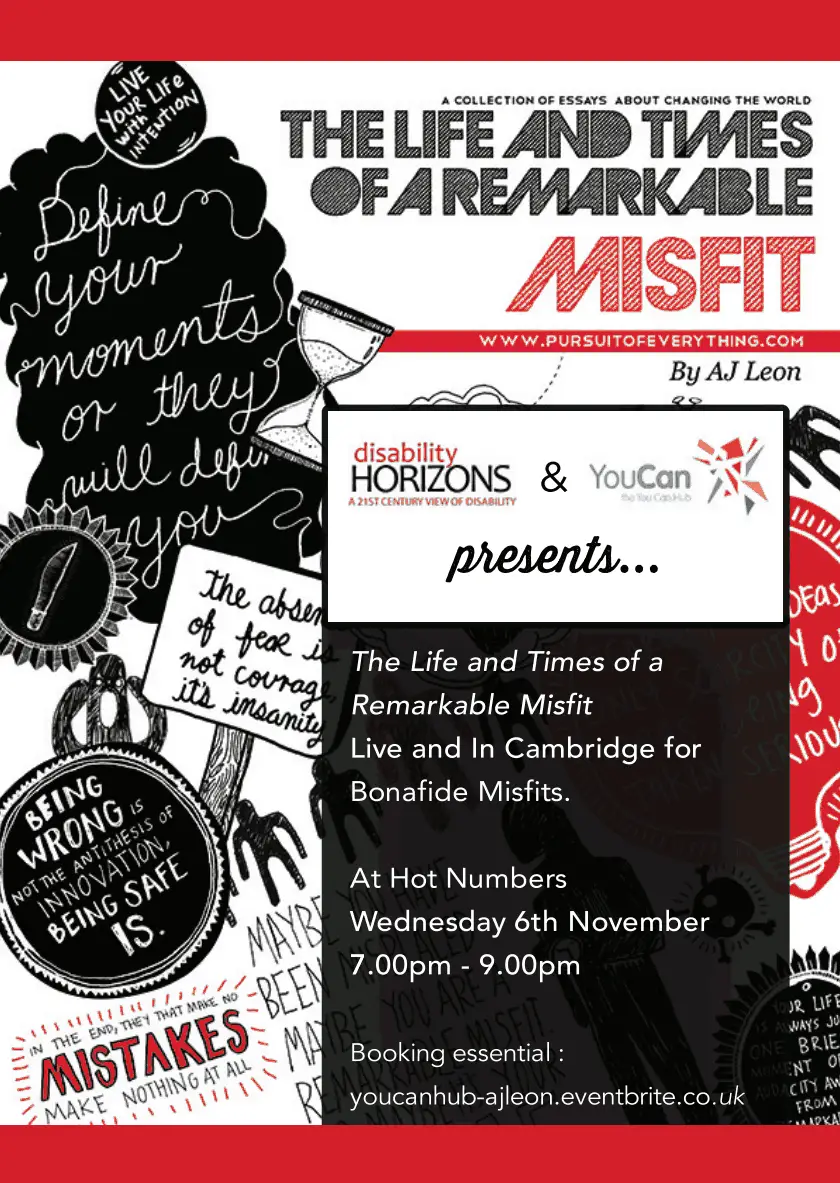 AJ Leon is a nomad and world-changer who organised and curated Misfit Conf 2013 in Fargo, North Dakota in May this year. He writes a blog called "Pursuit of Everything" which documents his quest to do work that truly matters and make a difference in the world. He also runs Misfits Inc, a company of professional trouble-makers. Through telling his story, from high-flying New York corporate to international nomad and professional misfit, AJ will challenge to you to think about the value you are creating in the world and the change you want to see. His book "The Life and Times of a Remarkable Misfit" is a collection of essays by AJ, self-published and Kickstarter-funded.
A "Misfit" is defined as someone who shuns usual expectations to create something new with the aim of making a positive impact on the universe. Misfits are budding writers, entrepreneurs, artists, creators…  you! Lou has seen first-hand the magical things that happen when Misfits get together as an attendee at Misfit Conf 2013.
The evening will feature a talk from AJ followed by a Q&A – feel free to prepare questions in advance – and then time for chatting and networking with your fellow Misfits.  Expect to hear about:
Starting from scratch with a blank piece of paper and redesigning our life
Challenging the stories we were told at school or at the start of our careers
The new balance and tension between being an artist and being an entrepreneur
Making a business work when 20% of the time is dedicated to social and humanitarian projects
Understanding what you want, and what you don't want – and recognising when you're being pulled away from your chosen path
Hot Numbers will be serving its usual range of awesome hot and cold drinks, as well as having a licensed bar open for us – so bring your pennies and enjoy a beverage or two! We can't wait to see you!
More Information on Your Speaker…
Check out AJ's blog at The Pursuit of Everything and his company Misfit Inc
Get a taste of Misfit Con 2014
Check out AJ's recent humanitarian project to support a Kenyan village, Gambella, to raise over $15,000 to build their own windmill, contributing to their aim of becoming self-sustainable – Good Misfit
More Information on Your Hosts…
Check out this very magazine: Disability Horizons
Check out The Impossibles, You Can Hub's latest quest for positive change, here
Can't make it this time? Be sure to sign up for the latest from The You Can Hub events by joining our mailing list for people passionate about living life differently here. You'll get an early heads up on all events, the low down on what we're up to, and some surprises – and we'll never give or sell your details to anyone else.