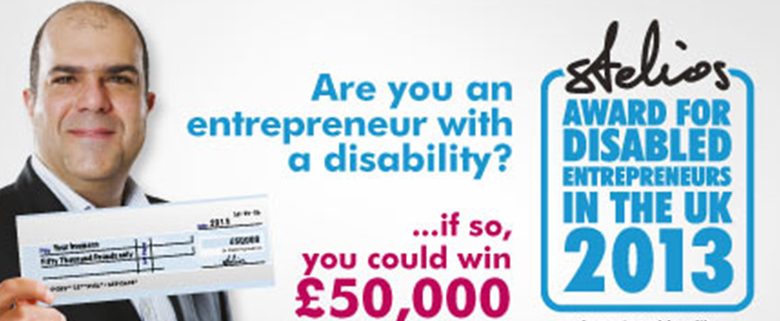 News
And this year's winner of the Stelios Award for Disabled Entrepreneurs is…
James King of Oliver James Garden Rooms!
Last Thursday night at the Millenium Gloucester Hotel in South Kensington, some of Britain's best disabled entrepreneurs gathered together with various luminaries from the world of business, politics and disabled people's organisations for the finals of the Stelios Award of Disabled Entrepreneurs. I was lucky enough to cover the event for Disability Horizons and watch a great spectacle that celebrates the entrepreneurship of our community.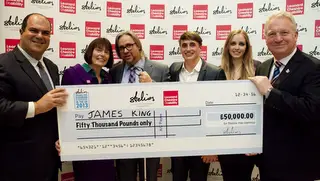 The Stelios Award is a joint initiative between the Stelios Philanthropic Foundation and Leonard Cheshire Disability which awards a £50,000 grant to one winner. The Stelios Philanthropic Foundation was founded by Stelios Haji-Ioannou, the serial entrepreneur who founded EasyGroup, which is best known for launching budget airline, EasyJet. Previous winners of the Stelios Award have included Rob Smith of Active Hands and Dave Hawkins of Cyclone Mobility.
This year, applications were received across the UK and in a close run final, James King of Oliver James Garden Rooms saw off tough competition from Giles Long of Lexicon Decoder and Terence Nelson of TNAR Limited to win the £50,000 prize.
Entrepeneur, James King who has retinitis pigmentosa, a condition that causes significant visual impairment founded and runs a company that designs and build garden room extensions. Unlike a traditional conservatory, the rooms are warm in winter and cool in summer. James began trading in 2011 and already employs seven people. Now with a turnover of almost £300,000, James works with homeowners across Buckinghamshire, Bedfordshire, Northamptonshire and Hertfordshire. The strength of James' business track record and the exciting plans to continue to grow his business edged him over the line in a tightly contested competition.
James, who was joined by his family was thankful for their support and further commented …"I've always had my own company and built the business around my disability. The inspiration has come from my vision problem. There are obstacles but you just have to accept them. Everyone has them, whether you've got a disability or not"…
By Srin Madipalli
If you'd like to see the entries of the three finalists, please check out this video!
Check out…
• Martyn Sibley: fears, limits and hurdles
• Faiza Siddiqui: my sex life after injury
• We need more disabled women on TV